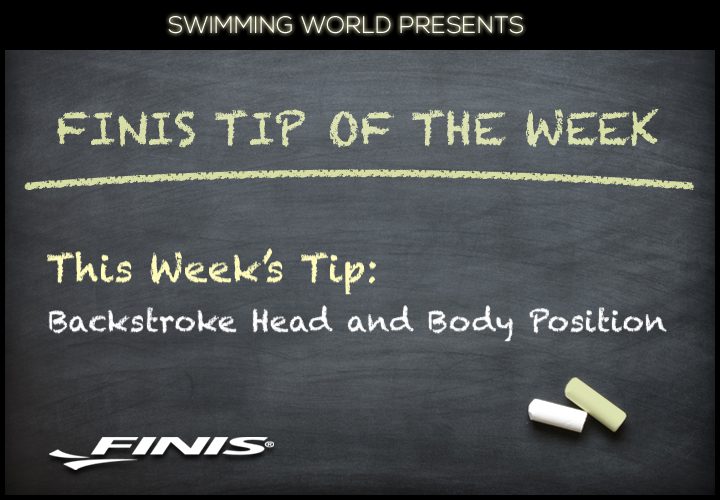 Welcome to the "FINIS Tip of the Week." Swimming World will be bringing you a topic that we'll explore with drills and concepts for you to implement with your team on a regular basis. While certain weeks may be more appropriate for specific levels of swimming (club, high school, college, or masters), each tip is meant to be flexible for your needs and inclusive for all levels of swimming.
This month's tip series is on backstroke. Previous tips this month focused on the hand entry and rotation in backstroke, and this week will focus on tips to improve your head and body position. While the catch and the kick are what is propelling you through the water, without a proper body or head position you won't make it very far (or at least won't be going very fast!)
Head On A Pillow…
When thinking about the proper head position for backstroke, you want to imagine your head as resting on a pillow in the water. If your head is too far back, your going to generating excess frontal drag in addition to likely throwing off your rotation and stroke tempo. If your head is too far up, then your hips and body position will drop in the water, creating more drag.
When talking about the head position, the biggest take away should be to have a relaxed head position that stays still. The body should be rotating around the head and you should be focused on using your core and legs to drive the stroke, not where your head is. If you are pressing or lifting the head too much, chances are your rotation and stroke tempo are not the focus as they should be.
Body Like A Boat…
In terms of body position, you want your body right under the surface of the water, but you do not want your hips or shoulders exiting the water with each stroke. It is helpful to think of your body as the bottom of a boat: you want your shoulders turn slightly up and to be rotating from side to side in unison.
Roller coaster is a great drill across all skill levels to work on maintaining high hips and creating an awareness of how to use the core and kick to maintain the correct body position in the water, as is shoulder to chin kick and single arm backstroke.
Ultimately, you want to learn how to keep your hips and legs from being too low in the water by using your entire body. Backstroke works best when everything is working in unison, so slowing down the stroke and examining how you are using your core and controlling your body position can go a long way toward helping create a more efficient stroke. Happy swimming!