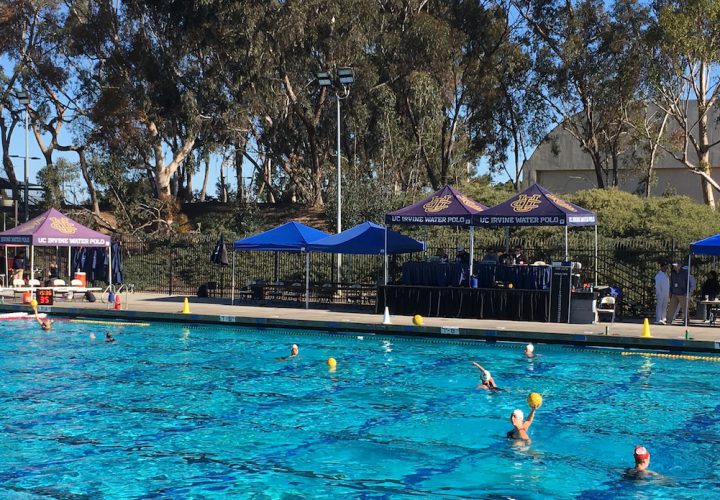 Crawford Pool on the UC Irvine Campus. Photo Courtesy: M. Randazzo
By Michael Randazzo, Swimming World Contributor
IRVINE, CA – After a series of contests this Sunday between the nation's top women's water polo teams, one program remains head and shoulders above the rest. #1 Stanford—now a stellar 11-0 in this young season—pummeled previously undefeated #3 USC by 9-3 to capture the 2018 Barbara Kalbus Invitational title.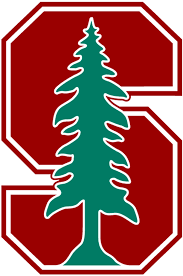 In a sign that Cardinal opponents should fear the future, Stanford Head Coach John Tanner allowed that his team—which has been in eight straight NCAA championship matches, capturing five titles, including last year—may be even stronger this year.
"It's still so early, but we've been a little sharper now than we often are," Tanner said after the match. "We have a good tournament team, a group that's able to focus."
Surprisingly, it was his program's first win in seven years at this tournament, hosted annually by UC Irvine since 2007 and renamed in 2017 to honor Dr. Kalbus, a water polo icon.
In tagging the Trojans with their first loss of the season, the Cardinal also registered this season's highest goal total against the usually stout USC defense. Behind the stellar net-minding of goalies Amanda Longan and Victória Chamorro, Jovan Vavic's defenders had held opponents to a paltry 2.7 goals a game average in their previous ten matches. But Longan, who on Saturday registered 18 saves in stopping #2 Cal 6-5, could simply not handle the Stanford onslaught.
Led by two goals by Makenzie Fischer and one apiece by her sister Aria, Madison Berggren, Katie Dudley, Kat Klass, Jordan Raney and Cassidy Wiley, Tanner's team was simply too much for USC. Reminiscent of Saturday's dominant effort over #4 UCLA—a 10-3 win—Stanford broke out to a 7-3 first half advantage and never let up, shutting out the Trojans in the second half behind seven of goalie Julia Hermann's 13 saves and a determined defense that recorded numerous field blocks.
With the win, the Cardinal enter MPSF play next Sunday, hosting arch-rival Cal. The #2 Golden Bears ran into their own buzz saw at Kalbus, going down by five goals in the first 11 minutes of their match against #4 UCLA before rallying. Emma Wright hit for a 5M penalty with 3:21 remaining in the second period, igniting a four-goal burst that pulled Cal within one of the Bruins with a minute left in the third period.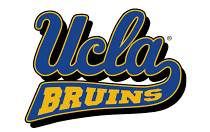 But just when it looked like Coralie Simmon's squad would climb out of its significant hole, UCLA's Maddie Musselman shut the door on any Cal comeback hopes. First, she converted a 5M penalty with 12 seconds left in the period to restore a two-goal advantage, and then two minutes into the fourth, she drove home a weak-side strike past a goalie Madison Tagg, giving her team an insurmountable three-goal lead and capping off a four-goal explosion that gave the Bruins a 7-5 win.
Despite three wins in four matches, UCLA Head Coach Adam Wright feels his team—with many underclassmen seeing playing time—has yet to fully coalesce, especially when it comes to mastering the defensive fundamentals that have been a hallmark of his men's program.
"We don't understand that a simple body position could be the difference in your season—a shot block, which hand you have up," Wright, in his first year coaching the UCLA women after nine years leading the Bruin men, said. "It's a process I went through with the men's team, and it's going to take time."
In a match with potential season-long implications, #5 Hawai'i won going away against 6th-ranked Arizona State. The Rainbow Wahine, who in years past have had to get past the Sun Devils for an NCAA berth, had already beaten ASU earlier this month.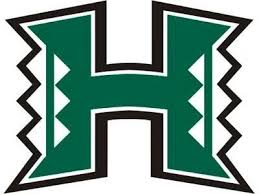 Holding a narrow 4-3 lead halfway through the match, Hawai'i's Carmen Baringo and Claire Nixon got hot after intermission. Baringo opened up scoring in the second half by getting inside the Sun Devil defense and beating goalie Mia Rycraw from 2M. Nixon then hit on back-to-back weak-side shots past Rycraw to give her team a four-goal advantage.
Amira Van Buren would get one back for ASU early in the fourth period, but Nixon converted again to complete the hat-trick, giving the Wahine an insurmountable four-goal lead. Head Coach Maureen Cole's squad held off a couple of Arizona State comebacks to come away with a 10-8 victory and solidify their hold on a top five ranking prior to starting Big West Conference play next Saturday against UC Irvine in Honolulu.
"It feels really good for our girls to come out, playing four games over three days isn't easy, so I'm always a bit worried about the energy, but our team came out did what we needed to do," Cole said. "It's so close between teams two through 10 this year so anytime you can come out on top it feels good."
In the seventh-place match, the host Anteaters battled #8 Pacific through four periods and two overtimes before dropping a 12-11 decision to the visiting Tigers. After the home team jumped out to a two-goal lead after one period, Pacific adjusted quickly, getting two quick scores on breakaways early in the second period.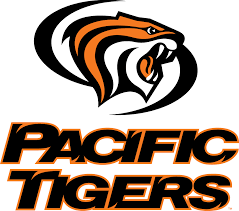 UC Irvine would go up by one on a Toni Shackelford power play goal, but Pacific's Victoria Tamas took a beautiful feed from Kyra Christmas to convert on the power play and tie the match at 5 two minutes before intermission. The Anteaters trailed through most of the second half, but with 29 seconds to go and her team down a goal, Natalie Seidemann converted in front to tie the game at 10.
Sadly for the Anteater faithful, Seidemann's goal was the highlight of their day. In overtime, Mariana Duarte netted her fourth goal of the game and Christmas hit for the hat-trick as the Tigers closed out their three-day Kalbus Invitational run with a win.