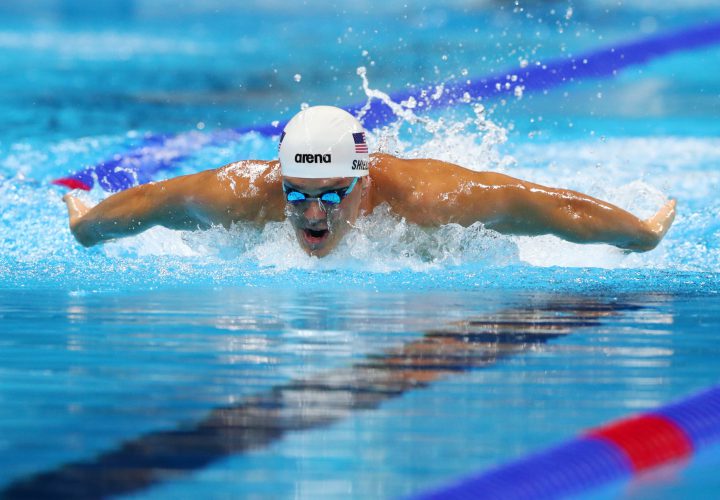 Photo Courtesy: Rob Schumacher-USA TODAY Sports
Read below to find our full coverage of day two prelims at the FINA Short Course World Championships in Windsor, Canada. The morning session featured seven events and was capped off with an American record by Leah Smith in the women's 800 free.
Women's 200 Medley Relay
Canada paced the way into the finals of the 200 medley relay as Kylie Masse, Kelsey Wog, Penny Oleksiak and Michelle Williams posted a time of 1:45.49. The Canadian women were also the top seeds in Tuesday night's 400 free relay, but that race did not as planned as the team was disqualified for a procedural issue after initially finishing second.
The American squad of Ali DeLoof, Molly Hannis, Sarah Gibson and Katrina Konopka finished second in 1:45.67 and almost assuredly will add Kelsi Worrell and Lilly King to the finals relay. Denmark's Mie Nielsen, Matilde Schroder, Emilie Beckmann and Jeanette Ottesen qualified third into the final at 1:47.05, just ahead of Italy's 1:47.10.
Russia was fifth in 1:47.28, and Japan qualified sixth in 1:47.69. China (1:48.17) and Australia (1:48.45) picked up the outsc-worlds-day-two-prelims-results.pdfside lanes in the final, just locking out France (1:48.51). The Aussies could be dangerous, though, as Emily Seebohm figures to replace Minna Atherton on the backstroke leg.
Men's 200 Free
With all eyes on the middle lanes, Trinidad & Tobago's Dylan Carter, swimming out of lane zero, stormed to the top of heat nine, and his 1:42.90 held up as the top time of the morning. The USC redshirt junior was the only swimmer to get under 1:43.
Russia's Aleksandr Krasnykh, the silver medalist in the 400 free Tuesday night, qualified second in 1:43.08, and South Africa's Myles Brown finished third in 1:43.50.
Finland's Matias Koski put up a quick 1:43.68 in heat seven, and the former Georgia Bulldog will go into the final seeded fourth. Chad le Clos could end up swimming next to his South African countryman in the final as he tied for fifth with Denmark's Anders Nielsen in 1:43.98.
South Korea's Park Tae Hwan, the gold medalist in the 400 free, qualified seventh in 1:44.09, and Australia's Daniel Smith secured lane eight for the final with his time of 1:44.20, just ahead of Italy's Luca Dotto (1:44.27) and Belgium's Pieter Timmers (1:44.29).
Women's 100 Free
Canada's Penny Oleksiak stormed home on the last 25 to win her heat and take the top seed headed into semifinals of the women's 100 free. The co-Olympic gold medalist in the event sent the crowd into a frenzy as she hit the pad first in 52.36, almost four tenths of a second ahead of the rest of the field.
Oleksiak's time was also a new Canadian record, breaking the 52.41 that Sandrine Mainville had set back in 2014.
Australia's Brittany Elmslie qualified second in 52.72, while the Netherlands' Ranomi Kromowidjojo (52.75) and Mainville (52.97) also went under 53 seconds to round out the top four qualifiers.
Italy's Federica Pellegrini, the gold medalist in the 200 free Tuesday night, qualified fifth in 53.05, just ahead of China's Zhu Menghui (53.06) and Denmark's Jeanette Ottesen (53.14).
Japan's Rikako Ikee qualified eighth in 53.17, and finishing ninth through 16th were Hungary's Zsuzsanna Jakobos (53.28), the USA's Amanda Weir (53.43), Russia's Veronika Popova (53.50), Italy's Erika Ferraioli (53.67), Colombia's Isabella Arcila Hurtado (53.70), the USA's Madison Kennedy (53.73), Brazil's Larissa Oliviera (53.77) and France's Marie Wattel (53.78).
There was a huge age difference across the top 16 qualifiers, as Oleksiak and Zhu are both 16 years old (born in 2000), while Weir, born in 1986, is 30, and Ottesen, born in 1987, is 29.
Men's 100 Fly
Tom Shields of the United States did not quite crack the 50-second barrier in the 100 fly prelims, but he did more than enough to move onto the semifinals as the top seed. Shields won the event's final heat in 50.03, and the USA finished 1-2 in the prelims as Matthew Josa qualified second in 50.51.
Just behind was South Africa's Chad le Clos, the world record-holder in the event who edged Shields for the gold medal in the 200 fly Tuesday night. Le Clos qualified third in 50.52, just ahead of Australia's David Morgan (50.58) and Great Britain's Adam Barrett (50.63).
France's Jeremy Stravius finished sixth in 50.70, and Russia's Daniil Pakhomov (50.84), Japan's Takeshi Kawamoto (50.89), Russia's Aleksandr Kharlanov (50.94) and Belarus' Pavel Sankovich (50.99) also broke 51.
Rounding out the semifinal field were China's Li Zhuhao (51.02), Great Britain's Mark Szaranek (51.35), Germany's Marius Kusch (51.36), Australia's Tomasso D'Orsogna (51.48), Belarus' Yauhen Tsurkin (51.56) and the Czech Republic's Jan Sefl (51.62).
Japan's Daiya Seto, who won bronze medals in both the 200 fly and 200 IM Tuesday night, finished 17th in 51.66 and did not advance. He will now have a rare session off Wednesday evening before continuing his busy meet Thursday morning with the 100 IM prelims.
Women's 200 Fly
After winning her first World title Tuesday night when she provided a blistering 51.04 split on the U.S. women's 400 free relay, Kelsi Worrell will have lane four for her first individual final of the meet. She posted a quick 2:03.94 to comfortably earn the top seed. In the final, Worrell will have her sights set on Cammile Adams' American record of 2:03.39 set last year.
China's Zhang Yufei qualified second in 2:05.40, just ahead of Hungary's Katinka Hosszu (2:05.43). HJosszu will be looking to reclaim her World title in this event after previously winning in Istanbul in 2012.
Worrell's American teammate Ella Eastin qualified fourth in 2:05.53, fresh off winning her first World Championships medal Tuesday night in the 400 IM. Australia's Emily Washer was fifth in 2:07.36, and Canada's Katerine Savard (2:07.54), Russia's Svetlana Chimrova (2:07.87) and Japan's Miyu Nakano (2:08.05) completed the top eight.
Notably, Spain's Mireia Belmonte, the World Champion in the event in both 2010 and 2014 and the Olympic gold medalist in the long course 200 fly this summer in Rio, missed the final with a disappointing time of 2:10.21, good for 19th place overall. Belmonte previously finished fifth in another subpar effort in the 400 IM, which she also entered as the defending World Champion.
Mixed 200 Free Relay
The Netherlands paced the field into the mixed 200 free relay final as Jesse Puts, Nyls Korstanje, Kim Busch and Tamara Van Vliet posted a time of 1:31.30. Veteran spritner Ranomi Kromowidjojo figures to join the squad for the evening's finals.
Russia's quartet of Aleksei Brianskii, Aleksandr Popkov, Mariia Kamaneva and Rozaliya Nasretdinova finished just behind in second in 1:31.39, and France qualified just four one-hundredths back in 1:31.43 with a team of Yonel Govindin, Clement Mignon, Melanie Henique and Anna Santamans.
Belarus finished fourth in 1:31.82, followed by Finland (1:32.03) and Japan (1:32.05). Canada, competing without Penny Oleksiak, finished seventh in 1:32.46, and Japan took eighth in 1:32.58.
Of note, the American squad of Dillon Verva, Michael Andrew, Madison Kennedy and Amanda Weir finished 11th in 1:32.94.
Women's 800 Free
For the third time in seven races, a U.S. swimmer picked up the top qualifying spot in the women's 800 free, and this one came in American record-time. Leah Smith blasted the final heat of the 800 free and touched in 8:07.67, breaking Kate Ziegler's American record of 8:08.00 from back in 2007. Smith now ranks seventh all-time in the event.
The Americans will actually have lanes four and five for Thursday night's final as Ashley Twitchell qualified second in 8:16.08. The rest of the pack finished more than seven seconds back, as Australia's Kiah Melverton qualified third in 8:23.51.
Canada's Olivia Anderson was next in 8:24.65, and Hungary's Katinka Hosszu qualified fifth in 8:25.00. Rounding out the final were Argentina's Delfina Pignatiello (8:25.05), China's Zhang Yuhan (8:25.33) and Australia's Ariarne Titmus (8:25.85).
The Netherlands' Sharon van Rouwerndaal, the Olympic gold medalist this year in the 10k open water swim, finished ninth in 8:27.41.