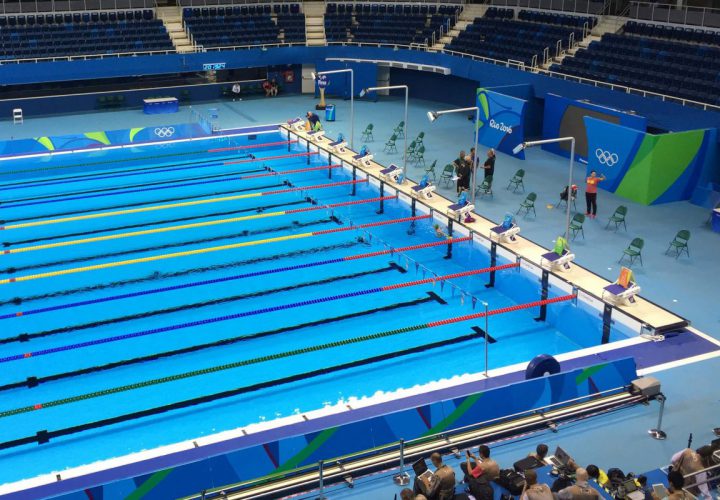 Photo Courtesy: David Rieder
FINA has proposed expanding the swimming program to 42 events for the Tokyo Olympic Games, according to a report from InsideTheGames. The proposed lineup would include adding the 50s of each stroke, the men's 800 and women's 1500 free and mixed 400 free and 400 medley relays to the current schedule of 32 events.
The addition of those events would bring the Olympic swimming schedule to match that of the biannual FINA World Championships. FINA introduced the 50s of stroke and the non-Olympic distances to its signature meet in 2001, and mixed relays were added in 2015.
These additions are just some of the more than 25 possible events various international federations have proposed adding to the Olympic schedule. There were 306 events contested in Rio, but according to InsideTheGames writer Nick Butler, the IOC is hopeful to keep the total number of events at or under 310.
Therefore, it's not likely the IOC will accept all of FINA's recommendations for swimming, particularly with so many other recommendations on the table. This is not the first time FINA has proposed the additional events—prior to the 2016 Games, FINA proposed 40 events for Rio, but that suggestion was denied.
FINA has also asked the IOC to consider new events in other aquatic sports, including high diving (27 meters high for men and 20 meters for women) and a mixed synchro duet, which would allow male synchronized swimmers into the Games for the first time.
FINA has also proposed an expanded water polo tournament (12 teams of 11 instead of eight teams of 13) and the addition of 24 divers and 20 open water swimmers to the current caps.
Again, if the IOC decides to include any of these proposals of the more-than-25, it would be very few of them, and Butler writes that of all the proposals, a three-vs-three basketball tournament appears most likely for inclusion.
Read more from InsideTheGames by clicking here.