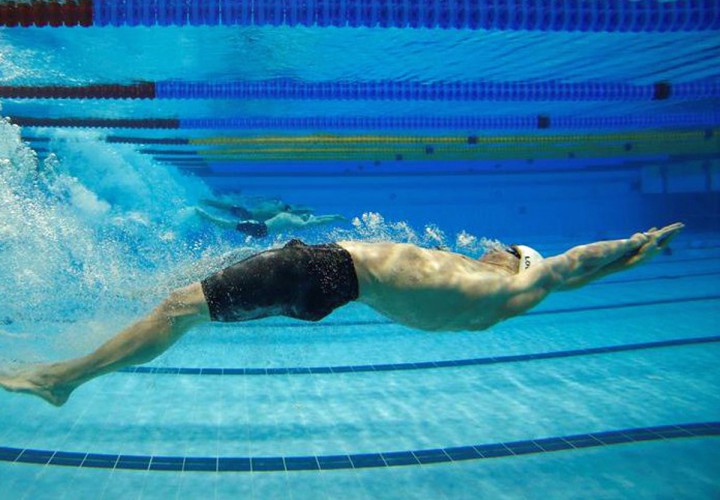 Photo Courtesy: FINA Doha 2014
FINA, the international governing body for aquatic sports, has sent a memorandum to all member federations clarifying two rules regarding pool swimming. The one that will have the most impact moving forward will be what swimmers are allowed to do when pushing off the wall for the freestyle portion of an individual medley race.
FINA made no changes to the wording of their existing rules, but issued a clarification of what is allowed after a swimmer completes the breaststroke leg in an IM race and pushes off for the freestyle leg. This comes about a month after Ryan Lochte used a new turn in the 200 IM world championship final where he pushed off on his back and kicked underwater for 10 meters. He then surfaced and swam what is commonly known as freestyle.
FINA memorandum regarding IM turn and false start
Video of 200 IM final at world championships (underwater footage begins at 2:06)

Though not illegal in freestyle-only races, officials in Russia discussed the possibility of disqualifying Lochte in the 200 IM if he pushed off on his back to start the freestyle leg. Lochte was not disqualified, and he won his fourth-straight world title in the 200 IM. Lochte and his coach, David Marsh, devised the turn after realizing that Lochte was faster when he kicked on his back. No other swimmer has used the turn in a competition.
Three weeks later at the world junior championships, FINA announced that such a turn in the 200 IM would no longer be legal and said a clarification of the rule would be forthcoming. In the memo to national organizations, FINA writes:
"Being on the back when leaving the wall for the Freestyle portion of the Ind. Medley is covering more than one quarter of the distance in the style of Backstroke and is, therefore, a disqualification. Backstroke swimming is only defined as being on the back."
Lochte will still be able to use the technique in freestyle-only races, where the rules do not require a swimmer to maintain any particular body position.
Also in the memo was a clarification of how officials will determine a false start in meets, allowing video playback to serve as a final judge. The wording by FINA indicates that only Omega's video camera system, when placed above the finish end, will be the system used to watch the playback of the start to verify a false start.
The only major issue regarding a false start at the world championships came in the semifinal of the men's 100 free, where Vlad Morozov appeared to have a very fast reaction time but was later disqualified for moving before the starting signal.
FINA memorandum regarding IM turn and false start