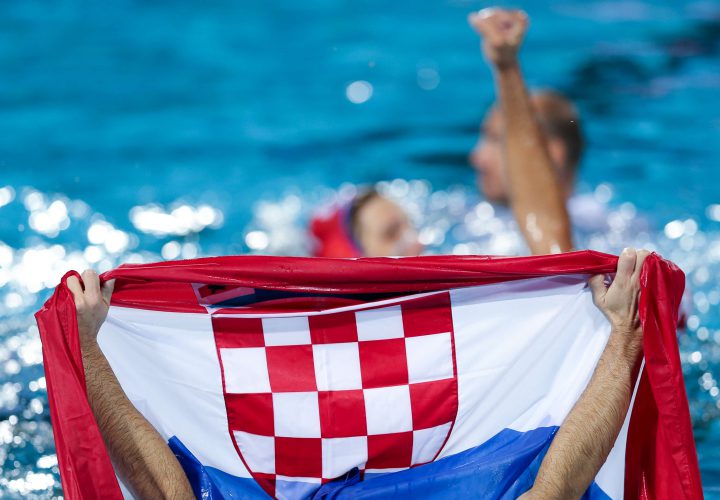 Croatian fans celebrating a second world championship. Photo Courtesy: SIPA USA
By Michael Randazzo, Swimming World Correspondent
There's no question that the FINA World Championship final between Croatia and Hungary, won 8-6 by the Croatians Saturday night at the Alfréd Hajós Swimming Complex, will be remembered for the Hungarians dramatic run to the title match, the Croatian's stunning upset of Serbia in the semifinal round, and the incredible outpouring of support and pride from the Hungarian fans, who packed the Hajós' temporary grandstands.

There were also some memorable moments, especially after the match ended. Croatian Prime Minister Andrej Plenković—a former water polo player—made the trip to Budapest to celebrate his national team's athletic success. It was surreal to be speaking to Mr. Plenković, who speaks impeccable English, about water polo.
There was also the press conference in English after all the players, coaches, doctors, assistants—you name it—had spoken for 45 minutes about the match. With four non-English speakers making statements in English, it was challenging to cut through to concrete thoughts—though the Hungarian coach, Tamás Märcz, was frank about his team's lake of experience in championship games. Those quotes can be found here.

Following are selected quotes compiled from various sources; Croatian head coach Ivica Tucak and goalie Marko Bijac were kindly translated from Croatian by George Stankovic, who also translated Andrija Prlainovic's Serbian.
Croatian Prime Minister Andrej Plenković about his national team's athletic success.
First of all, I would like to congratulate to our team, to our trainer, to our entire water polo federation I believe after ten years at Melbourne, another gold medal at the World Championship is a fantastic achievement for Croatian water polo. It proves our strong tradition, investment and attractiveness of the sport.
We are very happy and proud and look forward to more success because I think we can rejuvenate this team with younger players and that means we have a guarantee in the future.
This win comes on the wake of an historic victory over the Serbians on Thursday in the semifinals.
I would say beating the Italians in the quarterfinal, then the classic game between us and the Serbian Water Polo team. They've been very successful over the last couple of years. Then finally to win against the host in the finals, I think it's a best-case scenario; if they had dreamed about it this would have been the ideal dream.
Croatian coach Ivica Tucak was really the star of this show. His personality was on display throughout seven days of play and he devised the strategies for two major wins.
Unfortunately, he did not come to the press conference; but he did speak with Croatian broadcasters.
This is a fantastic result for Croatia and finally, we are the world champion.
The first quarter made the difference. Has Croatia played ever a better quarter?
I am glad that we played that way the first quarter, what showed that we were preparing for it and of course, it was very difficult to play the whole game in that tempo. Everything functioned great, defense too, everything was amazing
What's the most important is that we are the world champion. We wanted the title, we were believing that we'll win. And now, we are the world champion for the first time and I see the difference between first and second place
What was going on true your head at 4:0?
Wasn't anything unusual, we are prepared physiologically. What was important is that were prepared tactically and physically.
What about 4:4?
It not easy to play against team like this in front of their people. I knew that our five minutes of great game will come, that they'll have a drop in their game. What was most important is that we didn't lose our concentration. And at the end, we played a terrific defense, especially on the man down. We played as we talked about. We closed the players that we wanted (Hungary's Denes Varga was held scoreless on five shots) and let go the ones we wanted.
Croatia's Luka Loncar was a major force in the match—he scored the first goal that set the tone—and his English was quite good. A member of the media all-star water polo team, Loncar agreed to answer questions following the FINA press conference.
You come into the final after beating Serbia and could have experienced letdown. Instead you immediately go up 1-0 and score four goals in the first period.
We knew that they were gonna be nervous. It's not easy to play in front of seven thousand Hungarians—their own fans. We knew that we had a chance if we start strong. Normally we couldn't maintain this level of game play so it's normal that they came back.
For us, the best thing is we had belief in a victory and showed tremendous character throughout this whole tournament. Above all, in this final game we showed our character and won the game after we came back and those fans were cheering for them. It was an incredible evening, and incredible final match.
The Hungarians couldn't set up anything inside. What were you doing to prevent them from getting the ball to their set?
Our defenders are the strongest in the world—[Marco] Macan, [Andro] Busjle and [Ivan] Buljubasic, they are really strong and they pushed out the Hungarian centers so their shots were a very large distance, like eight or nine meters. It's not easy to score a goal from this distance.
In the third and fourth period, they came back strongly. They worked a lot with the attackers and the shots went in.
Every goal you scored in the first period was an interior goal.
It was an interior goal but it's not like we planned it. We planned to work a lot, to work with them, to swim a lot. Our players were liberated from their defenders. They came out and we had good passers in Garcia and Jokovic. We made our opportunities.
Marko Bijac, the Croatian goalie who had 11 saves for the game:
We and the whole of Croatia and all of the people in front of TV became the world champions. We respect everybody and winning against Hungary at their home pool in front of 10K audience just shows what kind of team we are. Being together and showing that and playing with full heart is what we are.
Serbia's Andrija Prlainovic, whose team placed a disappointing third, was on the media all-star water polo team. He spoke after the awards ceremony about the main thing people will remember from this tournament: that his team lost to Serbia in the semis.
Tell us about the semifinal game?
That was the game for memories, unforgettable game. The game that people will talk about it for many reasons for a long time.
Was that one of your best games? (Prlainovic scored six goals)
I think it was, based what people who follow WP for the last 10 years [said]. We, unfortunately, as a team, didn't play well at the segment of the game where we are the best. Positioning and man down game, we didn't have that needed strength. Croatia showed more hunger and desire for the win.
What is understood, since we had a great streak and at some point, it had to come to the end. Congratulations to Croatia. And they're will be many more games, many more duels between us in the future.