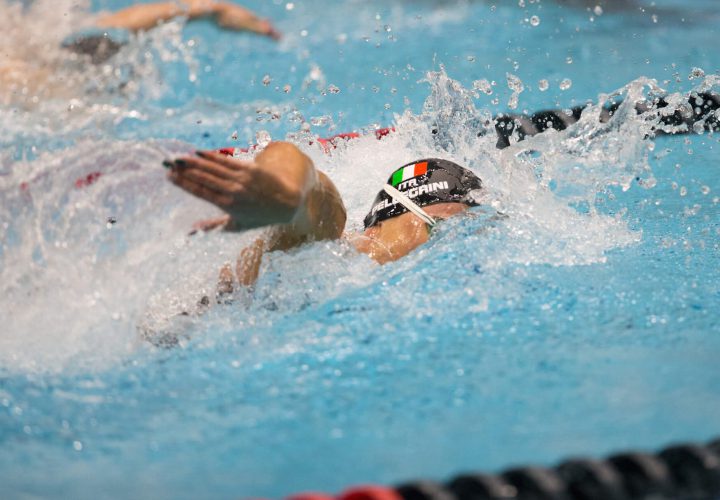 Photo Courtesy: Melissa Lundie
Italy's two most recent gold medalists in swimming, Federica Pellegrini and Gregorio Paltrinieri, each picked up national titles in their best events on the penultimate day of the Italian national championships in Riccione. Meanwhile, Arianna Castiglioni broke the Italian record in the women's 50 breast.
Pellegrini cruised to a dominant victory in the women's 200 free. The 2008 Olympic gold medalist, two-time World Champion and world record-holder in the event will head to this summer's World Championships in Budapest after posting a time of 1:55.94, fastest in the world this year.
Alice Mizzau finished second in 1:57.77, the eighth-best time in the world and under the FINA "A" cut required to go to Worlds, and Stefanie Pirozzi (1:58.94) and Rachele Ceracchi (2:00.62) finished third and fourth, respectively, and they would compete on a potential 800 free relay in Budapest.
Claudio Fossi and Federico Turrini tied for the win in the men's 200 IM, with each recording times of 2:00.43. That fell just short of the FINA "A" cut of 2:00.22. third went to Giovanni Sorriso in 2:01.13.
Silvia Scalia touched out Arianna Barbieri to win the women's 50 back, 28.47 to 28.50, with both clipping the required World Champs qualifying time of 28.52. Third went to Tania Quaglieri in 28.52.
Luca Dotto blasted a 22.00 to take the top spot in the men's 50 free, easily out-pacing Lorenzo Zazzeri (22.28) and Andrea Vergani (22.30). Dotto and Zazzeri should qualify for Worlds with those times.
Castiglioni broke her own Italian record in the women's 50 breast, posting a time of 30.72 to win the national title. That beat her own 30.74 set in 2015 and moved her to No. 2 in the world for 2017. Martina Carraro will join her in the event at the World Championships after finishing second in 30.98, and Ilaria Scarcella was third in 31.98.
In the final individual event of the day, Gregorio Paltrinieri cruised to a dominant performance in the men's mile. The Olympic gold medalist, reigning World champion and second fastest performer in history came in at 14:37.08, three seconds off his own European record of 14:34.04.
The effort is the seventh-best in history and is more than ten seconds ahead of countryman Gabriele Detti (14:48.21) as the fastest time in the world this year.
Detti, the Olympic bronze medalist from Rio, skipped the mile in Riccione but will likely still get to swim the event in Budapest. Earlier in the meet, he won the 400 free in Italian record-time and out-dueled Paltrinieri to win the 800 free. In his stead, Domenico Acerenza finished second in 15:12.10, and Federico Vanelli was third in 15:21.41.