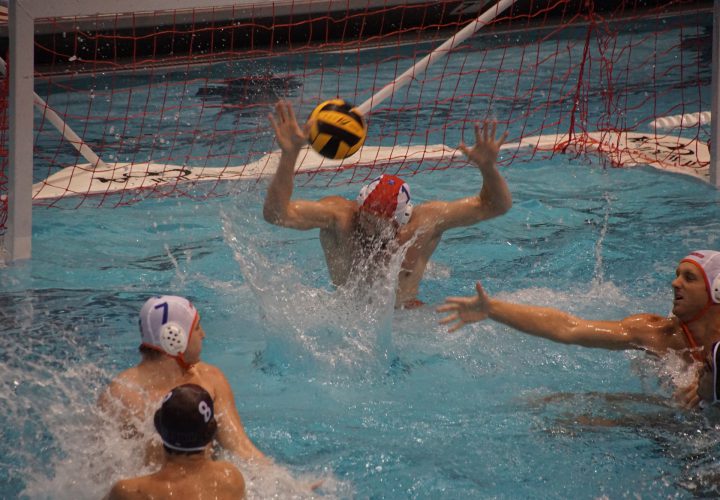 Goalie Daniel Diemer of Pomona-Pitzer vs. Brown. Photo Courtesy: Andrea Gross
By Michael Randazzo, Swimming World Contributor
CAMBRIDGE, MA. 40 or so family and friends of the Pomona-Pitzer men's water polo team descended last weekend on Boston from all over the country for a series of matches between their Sagehens and East Coast teams, including Brown, Harvard, Johns Hopkins and MIT.
"We like traveling East. It's fun and gives us an opportunity to get away from home," said Beth Abrams, whose son Zach Senator is sophomore attacker from Pacific Palisades, three hours away from Pomona's Southern California location. "Our team doesn't often make a trip like this so we thought we'd go for it.'
At Harvard's Blodgett Pool on Sunday morning, Abrams and her fellow parents' devotion was richly rewarded. Pomona-Pitzer earned a hard-fought 7-6 victory over #19 Brown, with parents, siblings, friends and casual observers pulled into the excitement of one of the National Collegiate Athletic Association's more unusual sports.
"We call him the 'Danimal!'"
David Deimer—whose son Daniel is the team's animated goalie—is clearly a source of his offspring's exuberance. As the younger Deimer punctuates outstanding saves with fist pumps, David, dressed in school colors, is equally vocal, alternately shouting praise for the players or hurling scorn at the referees.
As the final quarter winds to a close, frustrated Brown parents have had enough. One berates him for what she deems behavior unfit for water polo. Deimer, clearly not a fan who turns the other cheek, responds with a not-so-friendly gesture, further inflaming the Bear faithful, who have the compounded indignity of watching their team—once ranked as high as #14 nationally—fall to a team most of them have never heard of.
Afterwards, taking in the surprisingly balmy New England weather outside Blodgett, Deimer turns out to be as congenial up close as he was combative during the match. Traveling from St. Louis, not known as a hotbed for the sport, Deimer and his wife Kathyrn seem genuinely thrilled to be right where they are in this particular moment.
"We call him the 'Danimal!'" he announces, articulating his son's nickname with a pride of ownership.
"The California team travels well!" Deimer then crows, gesturing to the large gaggle of blue and orange-clad fans. When asked why he came East, the doctor-turned-polo-fanatic quips: "I was hoping Harvard would rub off on me and I'd get smarter."
David's mother—decidedly more reserved than her husband—expresses awe at her son's performance.
"The most amazing things is that they have to come back right after they're scored on," said Kathyrn Diemer. "That's just what he does."
It's dad's turn again. "It's tough to be a parent and watch water polo," Diemer admits.
In Unity, There's Strength.
If there's a strong bond between water polo families—and this group appears as tightly knit as an extended family—it's perhaps a by-product of both polo's postage-stamp scale at the intercollegiate level as well as how hard it is to play. Only 49 men's teams are eligible to compete for the NCAA men's national championship—meaning perhaps 750 varsity athletes in the entire country.
"The school spirit for [Pomona-Pitzer] athletics has been increasing year-to-year and our water polo group is tight," explains Beth Abrams. "Our team is like a family. We all eat together and hang out."
One specific unifier for this geographically diverse group is the allure of an elite academic institution that offers their sons a chance to play polo at the country's highest level. Pomona-Pitzer's roster represent almost every water polo-playing region in the country, from the East (Maryland and Pennsylvania) to the Midwest (Illinois and Missouri) to California, the mecca for American polo. Even Puerto Rico is represented.
Consisting of two of the best private liberal arts institutions in the country—Pomona and Pitzer, both members of the Claremont Colleges consortium—the schools field joint teams that not only compete in DIII athletics, when it comes to water polo they excel.
The Sagehens are 13-9 so far this season, including a 4-1 record in the Southern California Intercollegiate Athletic Conference (SCIAC). Four of their losses came at the hands of the country's best: #1 USC, #2 UCLA, #4 Stanford and #14 Princeton.
Despite being one of the NCAA's smaller varsity programs, the Sagehens played big last year, capturing a bid to the 2016 NCAA Men's Water Polo Tournament. They faced eventual champs Cal in a play-in match for the Final Four, losing 16-6 in Berkeley.
"Pretty cool for a Division III team to get there," said Diemer, who, due to nerves, did not make that trip.
"I was at home in diapers," he joked.
Wither the noble Sagehen?
When quizzed about what the school mascot represents, it was Stuart Senator who revealed the greatest depth of knowledge.
"It's a species of bird—not yet extinct—and it lives a bit north of Pomona," Zach's father said. "I've never personally run across one but we should hold a Sagehen banquet one of these days."
In fact, there is a real-life corollary to Cecil the Sagehen, as the Pomona-Pitzer mascot is known. According to Wikipedia, the "Greater Sage Grouse" is a "ground-dwelling bird that can reach two feet in height and 30 inches in length." Its distinguishing trait? A long-pointed tail.
What distinguishes this current crop of Sagehens are the bonds between and passion among parents that is both exceptional as well as all-to-familiar to polo fans. What will ultimately make the team special is success in conference play and beyond.
"We've seen the trajectory of them getting better and better," said Kathyrn Diemer of Pomona-Pitzer's season thus far. "We're excited for more."
Chances are, wherever the team goes, their parents will be along for the ride.