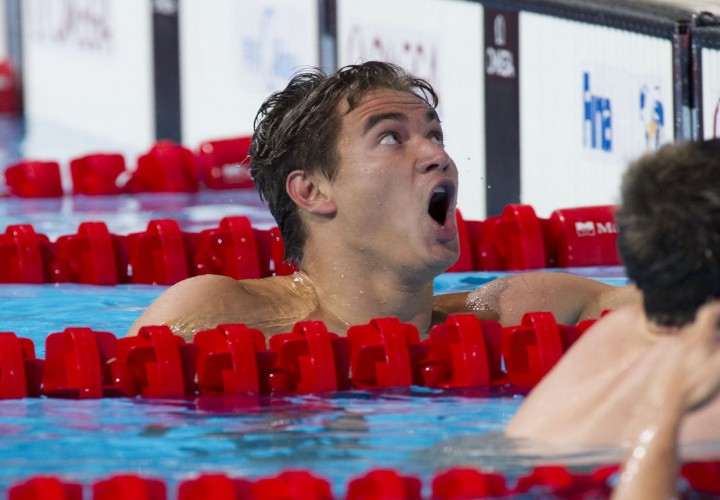 Photo Courtesy: Joao Marc Bosch
By Wayne Goldsmith
There's a lot of swimming articles about how to be successful: bet you've never read one that will tell you 5 Things You Must Do If You Want to Fail at Swimming.
There must be a lot of swimmers who prefer to fail than to succeed…..because in every squad, in every city, in every nation it seems like a lot of swimmers are doing just that – choosing to fail.
Coaches say the word "streamline" tens of thousands of times a year but does every swimmer in the team do it off every wall? No. We all know streamlining is important. We all know that the best swimmers in the world streamline off every wall every time. We know it works. So why doesn't every swimmer do it all the time? They choose not to.
Coaches plead with swimmers to attack every wall with speed and aggression and to never slow down inside the flags but does every swimmer do it every time? Uh Uh.
Coaches beg swimmers to think "technique" all the time – even during warm up and swim down but does everyone do it? Not even close.
So, the only conclusion must be, that many swimmers actually choose to be less successful than they can be.
To help all of those swimmers who actually prefer failure to being fast, fantastic and fabulous, here's The 5 Things You Must Do If You Want to Fail.
1. Turn up late or not at all.
The most important part of failing is giving up.
This is essential if you really love losing. Be late for every workout. When the alarm goes, roll over and go back to sleep. Make sure you skip sessions – particularly when there's something interesting on TV or there's a new game app just released that you just have to play. And most importantly, if you're a bit tired or a little sore or feeling a flat and unmotivated, take the day off and just hang out at home eating pizza and chocolate and drinking extra-large jumbo size sodas.
2. Allow other people to take responsibility for your swimming.
Now this tip is really important. Allow other people to take responsibility for your swimming. Tell mom to make your breakfast. Make dad empty your swim bag at the end of the day and tell your sister to wash and dry your swimming gear. Swim slowly and with poor skills until coach yells and screams at you for the 30th time during the workout. Allowing other people to do it all for you is great. You don't have to lift a finger and if you swim awfully at your next swim meet, you've got lots of people to blame. It's wonderful.
3. Don't be committed.
And you must remember this tip. Don't be committed! Finish your workout early. Don't finish your repeats on the wall. Forget your goggles a few times a week. Don't bother hydrating during training. Eating the right foods – forget it. Giving everything you've got to all that you – who needs it? All that commitment will ever get you is hard work, the relentless pursuit of excellence and the achievement of your full potential. Blah – blah – blah.
4. Look for short cuts.
This is another essential lesson in our list of learning to lose. Training at maximum speed during sprints training is for the birds. Working hard consistently – that's something they did in the "old-days". Finishing every free repeat not breathing inside the flags – not for you. Those dummies who train hard every day and give all they've got to their workouts have got it wrong. There's an easier way – a much much better way. Keep looking for short cuts, cutting corners and keep believing you can swim faster with less effort, less energy and with much less training time.
5. Forget all about your skills – starts, turns, finishes, underwater work – until it's actually race day.
A big one! Make sure your skills in training are terrible, your turns are slow, your underwater work loose and sloppy and your starts tediously lazy.
Just cruise along in training everyday. Don't give your skills work a thought – it will be all ok on race day. Perfect practice? Waste of time! Just do whatever you feel like, don't spend another moment thinking about consistently training everyday with race quality skills and when you get to your next meet, you'll get exactly what you deserve.
There it is.
Your free learner's guide to losing: The 5 Things You Must Do If You Want to Fail.
If you want to be successful, you know what you have to do.
If you'd prefer to fail – then, please read and follow the steps outlined in this article and there's no doubt you'll achieve it.
Wayne Goldsmith