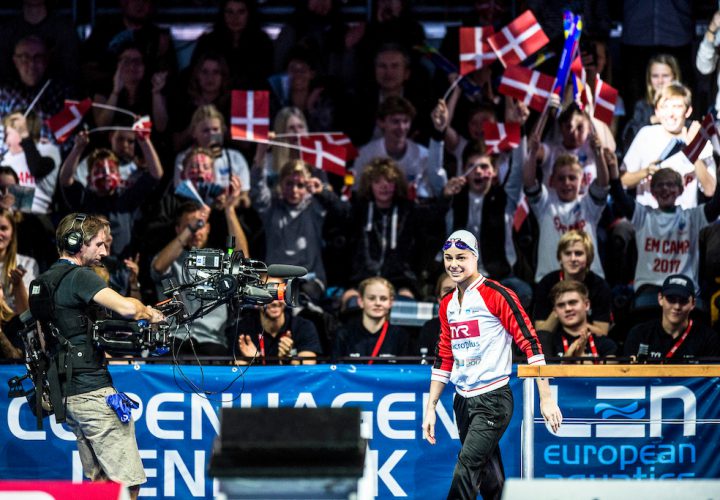 Photo Courtesy: Foto Giorgio Scala / Deepbluemedia /Insidefoto
It was an objective to sell 25,000 tickets for the event by the organizers. However, this target has been achieved by far, since more than 30,000 tickets are sold. Up top of this, free tickets for the championship are given to Danish school classes, because of a collaboration in between the Danish Swimming Federation and The Capital Region of Copenhagen. This is obviously to give the school children a great experience, but also to put focus on swimming as a skill, an exercise form and a high performance sport, which is definitely the case here at the European Championship in Swimming in Copenhagen.
More than 20 percent of the 30.000 sold tickets are sold to fans outside Denmark. 10 percent of the total is sold to Swedish spectators. The partners behind the European Championship, Sport Event Denmark, The Municipality of Copenhagen, Wonderful Copenhagen, The Capital Region of Copenhagen and the Danish Swimming Federation had a targeted to sell more than 10 percent of the tickets to foreign swimming fans.
"We are unbelievable happy to have sold 30,000 tickets just half way through the Championships, which is much beyond the target of 25.000 tickets sold in total and the sale for the foreign swim fans is so much higher than expected," says Event Manager Mads Bang Aaen.
Even if there is already sold many tickets for the event, there is yet tickets for sale to the exciting finals in the weekend. Beginning with the spectacular 100 meters freestyle with the Danish swim star and Olympic Medalist Pernille Blume. Other stars like World record holder Sarah Sjöstrøm and Dutch Ranomi Kromowidjojo, who snatched the gold medal from Emilie Beckmann in 50 meter butterfly. One of many exiting high lights in the weekend competition on Sunday, where Pernille Blume is swimming 50 meters freestyle.
Tickets can be bought at the ticket office in front of the Arena, but also can be purchased online.
The European Championship is running to Sunday 17 of December. Preliminary heats begins every day on 9.30 am and the finals takes off at 5 pm.
The European Championship in Swimming 2017 is a collaboration between The Danish Swimming Federation, Sport Event Denmark, Wonderful Copenhagen, The Municipality of Copenhagen, The Capital Region of Copenhagen and Hovedstadens Svimklub for Ligue Européenne de Natation (LEN).
The above press release courtesy of #EuroSwim2017