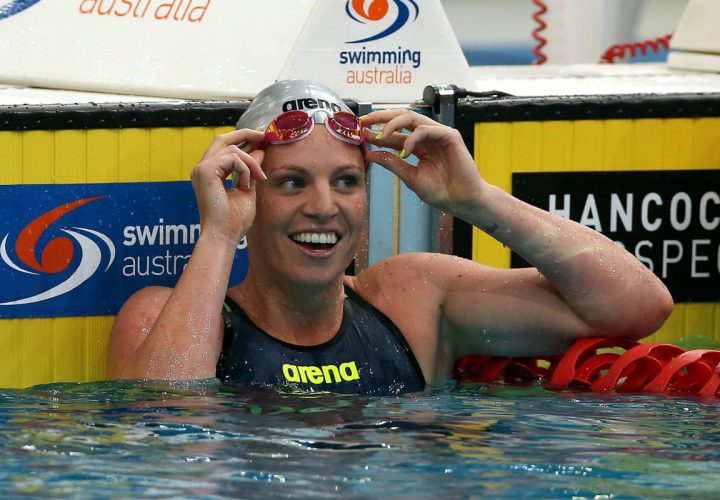 Emily Seebohm vaulted to the top of the world rankings with a blistering time of 58.96, just off her Australian All-Comers record of 58.70 from last year.
Seebohm cleared Kylie Masse's 59.06 to become the first swimmer under 59 seconds this year.
Madison Wilson raced her way to fourth in the world rankings with a 59.19, while Minna Atherton also cleared 1:00 with a 59.46 to move to fifth in the world rankings, setting up what should be a truly special finale.
                     === Semi-Finals ===                        
 
  1 SEEBOHM, EMILY   23 BGRAM             1:00.09      58.96Q  957  
    r:+0.63  28.68        58.96 (30.28)
  2 WILSON, MADISON  21 STPET               59.54      59.19Q  946  
    r:+0.56  28.76        59.19 (30.43)
  3 ATHERTON, MINNA  15 BGRAM               59.97      59.46Q  933  
    r:+0.65  28.64        59.46 (30.82)
  4 HOCKING, BELIND  25 NUN               1:00.31    1:00.19   900  
    r:+0.57  29.30      1:00.19 (30.89)
  5 WHITTAKER, SIAN  18 MVC               1:00.30    1:00.69   878  
    r:+0.61  29.70      1:00.69 (30.99)
  6 MCKEOWN, KAYLEE  14 PWCAL             1:01.60    1:00.80   873  
    r:+0.61  29.41      1:00.80 (31.39)
  7 BARRATT, HOLLY   28 ROC               1:01.71    1:00.88   870  
    r:+0.55  29.46      1:00.88 (31.42)
  8 FORRESTER, AMY   17 BOND              1:01.60    1:01.34   850  
    r:+0.72  29.75      1:01.34 (31.59)
 -----------------------------------------------------------------
  9 NGAWATI, KOTUKU  21 MVC               1:02.71    1:02.02   822  
    r:+0.63  30.15      1:02.02 (31.87)
 10 BAKER, HAYLEY    20 MVC               1:01.64    1:02.13   818  
    r:+0.48  30.20      1:02.13 (31.93)
 -----------------------------------------------------------------
 11 UNICOMB, JESSIC  18 ALLSA             1:02.25    1:02.18   816  
    r:+0.61  30.05      1:02.18 (32.13)
 12 SHERIDAN, CALYP  17 BGRAM             1:02.69    1:02.57   801  
    r:+0.57  30.31      1:02.57 (32.26)
 13 WILLIAMS, ZOE    20 MARI              1:02.90    1:03.07   782  
    r:+0.63  30.33      1:03.07 (32.74)
 14 BURLEIGH, SHANI  23 NUN               1:03.05    1:03.47   767  
    r:+0.61  30.47      1:03.47 (33.00)
 15 HABIB, MICAELA   18 MARI              1:03.63    1:03.59   763  
    r:+0.62  31.40      1:03.59 (32.19)
 16 RETTIE, LAUREN   19 YERPK             1:03.60    1:04.60   728  
    r:+0.59  31.32      1:04.60 (33.28)