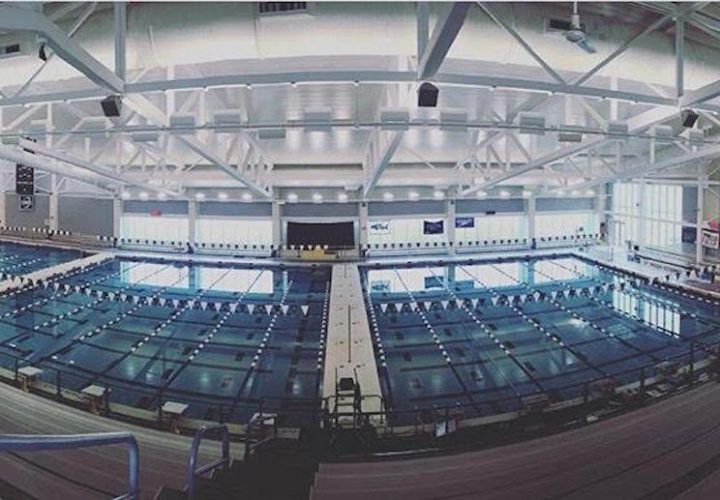 Photo Courtesy: Ithaca College Swimming and Diving Instagram @ic_swimming_and_diving
Speedo Sectional Series is proudly sponsored by Speedo. Visit SpeedoUsa.com for more information on our sponsor.
Speedo Sectionals got started in Ithaca tonight with just two events: the women's 1650 and the men's 1000.
The women's 1650 was a remarkably close race for first. Portland Porpoise's Emily Ecker got to the wall in 16:38.03, just faster than Seacoast Swimming Association's Emma Whall who clocked a 16:38.09.
Ecker, who is only 14, held onto her top seed with a one and a half second drop. Whall knocked 15 seconds off her seed time. The two swam stroke for stroke for the whole race. Whall had a slight lead at the 500 with a 4:57.50 to Ecker's 4:57.98. Ecker regained the upper hand, flipping at the 1000 in 10:02.22 to Whall's 10:02.66. That time was an Ithaca pool record for Ecker.
Asphalt Green's Emily Weissman had a 23 second drop to finish third in 17:01.26.
The men's 1000 was not as tight, but the top two still separated themselves from the field. Badger's Andrew Babyak dropped four seconds from his seed time to finish in 9:13.09. With a 9:16.00 Upper Valley Aquatic Club's Kristian Hansen took silver.
Babyak turned in 4:37.22 at the halfway point. Hansen actually led by a narrow margin at the 500 with a split of 4:37.00.
Victor Swim Club's Kai Wisner dropped ten seconds to claim third in 9:23.14.
At the end of night one Seacoast Swimming Association leads the team rankings with 52 points while Badger Swim Club and Victor Swim Club both sit second with 46 points.
Results are available on Meet Mobile: 2017 EZ North Speedo Short Course Sectionals.