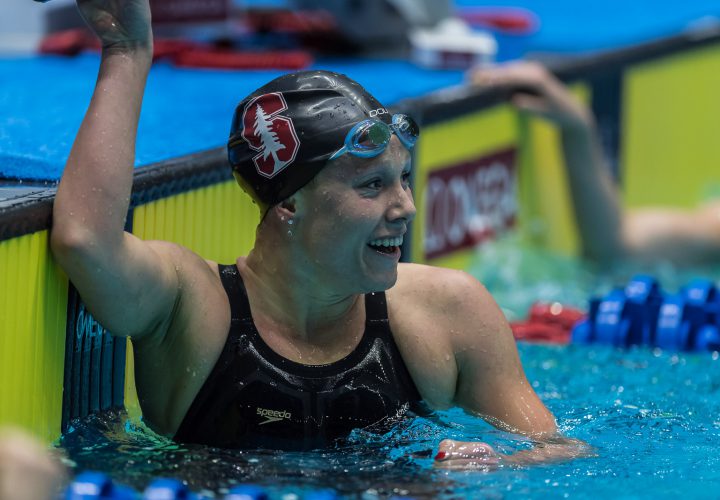 Photo Courtesy: Peter Bick
NCAA DI editorial coverage is proudly sponsored by Adidas. Visit adidasswimming.com for more information on our sponsor. For all the latest coverage, check out our event coverage page.

CLICK FOR FULL RESULTS
Stanford sophomore Ella Eastin won her second event of the meet in the 200 fly after she won the 400 IM last night. Eastin got some pressure early from early leader Katie McLaughlin of California. Eastin won the race thanks to a strong last turn at 1:51.35. McLaughlin was second at 1:52.37 and is now tied for 11th all time in the 200 fly with fellow Golden Bear Dana Vollmer. Virginia got big points from Jen Marrkand and Kaitlyn Jones finishing third and fourth at 1:53.15 and 1:53.19 respectively.
Texas also had some big points in that race, but sophomore Remedy Rule ended up disqualified for a 15m violation after originally placing third. Maddie Wright, Lauren Case and Sarah Gibson also swam in the A-final. The team race got a little bit more interesting as Texas is only 15.5 points ahead of Georgia for fifth place. Neither team will score points in diving, so barring a relay disqualification from Georgia, they will pass Texas for fourth place. The Longhorns did not place in the top eight in the last relay and Georgia is the top seed there.
This was Stanford's 11th overall win in the 200 fly, the most of any school by far. Eastin joins Elaine Breeden (10, 09, 07), Shelly Ripple (02), Misty Hyman (01, 98), Janel Jorgensen (93, 90) and Summer Sanders (92, 91) as winners for the Cardinal in the event.
Event 19  Women 200 Yard Butterfly
=========================================================================
         NCAA: N 1:49.92  2/25/2009 Elaine Breeden, Stanford
         Meet: C 1:50.61  3/19/2016 Kelsi Worrell, Louisville
     American: A 1:49.92  2/25/2009 Elaine Breeden, Stanford
    U.S. Open: O 1:49.92  2/25/2009 Elaine Breeden, Stanford
         Pool: P 1:52.61            Camille Adams, Texas A&M
    Name           Year School            Prelims     Finals NISCA Points
=========================================================================
                            === A - Final ===                            
 
  1 Ella Eastin      SO Stanford          1:52.58    1:51.35P        20  
    r:+0.69  25.18        53.82 (28.64)
        1:22.65 (28.83)     1:51.35 (28.70)
  2 Katie McLaughli  SO California        1:53.92    1:52.37P        17  
    r:+0.71  24.90        53.49 (28.59)
        1:22.38 (28.89)     1:52.37 (29.99)
  3 Jen Marrkand     JR Virginia          1:54.12    1:53.15         16  
    r:+0.62  25.71        54.61 (28.90)
        1:23.64 (29.03)     1:53.15 (29.51)
  4 Kaitlyn Jones    SR Virginia          1:52.93    1:53.19         15  
    r:+0.64  26.25        54.73 (28.48)
        1:23.60 (28.87)     1:53.19 (29.59)
  5 Maddie Wright    SO Southern Cali     1:54.41    1:53.39         14  
    r:+0.73  25.53        54.66 (29.13)
        1:24.46 (29.80)     1:53.39 (28.93)
  6 Lauren Case      FR Texas             1:53.44    1:54.05         13  
    r:+0.70  25.93        54.82 (28.89)
        1:24.30 (29.48)     1:54.05 (29.75)
  7 Sarah Gibson     SR TAMU              1:53.32    1:54.68         12  
    r:+0.71  26.08        55.13 (29.05)
        1:24.97 (29.84)     1:54.68 (29.71)
 -- Remedy Rule      SO Texas             1:54.34         DQ        
      Head did not break the surface by 15 meters
    r:+0.69  25.11        53.84 (28.73)
        1:22.58 (28.74)          DQ (30.34)
 Combined Team Scores - Through Event 19                 
 
  1. Stanford                        486.5   2. California                        334
  3. Texas A&M                       270.5   4. Texas                             234
  5. Georgia                         218.5   6. Louisville                      168.5
  7. Indiana                           168   8. NC State                          166
  9. Minnesota                         157  10. Southern Cali                     141
 11. Michigan                          139  11. Virginia                          139
 13. Missouri                          135  14. Kentucky                          106
 15. Arizona                          84.5  16. Wisconsin                          72
 17. UNC                                61  18. Ohio St                            52
 19. Auburn                             50  20. UCLA                               39
 21. Umbc (W)                           30  22. Miami (Oh)                         29
 23. Tennessee                          27  24. Nevada                             25
 25. Florida St                         21  26. Denver                             20
 26. Northwestern                       20  28. Virginia Tech                      18
 29. Lsu                                14  30. Iowa                               13
 30. Arizona St                         13  32. Cincinnati                         12
 33. Penn St                            10  33. Boise St                           10
 35. Purdue                              7  36. Miami (Fl)                          5
 36. Air Force (W)                       5  38. Florida Gulf                        4
 38. Pittsburgh                          4  38. South Carolina                      4
 41. Alabama                           3.5  42. San Diego State University          2
 42. Notre Dame                          2  42. Massachusetts                       2
 45. Drexel                              1  45. Rutgers                             1