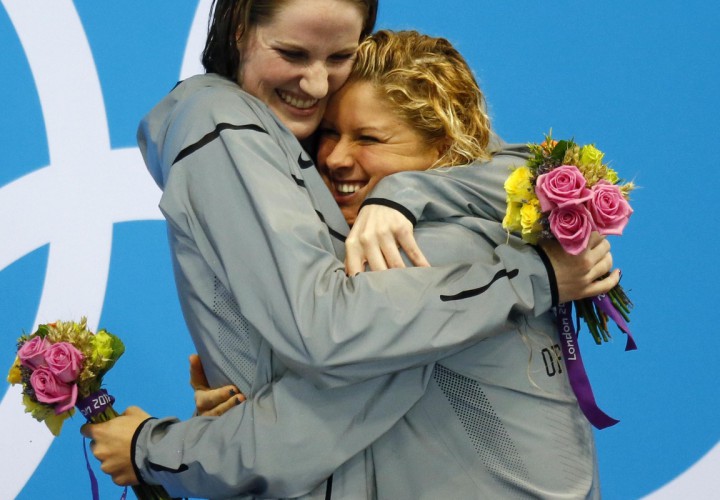 GAINESVILLE – Elizabeth Beisel has excelled at every level of swimming, from winning local age group meets to collecting medals at the Olympic Games. During an interview for the cover story of the November issue of Swimming World Magazine (available online for Total Access subscribers), Beisel was asked about her favorite swimming moment. It turns out that three big swims in her life are equally memorable.
Qualifying for U.S. Olympic team in 400 IM at 2008 Olympic Trials
"That was an extremely pivotal point in my career. It was so exciting to be so young (15 years old). It was a dream of mine to make an Olympic team, so the first time you do that, you can't compare it to anything else."
Winning the 400 IM world title in 2011
"That was another one of those times when I honestly had no expectations whatsoever. I had a terrible 200 back the night before. I had no idea what to expect, and I ended up winning. Surprises are awesome, and I love surprises. That was a surprise."
Bronze medal in 200 back at 2012 Olympics
"My first (Olympic) medal, in the 400 IM, in London was awesome, but I think one of the coolest things was the bronze in the 200 back because that was also so unexpected. The medal ceremony for that was awesome because Missy (Franklin) won and I got to listen to our national anthem and be up there with her. I get the chills thinking about it. You can't really use words to describe what it's like to be on a medal podium at the Olympics, but it's one of the coolest moments I've ever experienced."
Total Access subscribers can read our feature story on Elizabeth Beisel in the November issue of Swimming World Magazine, available online tomorrow! Click here to get your Total Access subscription!