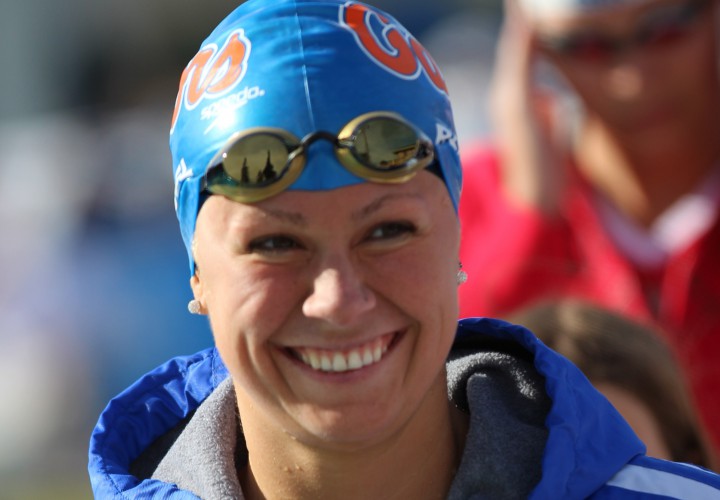 Photo Courtesy: David Farr
After a summer of traveling to Budapest for World Championships, Austin for the LEAD Sports Summit and more, three-time Olympian Elizabeth Beisel made a trip back home to Rhode Island for the state's Swim Across America event.
The swim was one in a series of sixteen open water swims occurring throughout the summer months. It occurred on September 9 at Roger Wheeler Beach in Narragansett, Rhode Island.
Per her Instagram account, the small state hosted the largest Swim Across America event ever, raising over $175,000 for cancer research. According to the Swim Across America website, the distinct total was $178,927. Beisel was joined by 2012 Open Water Olympian Alex Meyer at the head of the pack.
While most people donate money to the cause or participate in the half mile or mile swim themselves, Beisel went one step further in visiting cancer patients at the Women & Infants Infusion Center in Providence, R.I.
According to the Providence Journal, Beisel brought her upbeat and energetic personality to the facility, in an attempt to thank the patients who support her even during their troubled times.
"They're in a hospital going through chemo for breast cancer or ovarian cancer — whatever it is — and they're happy for me," Beisel told the Journal. "And that blows my mind, because their outlook on life is so different from everybody else. We need more people in the world like that."
While she may have impacted the lives of these patients this weekend, it is clear that Beisel has also influenced countless swimmers throughout her career. She was named team Captain at both the 2016 Olympic Games and 2017 World Championships and won the Team Leadership & Inspiration Award at the 2016 Golden Goggles. She credited past Olympians such as Natalie Coughlin for teaching her how to properly and effectively lead a national swim team.
Beisel told the Journal about her experiences at these meets, including her disappointing 400 IM performance in Rio. But she was excited to remember her bronze medal swim in the 200 back in 2012, where the gold was earned by American teammate Missy Franklin:
"I just have this image of the two American flags reflecting in the water," Beisel said. "That's something I'll never forget."
She did not receive quite the same experience in Budapest after finishing seventh in her signature 400 IM. But the event reminded her that she loved swimming because of the sport itself, not because she is good at it.
"I know so many swimmers who retire and refuse to get in the pool ever again," Beisel said. "And that's so sad, because that's not the goal when you start swimming or start any sport."
And when it comes to that big word—retirement, Beisel will wait until the end of the year to make a formal announcement on her status as a professional competitive swimmer. In the meantime, she voiced some new personal goals for outside of the pool. Beisel hopes to earn a job in sports broadcasting, contribute to NBC coverage of the 2020 Olympic Games and write a book.
And with a life already full of giving, experiencing and inspiring, that is sure to a be book many people will read.