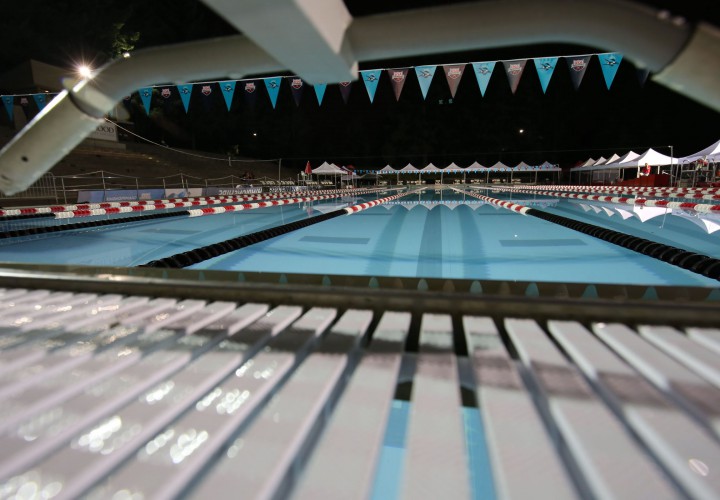 Photo Courtesy: Nicholas McMillan
Agon is the proud sponsor of all high school coverage (recruiting, results, state championships, etc.) on SwimmingWorld.com. For more information about Agon, visit their website?AgonSwim.com.?National Records for High School Are Pending Application Verification.? Click Here to Learn More
Agon is the proud sponsor of all high school coverage (recruiting, results, state championships, etc.) on SwimmingWorld.com. For more information about Agon, visit their website AgonSwim.com.
The Eastside boys and the South Aiken girls ran away with the South Carolina 4A state titles this afternoon. Following Eastside's 484 points the South Aiken boys scored 392.5 and Myrtle Beach finished third with 252. The South Aiken girls totaled 366 while Eastside grabbed 291 and Hilton Head pulled in 278 points for third.
Girls' Meet
AC Flora posted a two second victory to start the meet. Lucy Mccardle, Katherine Loggins, Riley Ammons, and Frazier Reynolds posted a 1:51.83 to take the 200 medley relay. Myrtle Beach's Olivia McGonigal, Danielle Flaherty, Kennedy Drew, and Catherine Miller finished second in 1:53.81. Rouen Brockman, Meaghan Lyons, Kara Kurtz, and Victoria Gill swam a 1:54.32 for Hilton Head.
Dreher's Hayley Mason was far ahead of the field with a 1:51.96 200 freestyle. Riley Parker of Eastside was second in 1:56.92 and Gill was the last swimmer under two minutes (1:57.19). Mason came back again to take home the 500 free victory in 5:01.30. Eastside's Cara Bognar (5:10.31) and Hilton Head's Victoria Gill (5:18.23) completed the top three.
Greenville's Anna Havens Rice posted a 2:06.98 to claim the 200 IM crown. Lauren Beckish of Wren beat Bognar 2:10.17 to 2:10.54. Rice was a double winner, swimming a 1:06.61 100 breaststroke ahead of North Augusta's Emily Sam (1:08.04) and Lyons (1:09.83) earned bronze.
The 50 freestyle finish was a tight one. Audrey Robinson of South Aiken, Berkeley's Sarah Mundy, and WRN's Kate Beckish stopped the clock in 24.44, 24.48, and 24.64 respectively. Beckish then rose to the top of the pack in the 100, taking the state title in 54.02. Mundy was again second, this time with a 54.17. South Aiken's Jordan Foster finished third in 54.52.
Robinson took her second state title of the morning with a 57.17 100 butterfly. Lauren Beckish followed in her sister's footsteps, taking second in 58.79. ACF's Meagan Robins was also under a minute with her 59.45.
The 100 backstroke was a tight finish. Myrtle Beach's Olivia McGonigal (1:00.07), Kate Wolf of SJA (1:00.28) and Dreher's Vinez Lyde (1:00.97) stood atop the podium.
Dreher's Lyde, Eleanor Wachtel, Eliza Cate, and Mason posted a winning 1:40.52 in the 200 freestyle relay. South Aiken's Hannah Price, Jordan Foster, Kaitlyn Golyski, and Robinson finished in 1:43.26. Third went to Myrtle Beach's Drew, Flaherty, Miller, and McGonigal (1:43.89). South Aiken put Kyra Allison, Emily Chafin, Foster, and Robinson (3:41.04) on top of the podium in the 400 freestyle relay. AC Flora's Ammons, Meagan Robins, Frazier Reynolds, and Mccardle were second (3:45.28) while Wachtel, Cate, Lyde, and Mason (3:47.16) finished third for Dreher.
Boys' Meet
Tanner Edwards, Emerson Edwards, Cole Teas, and Will Higgins opened the meet with a 200 medley relay win for AC Flora in 1:42.64. Eastside's Dawson Kramer, Dylan Muse, Ian Rodgers, and Carson Donovan finished second (1:43.63). In third was North Augusta's Jack Henry Myers, Zak Griffin, Drew Fuller, and Noah Wilson in 1:44.22.
At the meet's midpoint South Aiken's Reid Chafin, Javin Williams, Jacob Buck, and Ethan Hirsch landed atop the podium in 1:31.54. Eastside was second again, this time with Joseph Brooks, Donovan, Malcom McKeithan, and Luke Smith (1:31.81). Myrtle Beach's crew of Isaiah Ivey, Nestor Llanot, Ian Morgan, and Sean McGonigal (1:32.14) earned bronze.
South Aiken closed out the meet with gold again thanks to Buck, Michael Robinson, Hirsch, and Chafin (3:22.61). For the third time, Eastside earned silver with Brooks, Kramer, McKeithan, and Smith. Ivey, Morgan, Justin Roberts, McGonigal were bronze with 3:29.22.
Aiken's Jason Kekacs (1:45.34) and his teammate Drew Samaha (1:48.52) were first and third in the 200 free while Hilton Head's Kevin Geist (1:47.40) finished second. Geist later won the 100 fly in 53.20 while North Augusta's Drew Fuller was second in 53.97 and South Aiken's Reid Chafin (54.63) won bronze. Kekacs took home a second championship with a 4:46.42 500 freestyle. SJA Casey Mitchell (4:56.42) and Jospeh Brooks (4:59.74) were top three.
Brooks touched just ahead of teammate Muse and South Aiken's Michael Robinson as the three finished in 2:02.11, 2:02.20 and 2:02.57 in the 200 IM.
Ivey and Daniel's Ethan Culler were the only two swimmers under 22 in 21.69 and 21.98. Third in the 50 free was Hirsch (22.26). Ivey topped the podium again with a 48.39 100 free. Samaha (49.98) and Michael Ellenburg (49.43) rounded out the top three.
Culler later won the 100 backstroke (54.33) just ahead of South Aiken's Michael Robinson (54.37). SJA's Casey Mitchell (55.91) finished third. Emerson Edwards (1:01.16) edged South Pointe's Maurilio Saddoud (1:01.25) and North Augusta's Zak Griffin (1:01.63) for the 100 breaststroke crown.