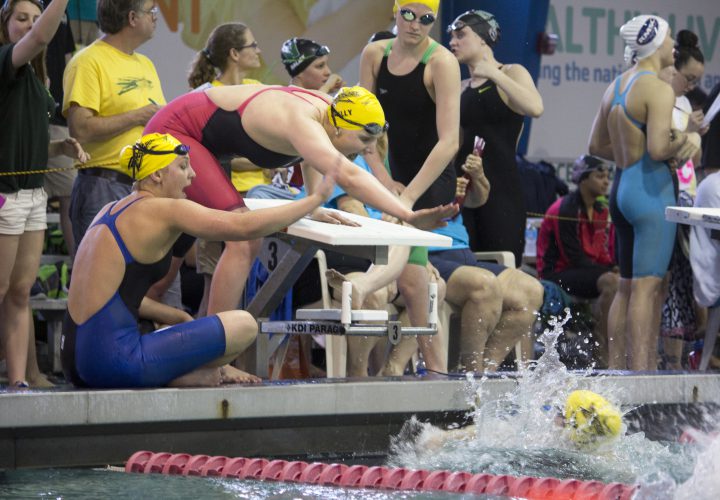 Photo Courtesy: Christopher Rattray
By Erin Himes, Swimming World College Intern
Dynamo Swim Club had a top three finish in every event tonight as the Southeastern Futures Championships opened tonight in Atlanta, GA.
Katelyn Kilpatrick of Central Florida Marlins kicked off the meet with a win in the 800 Meter Freestyle, finishing in 8:53.58. Just behind her was Bryn Handley of Lakeside Swim Team in 8:54.26. Abigal Grottle of Dynamo Swim Club finished third with a personal best 8:57.67.
In the Men's 1500 Freestyle, John Scanlon of T2 Aquatics finished first with a personal best 15:54.15. Jackson Gunning of Stingrays followed with a 15:59.78, and Ian Grum of Dynamo Swim Club finished third in 16:04.86.
Dynamo Swim Club took first in the Women's 800 Free Relay. The team consisting of Tristen Ulett, Emma Layton, Evie Bragg, and Grottle finished in 8:25.61. In second was Marlins of Raleigh's team of Grace Countie, Sarah Giamber, Madison Duracinsky, and Brooke Rubendall in 8:26.94. Charlotte Hylinski, Erin McCullagh, Heidi Lowe, and Olwyn Bartis of SwimMAC Carolina finished third in 8:27.12
The evening ended with Metro Aquatic Club of Miami's Men dropping over 8 seconds to take gold in the 800 Free relay. The team of Adrian Aguilar, Altor Fungairino, Miguel Madeira, and Alexander Arrieta finished in 7:38.24. Swim Fort Lauderdale followed in 7:40.45, as Raphael Marcoux, Julien Pinon, Philippe Marcoux, and Nikita Tretyakov raced to second. Michael Taylor, Alexander Ballard, Ryan Pilkington, and Derek Cox of Dynamo Swim Club finished third in 7:40.55.
All results can be found on Meet Mobile.