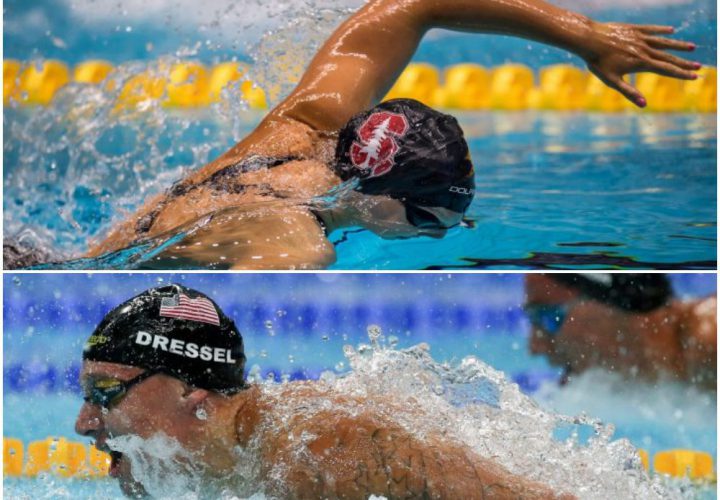 Photo courtesy: SIPA USA/Peter H. Bick
Katie Ledecky and Caeleb Dressel have been named two of 26 finalists for the United States Olympic Committee's Team USA Best of the Year Awards. Nominations are given to athletes who contribute outstanding achievements to Team USA year round and were Best of the Month award finalists throughout the year.
Online fan voting will account for 50 percent of the vote, while members of the Olympic and Paralympic "family" will account for the second half of the voting process.
The Team USA Awards honor athletes and teams of the year in six categories:
Female Olympic Athlete of the Year, presented by DICK'S Sporting Goods
Male Olympic Athlete of the Year
Olympic Team of the Year, presented by Dow
Female Paralympic Athlete of the Year
Male Paralympic Athlete of the Year
Paralympic Team of the Year, presented by Dow
Both Ledecky and Dressel were nominated for their respective "Olympic Athlete of the Year" honors. They were considered for their accomplishments at the 2017 FINA World Championships in Budapest. At the meet, Ledecky won five gold medals and Dressel claimed seven, including his historic three-gold haul on one night.
Ledecky will be up against Heather Bergsma (Long Track Speed Skating), Lindsey Jacobellis (Snowboarding), Helen Maroulis (Wrestling) and Mikaela Shiffrin (Alpine Skiing).
Dressel will take on Lowell Bailey (Biathlon), Sam Kendricks (Track and Field), Kyle Snyder (Freestyle Wrestling) and McRae Williams (Freestyle Skiing).
Additionally, the U.S. Women's Water Polo Team from the World Championships was nominated for Olympic Team of the Year after becoming the first team ever to win a World Championship title after winning Olympic gold. They are up against Women's Ice Hockey and Bobsled.
Voting will take place until Oct. 30.
Team USA contributed to this report.