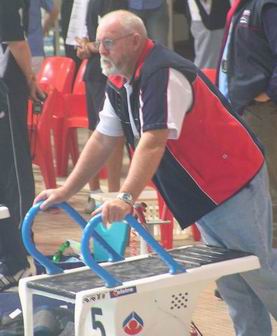 Story & Photo by Stephen J. Thomas
CANBERRA, Australia, April 27. IT was announced today that the vastly experienced campaigner Doug Frost has be appointed to a position of senior coach at the Australian Institute of Sport (AIS). He fills the vacancy left following the recent departure of head coach Pierre La Fontaine who has returned to his homeland of Canada.
Frost was at the top of his game in May 2002 when he received the "Coach of the Quadrennium" award from the World Swimming Coaches Association (WSCA) largely on the back of his coaching achievements with Ian Thorpe. However, just a few months later Frost and his super swimmer parted company following the Pan Pacific Games in Yokohama.
Since that time the 62-year-old Frost moved away from his long-time base in Sydney and had appeared to be quite settled coaching at the Southport pool complex on Queensland's Gold Coast. Over the past twelve months Frost had been particularly successful in building up his age group squad, taking the club to third position overall at the Australian Age Championships earlier this month.
A change of heart by former AIS senior coach Barry Prime would not have left many Irish eyes smiling. Prime decided not to proceed with the position of National Performance Director for Swim Ireland he had accepted just a week earlier. The 50-year-old Prime, who left the AIS last December after twelve years, had recently spent some time working with Denis Cotterell at the Miami club on the Gold Coast. It simply came down to a greater desire to remain in Australia where Prime had developed strong ties since arriving in 1993.