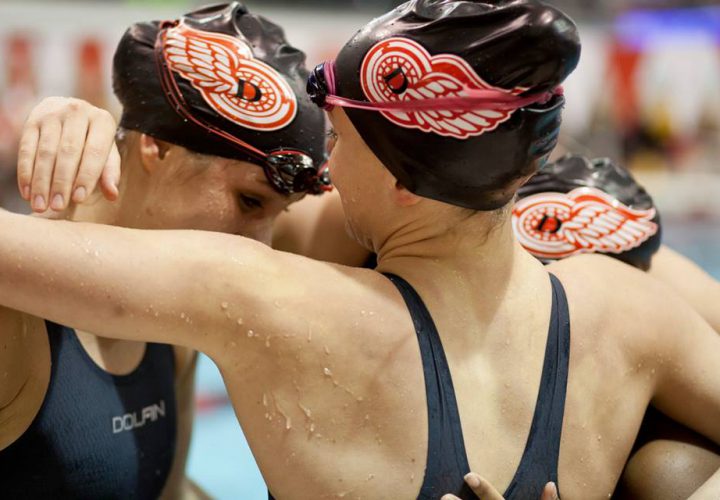 Photo Courtesy: Allen Rich
Editorial content for the 2018 NCAA DIII Championship coverage is sponsored by TritonWear. Visit TritonWear.com for more information on our sponsor.
There are not a lot of major Division III teams facing off against each other this weekend. Instead, a few of the top ranked teams are facing Division I opponents in hopes of getting some good competition before the bulk of the fall schedule kicks in. With teams like Kenyon, Emory and Williams with the weekend off, Denison (#3/4) is hosting Eastern Michigan from the Mid-American Conference, while Johns Hopkins (#5/8) is facing Towson and Navy in a tri-meet.
Johns Hopkins will have to move on from graduating seniors Andrew Greenhalgh and Evan Holder who finished runner up in their events at NCAA's last year. Instead they will rely more heavily on current seniors Griffith Otazu and Mark Wilson. Wilson is ranked third nationally in the 100 fly (51.27) and Otazu is third in the 200 fly rankings (1:55.05).
Sophomore Brandon Fabian, a transfer from Virginia Tech has also impressed for Johns Hopkins as he leads the nation in the 200 free (1:41.49) by two seconds and 100 free (46.63) by less than a second.
On the women's side, three Hopkins swimmers lead the national rankings with senior Courtney Cowan in the 200 free (1:52.29), junior Samantha Kegel in the 200 back (2:07.66), senior Gwyneth Lamastra in the 100 (1:05.65) and 200 breast (2:21.60). They also have a couple swimmers ranked at number two nationally with senior Kaitlin Jones in the 200 IM (2:09.76), sophomore Michelle Wang in the 200 back (2:07.67), Cowan in the 500 (5:02.39) and senior Anna Wisniewski in the 100 free (52.63).
Overall, the Johns Hopkins women's swim team has built a strong team that will be looking to improve from its 9th place finish at NCAA's last season.
Denison has only had one meet this season where they finished runner-up behind Kenyon (#1/3) in the NCAC relay meet. They lost two valuable seniors in All-Americans Campbell Costley and Carolyn Kane. They will have to rely on sophomore breaststroke duo of KT Kustritz and Kate Mesaros. Kustritz finaled in both the 100 and 200 breast at NCAA's last season where she finished second and seventh respectively. Mesaros finished eighth in the 100 breast final last season.
On the men's side, Denison is missing reigning 400 IM national champion Jackson Lindell to graduation. They are returning an experienced group including senior Zachary Wagner, juniors Matt Hedman, Kenny Fox and Walter Dauksher who all finished in the top eight in their respective individual events. They also return three of the four legs that won the 800 free relay a year ago including Dauksher, Stuart Hohm and Ryan Stevenson.
Denison men finished third at NCAA's last year while the women finished fourth, and they will have their hands full this weekend if they want to get by Eastern Michigan as well as if they want to crack Emory and Kenyon at the top of the Division.