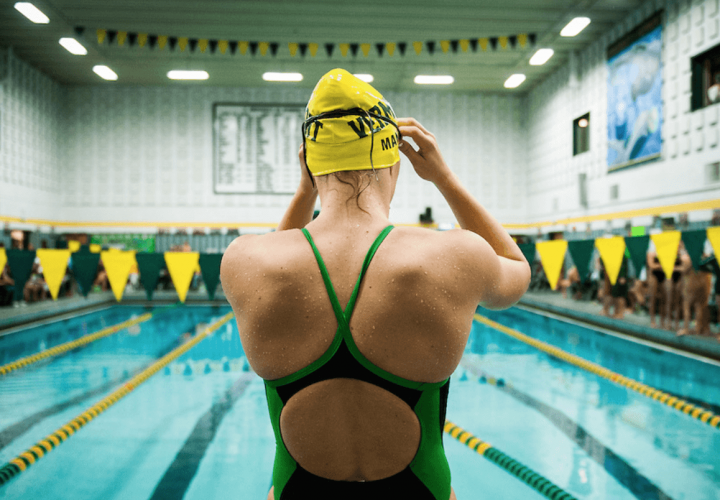 Photo Courtesy: Brian Jenkins-UVM Athletics
By Chandler Brandes, Swimming World College Intern.
Dear Swimming,
I remember the first time we met.
I was a young, excited swimmer with big clear Speedo goggles, ears sticking out of my cap, and a suit three sizes too big. Not yet knowing how to dive, I jumped in for my first race. To no one's surprise, I got disqualified. Did I care? Not at all.
But little did I know that there would be plenty of more DQs in my future. Little did I know that I would swap a too-big suit for one that took twenty minutes to get on. My younger self never imagined the places you'd take me and I didn't know that in a few years I'd be the one swimming at the meets I admired my older teammates for attending.
And little did I know how much you would change my life.
I did other sports growing up, but something about you always kept calling me back. I found myself drawn to you and I couldn't stay away. I was addicted to the sense of accomplishment after a hard workout, the feeling I'd get after achieving my goal, knowing that every day was a chance to get better. I loved that. The early mornings and the hard practices—I even loved those, too.
But as I got older, my relationship with you drastically changed. I started to realize that swimming was what I did, not who I was. I went from being excited for every practice to simply going through the motions. I started to shut down and began questioning what I truly wanted from you.
Even as I started to drift away, you were always there, like clockwork. You were there through the time drops and the seconds added, the good days and the bad days, the peaks and the plateaus. You saw me grow up from a little girl to the person I am today, and I have a laundry list of things to thank you for.
Thank you for providing me with invaluable lessons that I will carry with me for the rest of my life. Thank you for introducing me to some of the best friends I will ever have. Thank you for opening doors to opportunities I never thought were possible and for teaching me that I always have it in me to go the extra lap, no matter what.
Most importantly, thank you for never, ever giving up on me.
So here we are. Thirteen years after I jumped in for my first race, I dove in for my last. Although it was not easy saying goodbye to you, I know it's the right decision.
But here's the thing: it's not goodbye for good. Even though I've hung up my suit, you will always be part of my life, and maybe one day we'll find each other again.
So, Swimming, thanks for one amazing adventure. What a ride it has been.
Love,
A swammer
All commentaries are the opinion of the author and do not necessarily reflect the views of Swimming World Magazine nor its staff.