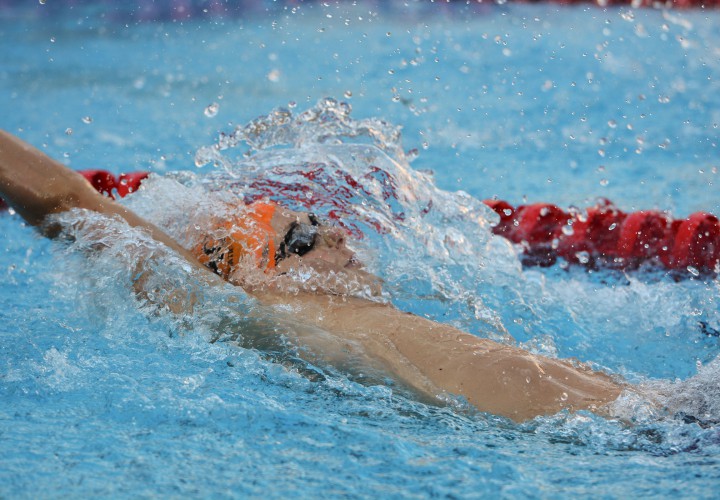 Photo Courtesy: Donna Nelson
The 2016 NCSA Junior Nationals continued into day four with fast times in SCY prelims. Dean Farris of Metro Atlanta was the only swimmer to double in prelims, claiming the top seed in both the men's 100 back and 100 free. Farris jumpstarted the morning session with a swift 47.60, splitting 22.95 and 24.65 respectively. Frederick Schubert of NOVA posted the only other time under the 48-second mark with a time of 27.89.
Not long after claiming the top spot in the 100 back, Farris stopped the clock in the men's 100 free at a 43.77. Farris turned in splits of 20.92 and 22.85 to be the only swimmer under the 44-second mark. McFarland Spartans' Daniel Krueger (44.09) and SwimStrong's David Madej (44.48) rounded out the top three.
Lucie Nordmann of Magnolia dashed ahead of the competition in the women's 100 back, posting a sizzling 53.09 to claim the number one seed in tonight's finals. Ozaukee's Autumn Haebig finished second in prelims with a time of 53.96 to be the only other swimmer under the 54-second mark. NCAP's Eireni Moshos grabbed third with a time of 54.02, edging Alexandra Sumner of Suburban Seahawks and her 54.03 to fourth.
Paige Madden from City of Mobile led the field in the women's 500 free, delivering a final time of 4:42.17. Madden finished more than four seconds ahead of the competition and shaved 1.14 seconds off her entry time of 4:43.31. Greater Tampa's Morgan Tankersley and NCAP's Isabella Rongione turned in close times to round out the top three. Tankersley took second with a 4:46.59 over Rongione's 4:46.78.
Margaret Aroesty of Long Island continued her dominance of the breaststroke field with a 2:11.87 finish in the women's 200 breaststroke battling Northern Kentucky's Madeleine Vonderhaar to the very finish. Vonderhaar finished just behind Aroesty with a time of 2:11.89. Westchester's Katherine Douglass rounded out the top three with a 2:13.04.
Penn Charter's Reece Whitley surged ahead of the field in the men's 200 breaststroke, stopping the clock at 1:54.43. Whitley's time was within one second of his own NAG record of 1:53.66, which he posted last December at Nation's Capital's Invitational. Georgia Coastal's Brennan Pastorek turned in a time of 1:57.63 for second, while Spencer Rowe of NCAP took third with a 1:57.79.
NCAP's Kylie Jordan posted the top time in the women's 100 fly with a time of 53.23. Jordan split a 25.03 and a 28.20, adding just slightly to her entry time of 53.00. Teammate Jasmine Hellmer finished close behind with a 53.51, shaving .69 seconds off her entry time of 54.20. Osaka's Skylar Fore rounded out the top three with a 53.59.
Kingfish's Camden Murphy delivered the top time in the men's 100 fly, stopping the clock at 46.96. Murphy swam within one second of his best time of 46.25 and the NAG record of 46.23 owned by Michael Andrew. Schubert grabbed second in the event with a time of 47.57, while Cardinal's Nicolas Albiero finished third with a 47.65.
NOVA's 'A' relay and Dayton Raiders' 'A' relay battled for the win in the men's 800 free relay, posting final times .02 seconds apart. NOVA's relay of Aaron Schultz (1:38.35), Schubert (1:37.54), Charles Swanson (1:38.11), and Jacob Johnson (1:39.28) turned in a combined 6:33.28 to out-touch the Dayton Raiders' Cody Bybee (1:38.28), Thomas Cope (1:37.11), Eric Knowles (1:39.14), and Dylan Curtis (1:38.77).