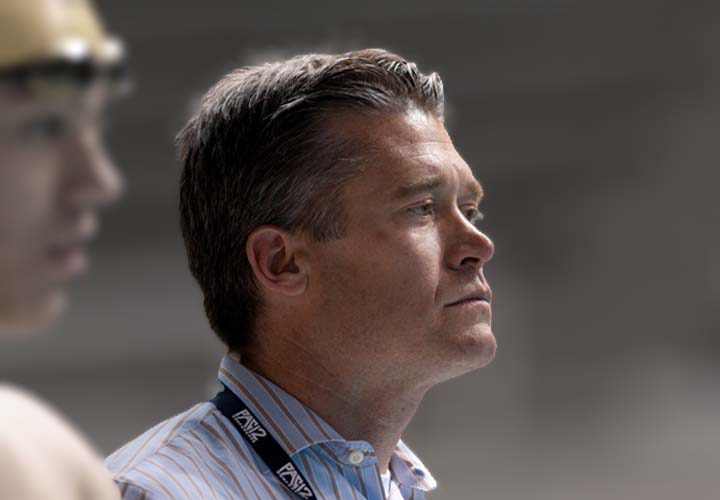 Morning Splash by David Rieder.
Dave Durden made no effort to sugarcoat it. "I wasn't a very good swimmer," he said.
As a coach, though, Durden acquitted himself well. Entering his 11th season as the head men's coach at Cal, his teams have finished in the top two at the NCAA championships each of the previous eight years. And in 2016, he and assistant Yuri Suguiyama placed five swimmers on the U.S. Olympic team.
Aside from his stable of professionals and his college team—expected to again be among the best in the country this season—Durden was head coach for the U.S. men's team at this summer's FINA World Championships.
It was his second straight Worlds leading the U.S. team, and after a rough go of it in Kazan—where, in his own words, he "messed up all the relays"—Durden earned plenty of praise for his work in Budapest, including from legendary Texas coach and U.S. men's assistant Eddie Reese.
"He is Mr. Organized," Reese said. "He's really good."
Well, so were the American men in Budapest. Under Durden, the team won seven gold medals and 16 total medals, up from just two gold medals and 10 total podium finishes two years earlier in Kazan.
Over the years, Durden has consistently been able to get his swimmers—currently those at Cal and on the U.S. National team, but before that at Auburn and at Maryland—to swim fast at crunch time. He's learned the right buttons to push for any individual athlete or squad.
But when it came time for Durden himself to compete for the first time in 19 years, he needed a little bit of an extra boost.
Durden's children swim in a local summer league, and he was tapped for leadoff duty for the Scottsdale Swim Club dads'' 100 free relay at the city championship meet. So he came out for the race in a full-body polyurethane suit—one of the ones that have been banned from competition since 2010.
"According to the Walnut Creek City League bylaws, there are no suit restrictions placed on the parents' relay, one of the final events of the city meet," he said. "Just like running off the side of the deck is not prohibited in the parents' relay, the tech suit is also a legal suit."
Durden ended up giving his team a bodylength lead after his 10-second 25 free leadoff leg, and the other three dads held on for victory.
In crunch time, just like his swimmers, Durden got the job done.
The Technician
Durden's own experience in the pool, combined with his background as an engineer, determined what kind of coach he would turn out to be—highly technical and focused on the smallest details in stroke technique.
"Sometimes when you're not very good, you tend to pay attention to all the little things to try to get better and to find extra seconds or extra tenths of seconds," Durden said. "Because I acknowledged that I wasn't a great swimmer, I still feel like I have to look at every little thing for an athlete to get better."
That means no one-size-fits-all mold. During an hour-long presentation on backstroke technique at the ASCA World Clinic in Washington last month, Durden explained how he instructs Olympic gold medalist Ryan Murphy, fellow U.S. Olympian Jacob Pebley and sophomore backstroker Andy Song differently on technical matters
It also means that just because something has worked, doesn't mean Durden is unwilling to change it—especially if he has a swimmer who understands the big picture of why those changes would be necessary.
A swimmer like, say, Nathan Adrian. After winning Olympic gold in the 100 free in 2012 and two individual bronze medals in 2016, it would have been perfectly understandable if Adrian wanted to keep on with his typical approaches to training and racing when he returned for his ninth—yes, ninth—season with Durden this year.
But instead, they changed things up. Adrian went away from his typical race strategy in the 100 free, holding back towards the beginning and coming home strong instead of going all-out the entire race.
Adrian did not resist—he actively encouraged Durden to think outside the box. After almost a decade as one of the world's premier sprinters, Adrian's working relationship with Durden has been critical in keeping things fresh.
"I am just really, really happy that Dave is receptive to doing things differently," Adrian said. "I think it's really fun. He doesn't have an ego where he's like, 'We have to do it this way,' and 'This is how we're going to be the fastest.' It's, 'Hey Dave, what do you think about this?' We come together, and we figure out a plan."
That back-half strategy ended up working out nicely—sixth at the halfway point in the 100 free World Championships final, Adrian charged home to pick up a silver medal—but even if the strategy had flopped, Durden believed that with the big picture in mind, experimentation would still have been worth it.
"With how our sport is sectioned up in terms of quads, to be able to try something, do something different, change up a schedule, change up the training plan for a particular athlete one year after the quad, the gain of doing that far outweighs the loss," Durden said.

"The loss of not medaling at World Championships, or the color of medal, or not making the World Championships team, that's minimal compared to the gains you can make going forward with those athletes for this particular cycle, 2020."
The Stars
At the Olympics in Rio, Murphy won three gold medals, becoming only the sixth man in history to win gold in both the 100 and 200 back at the same Olympic Games.
It was the finest single-meet performance any Durden-coached athlete had ever put together. And after it was over, he went back to school.
After doubling down on his focus for the Olympics, Durden implored Murphy to focus on being a student-athlete for his final year as a Golden Bear. By the end of the year, he would still rank among the best in the world in the men's backstroke events, but he couldn't get his hand on the wall first in either the 100 or the 200 at the World Championships. What happened? Well, life.
"He comes back (from the Olympics) into two semesters of school, graduating, finishing up his degree which he'll finish up this fall, transitioning from an amateur athlete to a professional athlete in a very short window of time," Durden explained.
For one year, swimming was not the only priority in his life.
"It's a priority, but there's things that have equal weight in that," Durden said. "He's making sure he's academically in a spot to be set up for the next 40 years of his life with his education, making sure professionally he's set up for the next four years of his life and then, all the sudden, it's like, 'I have to pull back and get ready for this meet.'"
The results—a bronze in the 100 back, a silver in the 200 back and two relay gold medals—were still solid performances, but Murphy was visibly displeased with how things turned out.
"Well, sure, he's mad," Durden said. "He expects himself to be there. He's just as mad as he was in 2015 (after the World Championships in Kazan, where Murphy didn't win an individual medal), and he responded extremely well over the next 12 months. I would expect that his response is similar as he goes through the next three years."
Returning to the training pool at Cal, it's a straightforward plan with the 22-year-old Murphy: He's not happy with how things went in Budapest, he tends to respond well to poor performances, and he wants to get back on the gold-medal platform.
For another of the top-notch backstrokers in Durden's program, the message and the goals are much different. Because even though Missy Franklin is the same age as Murphy, she's at a much different point in her swimming career and in her life.
Franklin had never swum for Durden before, but watching from afar, she had long respected him for his calm demeanor on deck and noticed how much his athletes enjoyed swimming for him. So after her devastating Olympics, she chose him as her new coach.
Franklin has not competed since she missed the 200 back final at the Olympics in Rio. Beat down physically—she had double shoulder surgery early in 2017—and emotionally, she took the summer off of swimming.
"Dave—I cannot say enough about him—has been so unbelievably supportive throughout this entire process," Franklin said in June. "He hasn't been pressuring me to do absolutely anything. It's on my own time, whatever I need, he just wants me to be happy and healthy, and he's willing to do whatever it takes to get me to that point."
The goals Franklin and Durden have set aren't long-term-oriented or time-focused. You know the cliché about taking things one day at a time and enjoying the process? For Franklin, that's exactly what it boils down to.
"We're working on the day-to-day to get better and not trying to get past that," Durden said. "I think she can enhance our training environment with her day-to-day and what she's doing and how she's doing. I think those are the two main goals, the two big goals right now and not to get past that."
With now six U.S. Olympians in his pro group, Durden has to cater to the unique individual needs of each one of them, all very different human beings at different stages of their careers and of their lives. Each of them has big goals, and each has found reason to put their full trust in Durden.
So has the University of California-Berkeley for the past decade, and so has USA Swimming with its most important teams, immediately giving Durden another shot at the World Championships two years after the lackluster results in Kazan.
Year after year, the former electrical engineering student who was "not a very good swimmer" has proven he knows how to wire swimmers and put together teams that get the job done.