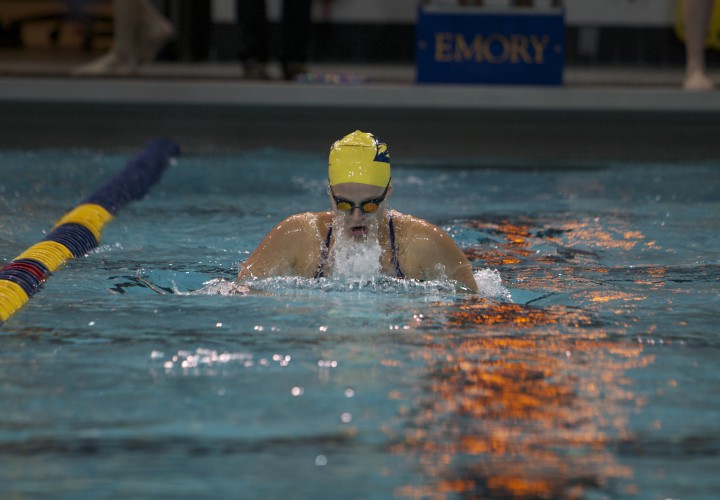 Photo Courtesy: Emory Athletics
By Cathleen Pruden, Swimming World College Intern
After close meets with each other, Williams and Amherst rocketed upwards in Wednesday's CSCAA Top 25 poll. A few teams dropped from the bottom of the rankings while some others joined. Williams is back in action this week in another NCAA D3 featured meet.
1. Williams vs. MIT
The number four Williams women will host the ninth ranked MIT team on Friday. MIT's distance corps of Addie Chambers, Theresa Lo, and Mary Theilking will face some very tough competition in Megan Pierce, Livia Domenig, and others. Williams' backstroke duo of Olivia Jackson and Katie Bennett will face MIT's Veronika Jedryka. All three backstrokers were All-Americans last season. The two teams are well matched in the relays as well. The Engineers' 200 medley relay (1:44.82) is currently ranked eighth, just ahead of the Ephs' (1:45.71) 12th placed relay. The two teams are ranked seventh and ninth in the 400 freestyle relay.
The undefeated, number four Engineers race the tenth ranked Williams Ephs Saturday. The MIT men have incredible depth, and some Ephs swimmers should face some great competition this weekend. In the 200 backstroke, MIT's Dougie Kogut, Brad Jokubaitis, Daniel Smith, and three others have posted B cuts. Williams' Benjamin Lin holds the 18th ranked time in the nation, right in the midst of the Engineers. MIT's depth shows in its relays, none of which are ranked lower than tenth this season. The Williams men will have the opportunity to defend their home pool and rise to the occasion.
2. Emory vs. West Florida and Delta State
The top ranked Emory women and their third ranked men will face the Division 2 West Florida and Delta State teams this weekend. The Eagle women are incredibly deep in nearly every event. In the 50 freestyle, five swimmers have recorded times under the 24 second barrier. How many of them will top West Florida's Peggy Devilliers (23.86)? The 100 breaststroke should be a very competitive event. Emory swimmers Annelise Kowalsky and Lizzie Arnoff hold the seventh (1:03.37) and 10th (1:03.85) fastest times in Division 3 this season while West Florida's Olga Kosheleva has posted a 1:03.29 and Delta State's Kirsten Stroven has swum a 1:03.36. Emory's Rebecca Upton has posted a 10:25.33 in the 1,000 (not a D3 NCAA event) and will be challenged by Delta State's Melanie Tombers (10:12.50) and West Florida's Alli Crenshaw (10:17.95).
On the men's side, there should also be some interesting races. Emory's Mitchell Cooper (3:57.41) and Chandler Lichtefeld (3:59.77) are both under the four minute barrier in the 400 IM. Delta State's Cody Lavoie (3:57.25) has also broken the mark this season. In the 200 freestyle, Emory's Christian Baker (1:37.99) should be stroke for stroke with Delta State's Mattia Schirru (1:37.40). Those two teams should combine for some competitive relays. The Eagles' top 200 free relay this season stands at a 1:21.46 while Delta States' time is a 1:20.57.
3. Chicago vs. DePauw vs. Calvin
In the women's meet, the eighth ranked Chicago team will race DePauw (13th) and Calvin (18th). In the 200 freestyle, DePauw's Angela Newlon has recorded the nation's third ranked time of 1:50.50, though Calvin's Abby VanHarn (1:53.22) and Chicago's Maya Scheidl (1:53.82) could have a nice race, as the two are closing in on the NCAA B cut. In the 200 IM, Chicago's Megan Wall (2:08.25) and DePauw's Kirsten Olson (2:09.54) should be an exciting match up.
On the men's side, Chicago is ranked ninth, Calvin 13th, and DePauw 21st. This meet could be an exciting sprint showcase, as three of the nation's top eight 100 freestylers could go head to head. Chicago's Thomas Meek (44.94) and Alexander Farrell (45.12) should have a close race with DePauw's Blake Lehmann (44.98). Two Calvin swimmers could create a great race in the 100 backstroke. Skyler Fisher (50.91) and Ben Holstege (51.05) are just off the NCAA B cut which Chicago's Winston Wang (50.82) has already earned this season.
Men
[table "" not found /]
Women
[table "" not found /]