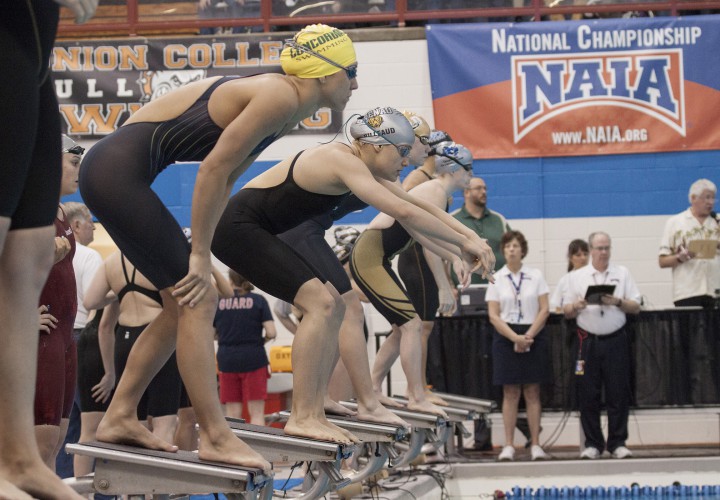 The College Swimming and Diving Coaches Association of America (CSCAA) selected their NAIA and NJCAA All-Americans.  In total, 75 female and 72 male NAIA students were selected for the team.  Among NJCAA teams, 71 women and 67 men were selected.
Indian River State College led the list with seventeen men and seventeen women selected.  Among NAIA programs the SCAD-Savannah women and Olivet Nazarene men each had a dozen selections.
Individuals were selected on the basis of their finish at either the NJCAA or NAIA Championships and membership with the CSCAA.  The top eight individuals and top four relays in each event earned First-Team recognition while relays finishing 5-8th were named Honorable Mention (or 2nd Team) All-American.
Women's Selections
NAIA First Team
Baker, Haley    Biola
Bond, Andrea    Wayland Baptist
Borders, Ronni    Lindsey Wilson
Brandt, Rebecca    Biola
Crow, Cadie    SCAD-Savannah
Dammann, Samantha    Biola
Dammann, Sophia    Biola
DeLong, Kara    Olivet Nazarene
Donnelly, Cydney    Columbia College
Dowling, Lindsay    Brenau
Gerke, Deirdre    Olivet Nazarene
Getrouw, Xiomara    Saint Andrews
Gonzalez, Suzanna    Morningside College
Goodrum, Claire    Asbury
Harper, Bethany    Biola
Hayward, Courtney    Brenau
Henninger, Julie    SCAD-Savannah
Hodgetts, Alisha    Brenau
Ireland, Chloe    Brenau
Justus, Rebecca    SCAD-Savannah
Karnilaw, Taylor    Soka
Kaufmann, Lara    Union College
Khiyara, Ines    Lindsey Wilson
Kleinschmidt, Ella    Brenau
Klouda, Christina    Cumberlands
Lacusky, Sara    SCAD-Savannah
Latocha, Leanne    Olivet Nazarene
Lev, Jane    Keiser
Litke, Brittany    Cumberlands
Macdonald, Jessica    Lindsey Wilson
Miller, Madeline    Olivet Nazarene
Monahan, Megan    Columbia College
Moran, Amanda    Olivet Nazarene
Munschauer, Rachel    Keiser
Rafferty, McKenna    LU-Belleville
Ragland, Alle    SCAD-Savannah
Ray, Tiffany    Olivet Nazarene
Rehl, Danielle    Cumberlands
Reinhardt, Lydia    SCAD-Savannah
Rhodes, Sierra    Olivet Nazarene
Richey, Abigail    SCAD-Savannah
Rittenbach, Emilia    SCAD-Savannah
Roller, Erika    SCAD-Savannah
Ronci, Hayley    Olivet Nazarene
Rose, Anna    Brenau
Rozar, Emily    SCAD-Savannah
Santos, Shanynn    Olivet Nazarene
Seitz, Bailey    Lindsey Wilson
Silzel, Emily    Biola
Stinchcomb, Rachel    Biola
Tixier, Lisa    Biola
Toussaint, Yanne    Brenau
VanOost, Vanessa    Olivet Nazarene
Vega, Andrea    Olivet Nazarene
Walin, Casey    Cumberlands
Weber Callahan, Annie    SCAD-Savannah
Wood, Emily    Lindsey Wilson
Woody, Julie    SCAD-Savannah
Second Team
Adams, Cassie    Columbia College
Bertomeu, Maria    LU-Belleville
Ceausu, Nicole    Cumberlands
Featherstone, Claire    LU-Belleville
Haeuber, Leah    Asbury
Hall, Susanna    Asbury
Hartwig, Lina    LU-Belleville
Holmes, Tarryn    Saint Andrews
Knebelkamp, Chiara    Saint Andrews
Korostina, Dasha    Cumberlands
Krasteva, Hristina    LU-Belleville
Lourens, Choolwe    Saint Andrews
Maletin, Tara    Cumberlands
Nogueira, Maria    Cumberlands
Sauer, Lindsey    Asbury
Smeltzer, Katy    Cumberlands
Williams, Da'Nelle    Columbia College
Men's Selections
NAIA First Team
Andersen, Magnus    Olivet Nazarene
Arvidsson, Anton    SCAD-Savannah
Ax, Joel    SCAD-Savannah
Bakovic, Mihovil    Wayland Baptist
Bennett, Charles    Olivet Nazarene
Billmann, Timo    LU-Belleville
Bisher, Clay    Asbury
Boon, Elliot    Saint Andrews
Bordes Adell, Xavier    Olivet Nazarene
Bouma, Joshua    Olivet Nazarene
Brinson, Shane    Biola
Bunner, Brogan    SCAD-Savannah
Cripe, Seth    Olivet Nazarene
de Jong, Ivar    Union College
Dixon, Josh    Saint Andrews
Dozortsev, Igor    Cumberlands
Eekhof, Maxime    LU-Belleville
Engeln, Niels    LU-Belleville
Engler, Wyatt    Keiser
Globke, Bjoern    Wayland Baptist
Groh, David    Cumberlands
Günther, Henri    Wayland Baptist
Hartley, Danny    Keiser
Jessee, Keith    Asbury
Khoroletc, Vladislav    Olivet Nazarene
Krastev, Georgi    Saint Andrews
Kuzmin, Daniil    Olivet Nazarene
Larzabal, Iker    Lindsey Wilson
Lewis, Justin    Keiser
Macek, Lukas    Keiser
Magnoler, Guilherme    Olivet Nazarene
Morales, Josiah    Wayland Baptist
Mueller, Jonas    Lindsey Wilson
Nunn, Michael    Soka
Oh, Nick    Keiser
Olbrich, Tim    SCAD-Savannah
Paetzold, Clemens    Lindsey Wilson
Patino, Juan    Saint Andrews
Peterson, Nate    Olivet Nazarene
Pitts, Timothy    Union College
Poulsen, Magnus    Olivet Nazarene
Rafaj, Matija Luka    LU-Belleville
Rogne, Carl    Cumberlands
Ruiz-Rojas, Nico    Wayland Baptist
Schmalzreich, Tim    LU-Belleville
Schroeder, Jason    Saint Gregorys
Skultinas, Matas    Olivet Nazarene
Smilie, Josh    SCAD-Savannah
Smith, Jacob    Cumberlands
Stukov, Andrei    Keiser
Sweat, Ryan    SCAD-Savannah
Thatcher, Joel    SCAD-Savannah
Timmer, Tyler    Olivet Nazarene
Torell, Styrbjorn    SCAD-Savannah
Tscherner, Nico    LU-Belleville
Uz, Joaquin    Keiser
Wargo, Nick    SCAD-Savannah
Westerlind, Joel    Cumberlands
Zolotukhin, Alex    Cumberlands
Second Team
do Nascimento Brilhante, Arthur    LU-Belleville
Fritz, Joshua    Asbury
Gallegos, Hugo    Wayland Baptist
Menendez Muniz, Diego    Cumberlands
Nicholson, Ethan    Wayland Baptist
Otley, Tommy    Asbury
Patzer, Zac    Lindsey Wilson
Pierce, Bryce    Cumberlands
Prado de Lima, Jose    Lindsey Wilson
Rasmussen, Colt    Asbury
Rodgers, Brenden    Cumberlands
Sedacca, Joey    Cumberlands
Simmons, Chase    Cumberlands
Women's Selections
NJCAA First Team
Abad, Meagan    Indian River
Boone, Morgan    Herkimer CC
Chrisman, Heather    Monroe CC
Christenson, Maddy    Lincoln College
Clear, Annessa    Southwestern Oregon
Cramer, Madeline    Southwestern Oregon
Cure, Nichole    Lincoln College
Daley, Nikki    South Georgia
Dias, Monique    Iowa Lakes
Dostie, Sarah    Indian River
Dunton, Jessica    South Georgia
Elliott, Madison    South Georgia
Ewald, Madison    Lincoln College
Falk, Mya    Southwestern Oregon
Gallowich, Kamryn    Indian River
Grothe, Natalie    Indian River
Haxton, Chastity    Indian River
Henderson, Miranda    South Georgia
Herndon, Brittany    South Georgia
Holt, Morgan    Indian River
Hoyer, Khalani    Southwestern Oregon
Jentges, Casey    Southwestern Oregon
Kindhart, Miran    Lincoln College
Lemus, Angelica    Southwestern Oregon
Luis, Domineeka    Indian River
Lyons, Madisyn    Indian River
Mack, Megan    Monroe CC
Marquart, Hallie    Monroe CC
McDonald, Haley    Lincoln College
McReed, Osianna    Indian River
Meyrick, Lauren    Indian River
Miller, Taylor    Indian River
Misech, UB    Lincoln College
Morris, Bekah    South Georgia
Ocasio-Molina, Kiana    South Georgia
Perrett, Courtney    Indian River
Raymond, Jessica    Erie CC
Smith, Delaney    South Georgia
Smith, Sienna    Southwestern Oregon
Stewart, Courtney    Indian River
Tafelski, Skylar    South Georgia
Van Der Westhuizen, Ianthe    Indian River
Wallen, Malin    Indian River
Warning, Adrianna    Indian River
Westhoff, Madison    Lincoln College
Second Team
Cole, Sam    Fashion Institute
DeBiase, Allie    Erie CC
Fotos, Cassandra    Fashion Institute
Gifford, Jordan    Fashion Institute
Gregor, Alison    Monroe CC
Harrison, Michelle    Iowa Lakes
Huffman, Asha    Southwestern Oregon
Kindhart, Miranda    Lincoln College
Klein, Kristin    Erie CC
Kuzminksi, Christine    Iowa Lakes
Landis, Alexa    Fashion Institute
LeBlanc, Presley    Southwestern Oregon
Moller, Rachel    Iowa Lakes
Motta, Carla    Lincoln College
Nehring, Renee    Iowa Lakes
O'Connell, Maggie    Fashion Institute
Ridout, Autumn    Iowa Lakes
Schneggenberger, Jessica    Iowa Lakes
Slimak, Alexis    Erie CC
Smith, Tabby    Erie CC
Toussaint, Andrea    Monroe CC
Vance, Christina    Lincoln College
VanDermeer, Ashley    Monroe CC
Vira, Veronika    Fashion Institute
Wellard, Kylie    Iowa Lakes
Yanzsa, Courtney    Fashion Institute
Men's Selections
NJCAA First Team
Andrasco, Jacob    Indian River
Austin, Trace    South Georgia
Berggren, Alexander    Indian River
Blau, Keagen    Iowa Lakes
Blijden, Gavrilo    Indian River
Bolivard, Guillaume    Indian River
Breshears, Darrin    Southwestern Oregon
Broschat, Christian    Southwestern Oregon
Brown, Andrew    South Georgia
Collinson, Hylton    Iowa Lakes
Costine, Robby    Indian River
Crawford, Thomas    Southwestern Oregon
Davis, Jake    South Georgia
Dean, Caleb    Southwestern Oregon
Diorio, Michael    South Georgia
Dominovic, Marko    Iowa Lakes
Elaisa, Paul    Lincoln College
Elz, Zac    South Georgia
Erdmann, Gavin    Indian River
Fauteux, John    Indian River
Felker, Presley    Southwestern Oregon
Fields, Michael    Southwestern Oregon
Fleming, Patrick    Herkimer CC
Hansson, Joel    Indian River
Herrlett, Nicho    Herkimer CC
Howerton, Harri    Indian River
Johns, Oakley    Lincoln College
Keeney, Walter    Southwestern Oregon
Kelch, Josh    Lincoln College
Kelly, Vinny    Southwestern Oregon
Lobrutto, Derek    Indian River
Loomis, Nicholas    Indian River
Maldanado, Juan    Lincoln College
Martin, Kyle    South Georgia
McDanel, Logan    Lincoln College
Metzger, Benjamin    Monroe CC
Murici, Jakub    Iowa Lakes
Newton, Cameron    Indian River
O'Callaghan, Caleb    Iowa Lakes
Olczyk, Jonas    Indian River
Rose, Carson    Southwestern Oregon
Sasia, Gabriele    Indian River
Seevers, Chad    Southwestern Oregon
Sheridan, Cas    Southwestern Oregon
Swing, Taden    Southwestern Oregon
Theis, Tyler    Lincoln College
Tobin, Paul    Indian River
Tomic, Luka    Indian River
Van Der Touw, Jason    Indian River
Walker, Andrew    Lincoln College
Williams, Shane    Southwestern Oregon
Wintermute, Logan    Southwestern Oregon
Wojcik, Andrew    Indian River
Second Team
Achenbach, Andrew    Erie CC
Ament, TY    Lincoln College
Berghash, Aaron    Monroe CC
Bohr, Kevin    South Georgia
Conner, Maclaine    Monroe CC
Herzog, Ian    Lincoln College
Keister, JD    Lincoln College
Manwarren, Jon    Monroe CC
Marsh, Patrick    Monroe CC
May, Charlie    Erie CC
Oldman, Mike    Erie CC
Parks, Alexander    Monroe CC
Puzio, Caleb    Monroe CC
Zifra, Brad    Erie CC