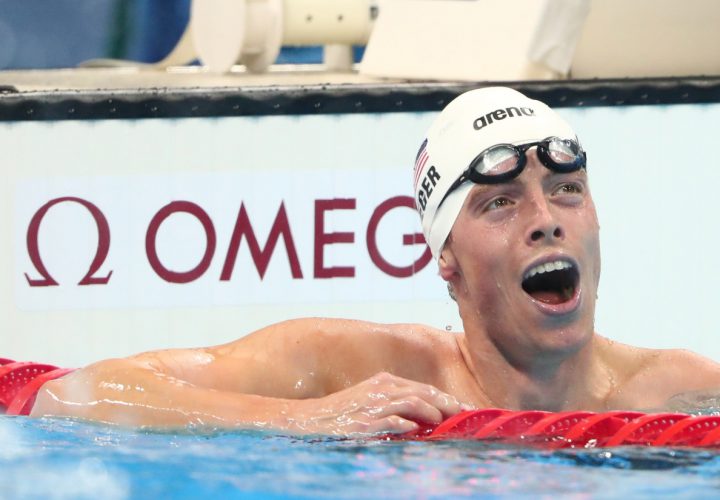 Photo Courtesy: Rob Schumacher-USA TODAY Sports
Olympic silver medalist Connor Jaeger is finished with competitive swimming. Even though he has not officially announced his retirement, Jaeger admitted that his future plans do not involve training with an eye towards the 2020 Tokyo Olympics.
Jaeger graduated from Michigan in 2014 and then completed a masters program in business management before this summer's Olympic Trials and Olympics. Jaeger qualified to swim both the 400 and 1500 free in Rio, and he finished fifth in the 400 before winning a silver medal behind Italy's Gregorio Paltrinieri in the longest race on the program.
But with that meet behind him, Jaeger has only been in the water a handful of times in the two months since, all for Fitter and Faster swim clinics. Jaeger revealed to the Washington Post's Dave Sheinin that he has moved from Ann Arbor to Hoboken, N.J., and is looking for a job in the Manhattan real estate industry.
"We can't all be Michael Phelps and be set for life. I ended up going further with swimming than I ever thought I would. But I was always making decisions along the way where—if I stopped swimming tomorrow, and I'm not an athlete anymore, how am I going to be ready? That's how I lived my life."
Jaeger admits that he might not enjoy the day-to-day routine of his new job as much as he enjoyed professional swimming, but he values the financial stability that should come as a result. He thinks his competitive nature that served him so well in swimming might also be an asset in real estate.
Jaeger's sponsorship with arena will expire at the end of the year, but he still has his $15,000 bonus from the USOC for winning a silver medal and another $30,000 from USA Swimming. He also will continue to conduct Fitter and Faster Clinics.
He hopes that his Olympic successes will continue to serve him well moving forward as he does not hesitate to mention his former career in cover letters and in his résumé.
"A lot of people are willing to meet with me because of my background, but from there you still have to prove yourself. Some people are more impressed than others. [So] maybe a portion [of the interview] will be about that."
Jaeger, 25, was still improving as a swimmer this summer, having become the first American to crack the 14:40-barrier in the 1500 at the Olympic Games, but as Sheinin points out, the 1500 has become very much a young man's race. No swimmer older than 24 has won Olympic gold since Vladimir Salnikov finished first in Seoul in 1988.
Click here to read the full feature in the Washington Post.