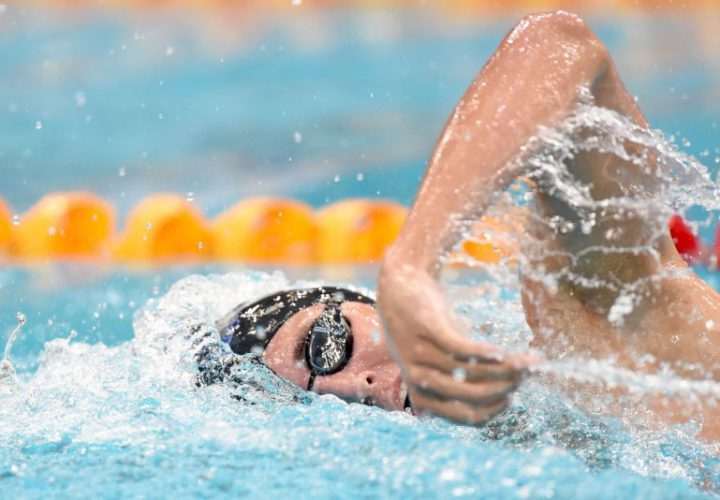 Photo Courtesy: Swimming Australia

Welcome to Swimming World's Set of the Week sponsored by Commit Swimming.com! This week's set is a sprint workout that decrease yardage as it ramps up the speed. Moving through 3 rounds, this set always begins with 600 yards of prep work to get ready to get up and swim fast.
What changes each round is the last series of the set, which starts as 6 x 75's and progresses to 6 x 50's and 6 x 25's. Each series of distances is on 1:00 with some level of intense, all out efforts. Your athletes will progressively get more rest as they move through the rounds, so make sure they are starting fast and pushing to see how long they can hold their speed, stroke rate, and race plan. 
Check out the set below and let us know what you think!
3 Rounds:
200 drill/swim by 25 on 3:00
4 x 50's descend #1-3, #4 is smooth on 1:20
Round 1: 6 x 75's (2 x first/middle/last 25 all out) on 1:00
Round 2: 6 x 50's o = from a dive e = easy on 1:00
Round 3: 6 x 25's o = fast from a dive to a flip e = fast from a push to a finish on 1:00

LEARN MORE ABOUT WORKOUTS FROM COMMITSWIMMING.COM
Commit Swimming's Mission
Commit Swimming builds innovative software for our sport, bringing 21st-century tech to swimming.
Every dang day Commit strives to improve technology in swimming, pushing the boundaries of what has been done before. For far too long swimming software has lacked creativity and simplicity. It is our goal to change that by delivering products that dazzle you with their simplicity and elegance.

All swimming and dryland training and instruction should be performed under the supervision of a qualified coach or instructor, and in circumstances that ensure the safety of participants.