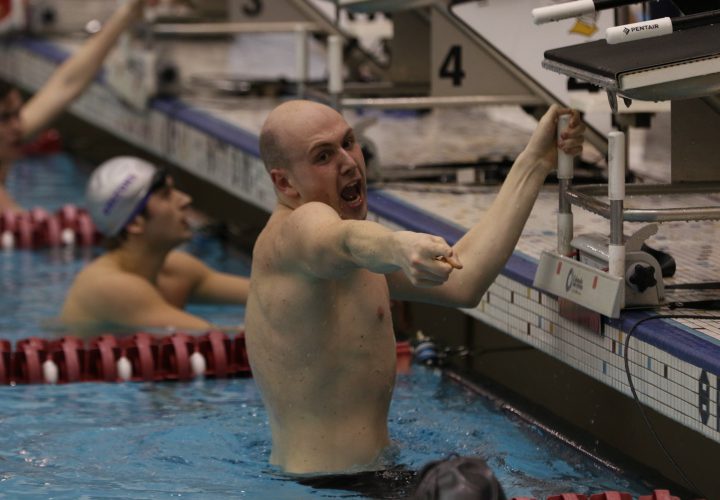 Photo Courtesy: Jeremy Crawford
By Nick Pecoraro, Swimming World College Intern.
No athlete writes "injury" on his season goals list. Typically, that word is a harbinger of a long road of recovery ahead, marking the time when you were pushed to the sidelines to allow others to fill your role. Injuries can end athletic careers as quickly as they began, leaving swimmers feeling hopeless and defeated. However, defeat does not have to be your fate – everyone likes a comeback story.
Skyler Fish, a senior at Calvin College, endured a mid-season injury in 2016 that could have cost him his entire swimming career. Being in the water was his world, and he couldn't imagine life on dry land: "Jumping off the blocks, hitting the water, and just swimming is my passion. There isn't anything like it. When it's taken away from you, it's heart-wrenching."
Losing your passion is devastating to any person. However, this Fish out of water found the right motive to pull himself out of this low to defeat the odds and contribute to his team. How?

Let him tell you from his perspective.
Finding Purpose

Starting out his freshman year in 2014 at Calvin College, an NCAA Division III school, Fish's team had one goal: Get to nationals. He wasn't quite fast enough to swim on the relays, so qualifying for nationals didn't really seem to be in reach.
"At conference championships that year, many of the relays fell short of qualifying. On the other hand, I performed better than expected, breaking a 20-year-old school record in the 200 back. So, I was selected to time trial the 400 medley relay," Skyler recalls.

With that boost of confidence under him, the team ended up finishing the time trial with a national qualifying time. "One of my teammates pulled me out of the water with tears of joy in his eyes, thanking me," Fish says. "Looking back, qualifying for nationals wasn't the thing I remembered the most: It was discovering my purpose on the team."
Sudden Halt In Battle
Fast-forward to fall 2016, Fish's junior year. Fish was ready to fight at a very close conference championship meet that year. However, he started to feel a twinge of pain in his shoulder toward the beginning of the season that progressed so far as to press the pause button on training.
After seeing a doctor, this "little twinge" had turned into a major injury – Fish had tendonitis in the rotator cuff and severe tearing in the labrum on his right shoulder. Surgery was necessary, but he had a choice of when.
Fish faced two options: Get surgery immediately, or take a gamble and have surgery after the season. The first option would cause him to lose the rest of season but be ready to complete by the end of the next season. His coach urged him to choose the second option: Swim this season and have the surgery afterward in hopes that it would be ready to go by next season.
Fish opted for immediate surgery, banking on getting at least one last good season out of his shoulder after recovery.

The First Step is the Hardest
By getting the surgery, he felt that he had abandoned the team. It was difficult to be left behind when the team departed for training trip; however, instead of feeling sorry for himself, he rallied behind his teammates to propel them to success. Fish knew that he needed to do everything possible to help outside of the pool since he couldn't help inside of it. 
When conference championships came in February 2017, Fish watched Calvin's rival team continued to win event after event. Calvin ended up losing the meet by about 90 points, and he couldn't do anything in the pool to help.
"Not being in that pool killed me. Watching our rival beat us put a fire in me that I hadn't had before," Fish says.

Re-Entry
With renewed focus and end-of-the-season goals etched in his mind, Fish returned to training fall 2017. He'd love to say that it went well, but it was a difficult transition. "When I got back in the water [after recovery], I noticed that something was very different. Once I started back in the pool, my right arm was completely useless. I felt cut off from my speed in the water," Fish says.

After practice, it would be nearly impossible to even lift up his backpack. "My arm hurt so bad that I was terrified it was still injured. It seemed like I wasn't making any progress. Many nights, I laid awake wondering if it was worth it," Fish describes the re-entry process.

Other than for his teammates, Fish didn't see any other reason to stay: "Every time I got out of the pool early, I hated myself for not finishing practice for my team and with my team. I felt so frustrated, sad and angry. Swimming was my safe place where I worked through things and relaxed my mind. But now, it was gone."
Yet amidst his downfall, one person reminded him of his true place on the team.
Persevering Through the Pain
During Fish's sophomore year, Calvin recruited another stellar backstroker, Ben Holstege. They pushed each other and fought it out in the pool, becoming fast friends. The pair was next to unstoppable when racing against opponents.
One of the most memorable moments during Fish's tough time happened after congratulating Holstege after one of his races. Holstege then turned to Fish and said, "There isn't any honor in winning a race without competition and no honor taking a record from someone who couldn't defend it."
Right then, Fish knew that if he gave up swimming, he would have failed Ben and the whole team as a teammate and friend. "That's why I decided to stay for sure. If it weren't for a teammate who valued me as a team member, I would have been done. I decided to push on, but it wasn't easy," Fish says.

Fish made a plan with his coach to stop the day at a certain yardage or time in order to have a meaningful practice instead of enduring a full-length painful practice. This strategy helped him perform at his best while maintaining optimum condition in this recovery phase.
"The first dual meet back, I just let go and had fun. I swam times that I went mid-season my sophomore year and was back to my normal swimming self. I shocked everyone around me: my coaches, my teammates and even myself. I felt good that I could still swim fast!" Fish recalls.

Putting Courage to the Test
After shocking everyone around him, his coach decided Fish would score at the 2018 MIAA Conference Championships to win back the title.
"My first event was the 50 free. I was expected to do well, and I did! I aided in a 1-2-3 finish with two of my teammates. Next was the 100 back. I got a personal best and second place behind Ben, creating the unstoppable backstroke duo once again," he says.

Fish's last event was the 100 free, and tensions were high between Calvin and rival Albion College. "Going into the last wall, I saw my rival building speed and my teammates slowing. Before the race, I told them not to worry – I had their backs," Fish says. As he pushed off the final wall, he accelerated down the pool faster than ever to touch the wall first: "I won the event: not for myself, but for my team."
Due to that performance, Fish was selected last-minute to swim on the final relay – the 400 freestyle relay. "I finally felt whole again. This is the situation in which I thrive: where I get a sense of accomplishment and purpose. I was ready to finally compete for my team again and win one of the closest MIAA Championships in history," Skyler fondly recounts.

Reflecting on the Journey
When reflecting on Fish's comeback, it was his selfless mission to compete for his team that gave motivation to fight past his injury. When facing his season-halting injury, he had to be reminded of the positives of being on a team to finally overcome his emotional battle.
In the words of Fish himself:
"Recovery is a slow process, there will be challenges. Work what you can, physically and mentally. Make a plan not just of what you have to do in a practice but also how to make it each week. And, believe in yourself. "
Commentary: All commentaries are the opinion of the author and do not necessarily reflect the views of Swimming World Magazine nor its staff.