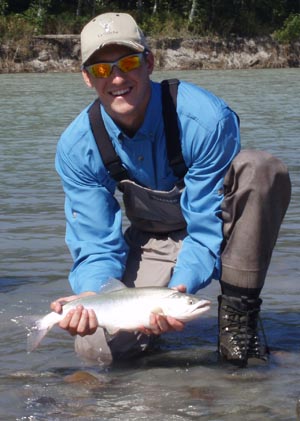 PHOENIX, Arizona, August 25. CHARLES Moore, a five-star recruit from the Class of 2010, is the next subject in this summer's series of Swimming World College Recruit Rankings Profiles. Moore is from Houston, Texas. He swims for Cy-Fair Swim Club, and preps at Jersey Village High.
Moore maintains his profile in the Swimming World College Recruit Rankings powered by Take Your Marks, and is a sprint specialist.
Moore's top long course meter times are a 23.48 in the 50 free and a 51.21 in the 100 free.
Where and when did you start swimming?
I started summer league when I was 5, just because it was the thing to do in my neighborhood. Since I was involved in a lot of other sports growing up, I didn't make a year-round commitment until I was 8 with the Cy-Fair Swim Club, where I still swim today.
Who would you name as the most influential person and coach in your swimming career?
My family definitely comes to mind first, since without their support I would have no chance of succeeding. There is also a family friend of ours, Wade Mattingly, who has been a bit of what could be a mentor to me, constantly making trips to my swim meets and lending great advice.
As far as coaches go, I've been blessed to have good coaching every step of the way. The most influential of them was Derek Howorth, who was my coach as a 13-14 and has a lot to do with me sticking with swimming rather than choosing another sport. It was a bit of a love/hate relationship at times, but he knew what was best for me and pushed me to a high level.
What, to this point, is your best moment in the sport and why?
I don't think there's really a specific race, but after I moved into high school I really hit a plateau in my swimming. Both my freshman and sophomore years were really difficult, but I just had to put my head down and keep training on blind faith that things would get better. In the 2008-09 short course season, I finally turned everything around and started performing well again. To me, it was just a great testament to my hard work and perseverance, as well as trusting in my coach's long term plans.
Walk us through a day of practice:
We only do two-a-days three times a week, but here's what those days look like. I wake up at 4:30 to head to the pool and get in the water at 5:15. Morning practices during the school year are more of just a way of recovering from the day before or loosening up for the afternoon killer, so it's only an hour and a half practice of 4-5,000. In the afternoon, we go from 4-6:30+ where we do 6-8,500, with around 30 minutes of dryland before or after.
What is your favorite set?
800 set. That's a 200 swim, 200 kick, 200 pull, 200 swim. I also enjoy other variations such as the 400 and 1200 set.
What is your least favorite set?
Any set involving 250's. There's something about that distance that's really awkward, and boring.
What are your short-term goals?
To make a college decision and keep moving forward with school and swimming.
What are your long-term goals?
Contribute towards whichever school I end up swimming for to win a conference/NCAA title, while getting a degree.
What colleges are you interested in so far?
Alphabetically – Cal, Ohio State, Stanford, Texas, and Virginia.
What has the recruiting process been like so far, now that you are allowed to be called by coaches?
It's a lot of fun. I tried to go into the process with minimal expectations, but getting to talk to various coaches around the country has been great.
Is there anything else interesting that you'd like our readers to know about you?
I love hunting and fishing, so on the few free weekends and holidays we have I try to get to our ranch as fast as possible.
RECRUITS: To make sure we have the most updated information on your recruiting, and to earn the highest star ranking you deserve, please either create a new profile, or request to take over your admin-created account in the Swimming World College Recruit Rankings powered by Take Your Marks. Then make sure to update your profile with your top times. Click here for information on how to do so.