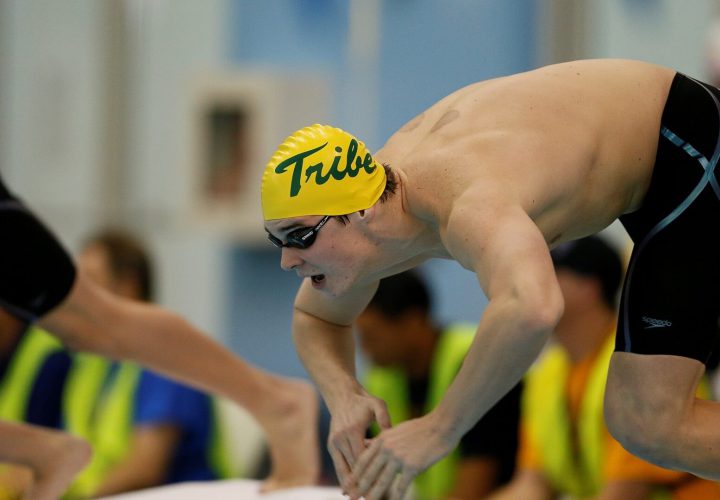 Photo Courtesy: William and Mary Athletics
RICHMOND, Va. – The Colonial Athletic Association (CAA) announced on Wednesday the first edition of the conference's weekly swimming and diving awards for the 2017-18 season.
William & Mary sophomore Colin Wright was named Men's Swimmer of the Week, UNCW freshman Evan Arsenault earned her first career Women's Swimmer of the Week nod and Northeastern senior Alyssa Seales rounded out the honors as the Women's Diver of the Week.
MEN'S SWIMMER OF THE WEEK:
Colin Wright • William & Mary
Sophomore | Williamsburg, Va.
Wright opened the year with two individual wins along with a pair of relay titles for the Tribe in their victory over Johns Hopkins last weekend. The defending CAA champion in the 50 and 100-yard freestyle won the same signature events, touching the wall in the 50 free in 20.46 – breaking his own program pool and dual-meet record by 0.1 – and winning the 100 free in 45.47. He anchored both winning relays for W&M, the 200 medley relay (1:30.53) and the 400 free relay (3:05.97), as well.
WOMEN'S SWIMMER OF THE WEEK:
Evan Arsenault • UNCW
Freshman | Marietta, Ga.
Arsenault performed well in her collegiate debut for the Seahawks, collecting first place finishes in the 50 and 100 freestyle events in a season-opening loss to Tennessee this past weekend. The freshman recorded a time of 23.78 in the 50 free and 52.22 in the 100 free. Both times are the fastest for the events among CAA competitors thus far this year.
WOMEN'S DIVER OF THE WEEK:
Alyssa Seales • Northeastern
Senior | Framingham, Mass.
Seales started her senior campaign on the right track by sweeping both boards over the weekend in the Huskies' opener versus Wagner. The senior, who won bronze on the 3-meter a year ago at the CAA Championships, scored 263.40 on the 1-meter and 265.80 on the 3-meter for first place in each event during Northeastern's victory over the weekend.
Press release courtesy of Colonial Athletic Association.