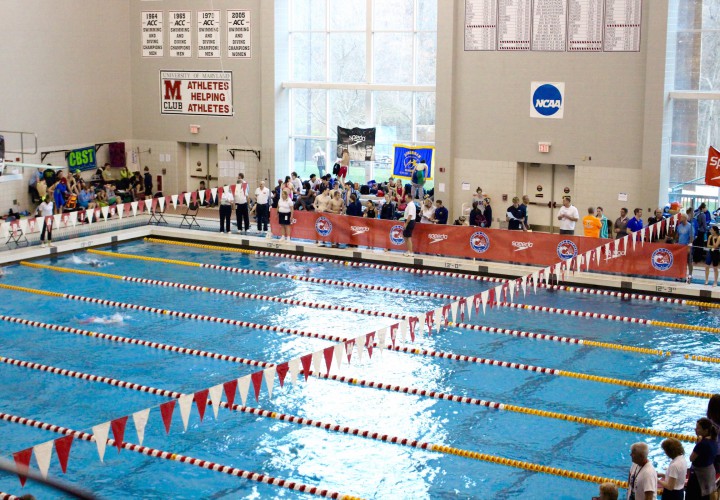 Photo Courtesy: Taylor Brien
The final night of Futures in College Park, Maryland featured five events and several close finishes.
In the 100 free, medalists on the women's and men's sides came down to the finish. Nicole Blank of Peddie Aquatics touched first in :57.58, she was followed by Jasmine Hellmer of Nation's Capital (:57.89) and Joelle Vereb of Swim VA (:57.95). For the men, East Coast Aquatic's Cason Wilburn placed first in :51.39. Second went to James Jones of Nation's Capital in :51.79. Allegheny North's Mason Gonzalez claimed third in :51.80.
On the opposite side of the distance spectrum, Ivan Puskovitch, representing Episcopal Academy, finished first in the men's 800 free in 8:17.20. William Roberts was closely out touched by Puskovitch. He took second for the Naval Academy in 8:17.60. Joshua Wroblewski was third (8:25.01).
Alyssa Helak of Victor Swim Club won by a body length in the 200 back (2:17.92). Maggie Miller and Grace Kayal finished in 2:19.07 and 2:19.95 respectively. Nation's Capital's Lane Stone was first for the men (2:04.29). Tyler Kim went a 2:05.27 for second. Harrison Homans placed third in 2:05.66.
The Women's 1500 free was the longest event of the night. Makayla Sargent of Victor Swim Club went a 16:48.86 for gold. Caitlin Daday followed in 17:13.03. Nathalie Eid placed third in 17:21.85.
For the 200 IM, Colby Hurt of Swim VA placed first (2:19.96). Madeline Heilbrun was second in 2:20.27 and Bailey Bonnett got third in 2:20.78. The men's 200 IM results have not been finalized.
The 400 medley relay was the final event of this meet. For the women, Club Mountaineer's team of Maggie Miller, Emma Harris, Morgan Carr, and Samatha Hall placed first in 4:20.36. Swim VA placed second (4:21.94) and Victor Swim Club got third (4:23.96). The men's Club Mountaineer team also claimed first. Luke Hene, Jake Armstrong, Gabriel Swardson, and Nathaniel Carr swam a combined time of 3:51.74. Nation's Capital was second and Upper Dublin Aquatics claimed the last bronze of the meet.