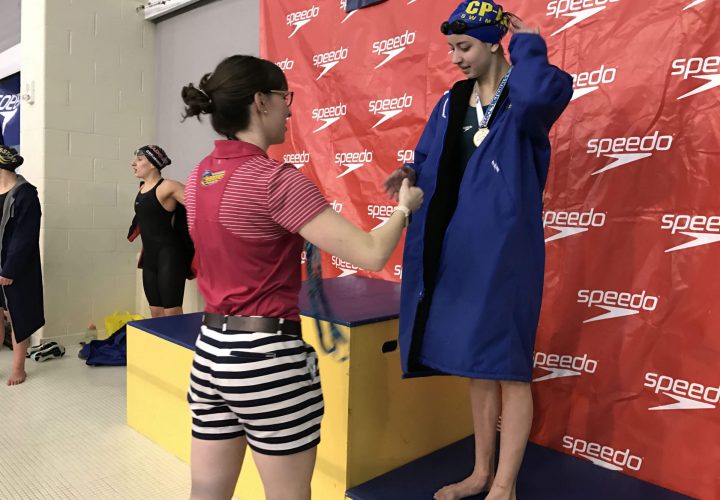 Kate Douglass at the 2017 Speedo Sectionals in Ithaca - Photo Courtesy: Emma Miller
Speedo Sectional Series is proudly sponsored by Speedo. Visit SpeedoUsa.com for more information on our sponsor.
By Emma Miller, Swimming World Contributor.
Outside, freezing rain frll from grey skies over Ithaca, N.Y., the site of the 2017 EZ Speedo Sectionals. Inside the pool, though, the competition simply heated up.
Fifteen-year-old Kate Douglass stood motionless behind the block with a focus so unwavering, not even the cheers at the announcement of her name could stir a reaction. The water stopped churning long enough for relative silence to fall as the swimmers stepped up onto the blocks for the 200 freestyle. Douglass stared out at the water in front of her, stoic and focused.
"You'll see, she's a young lady of few words," Cheslea Piers head coach Jamie Barone said with a smile.
Barone is still getting to know Douglass; after all, it has only been two months since she left Westchester Aquatic Club in order to join CPAC. Douglass explained that the mid-season switch was mainly "for social reasons."
"It's really just that there weren't a lot of girls my age on that team, so it was kind of hard to train," Douglass said.
"I know that she loved [Westchester head coach Carle Fierro] and she loved where she was, but she was just looking for a bigger group of girls so she could have some more social interaction," Barone explained.
It was as a member of Westchester that Douglass first found a great deal of success. In November 2016, just days before her 15th birthday, Douglass broke the girl's 13-14 50 free NAG record with a time of 22.32. One month later, at the U.S. Junior Championships in Columbus, she tied Simone Manuel's girl's 15-16 50 free record with a time of 22.04.
On her new team, Douglass is swimming alongside other talented women: Elizabeth Boeckman, for example, who took home silver in both the 500 and 1000 free at Sectionals this past weekend. Barone believes that the new addition is beneficial not only to Douglass, but to the entire club.
"As much as it's helped her, it's helped the other girls on the team as much, if not more," Barone said. "When you bring someone of that caliber in, it sort of forces everybody to raise their game, and racing against someone like that in practice every day does wonders for everyone."
Douglass did mention she was hoping to improve on her times in Ithaca – "I just want to keep having fun and swimming fast" – but Barone had other goals in mind for Sectionals.
"I'm just kind of looking to see how she handles herself because I've never coached her at a championship-level meet like this, and seeing how she deals with less-than-ideal performances is going to be a big part of it," Barone explained.
Barone learned how she dealt with "less-than-ideal" performances after finals on Friday night. Douglass finished first in the 200 freestyle during prelims but, come finals, added over one second to her time and finished fourth overall.
After initial performances left them wanting more, Douglass moved on to win the 50 and 100 free in addition to a third-place finish in the 200 breast.
"I think I was really excited to swim the 50 free, so that got me hyped up for my races Saturday night," she said.
"I said to her, 'I kind of just want to see you race, see how you handle back-to-back swims,'" Barone recalled. "'What's your warm-up protocol, what's your cool-down protocol, do you have food with you after your races, are you drinking the whole time?'"
After observing Douglass's racing habits throughout the weekend, Barone has learned enough to come up with definite answers to the questions he posed.
"She has no warm-up protocols, and she never has food with her."