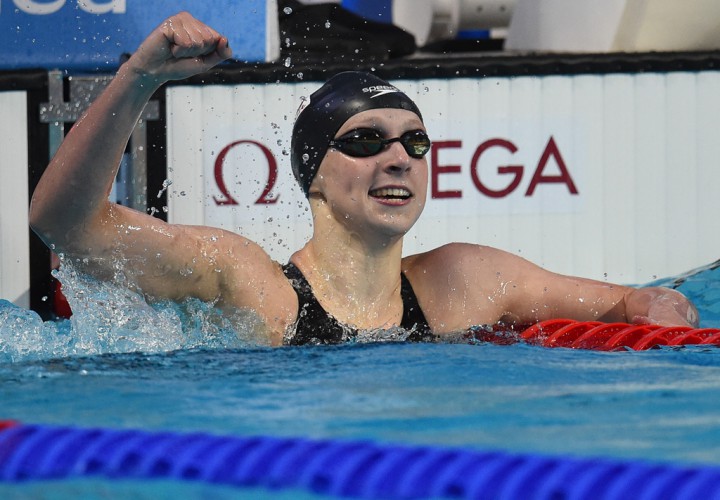 Photo Courtesy: R-Sport / MIA Rossiya Segodnya
By David Rieder
For those of you who may have spent the past month living under a rock, Katie Ledecky did a pretty decent job at the World Championships in Kazan. She won gold medals in the 200, 400, 800, and 1500 freestyle events – the first man or woman to ever achieve that feat – while setting world records in the 800 and 1500 (twice) along the way. She also anchored the gold medal-winning 800 free relay for Team USA; Ledecky actually trailed when she dove into the water before pulling away to win the gold by more than three seconds.
Naturally, Ledecky has received her fair share of praise for her efforts in Russia, every bit of it deserved. NBC could not be happier to have a new Olympic darling for America to fall in love with over the next year, and the Peacock network began to ramp up Ledecky 2016 hype when she appeared on the Today show last week. But with excessive hype comes expectations that range from unrealistic to downright silly.
NBC OlympicTalk's Rachel Lutz wrote that Ledecky plans to add the 100 free to her event schedule at Olympic Trials next year. Sure, that seems like a perfectly reasonable decision; after all, she's already swum times in the 54-mid range this season in the midst of heavy training, so an appearance in the event at Olympic Trials will show whether Ledecky could provide a boost to the U.S. 400 free relay in Rio. Given her status as World Champion in the 200 free, her 100 may indeed prove serviceable for relay action.
Lutz adds that Ledecky has also considered adding the 400 IM for Trials if only to give herself a swim for the first day of the meet. With a lifetime best of 4:41.70 right now in the event, Ledecky would not need to drop much time to make the final in the event in Omaha. So for anyone doing the math, that would give Ledecky five individual events, which, combined with three relay swims, would give her a shot at… EIGHT GOLD MEDALS!
Wait, hold on there, people! I will go out on a limb right now and predict that Ledecky will not, under any circumstances, match Michael Phelps' 2008 performance and win eight gold medals in Rio. Yes, she will go to the Olympics heavily favored to win gold in the 400 and 800 free and as a strong medal favorite in the 200 – but, of course, a lot can change in a year. Swimming two extra events at Trials may lead to an extra relay swim at the Olympics, but it would be a huge shocker to see Ledecky even qualify for a fourth individual event in Rio.
So for anyone calling Ledecky a female version of Phelps, remember how many people said the same thing about Katie Hoff during the spring of 2008. Hoff entered that year as the reigning World Champion in both IMs and had emerged as a legitimate force in the freestyle events as well ranging from the 100 to the 800. Could she win eight or even – GASP! – nine gold medals in Beijing?
Hoff ended up having a solid Olympics in 2008, winning three medals. She earned a bronze in the 400 IM – her best time in the event would not have come close to the record-breaking performances posted by Stephanie Rice and Kirsty Coventry – and swam a lifetime best to win silver in the 400 free, where she was just touched out by Rebecca Adlington. A decision to swim the 200 free and 200 IM finals in the same session did backfire, as she finished fourth in both races.
But, combined with her 800 free relay bronze (Hoff swam a strong anchor leg in that event), the medal haul looked like a disappointment after the female Phelps hype. Similarly, casual American fans were shocked when Missy Franklin did not win a medal in either the 100 or 200 free during her stellar performance at the 2012 Olympics. Franklin, of course, swam a best time in the 100 and just off her top mark in the 200 and thus had absolutely nothing to be disappointed about.
So over the next year, when people on the outside of the sport talk about Ledecky and her chances at a record-breaking gold medal haul in Rio, remember to pump the breaks and keep expectations in check. She's never swum either the 100 free or 400 IM at a major meet, and chances are, she's not on the same level in those events that she is in the middle distance and distance freestyles. And just like it was for Hoff and Franklin, that's perfectly ok.
Quick Hits
*For swim fans, it's hard to imagine that any athletic performance can top the show Ledecky put on in Kazan. Still, Ledecky probably won't receive much support as the top female athlete for 2015, and that's not because of anything she did not do in Kazan or even because she's a swimmer in a non-Olympic year. It's just that Ledecky, a very-hard-to-stop force, has come up against an immovable object: Serena Williams.
A 2015 US Open title clinches Female Athlete GOAT status for Serena… and she knows it.

— Bill Simmons (@BillSimmons) August 24, 2015
Whoa, there! We're not just talking about the best female athlete of the year but rather, potentially the greatest female athlete ever. And that's deserved; beginning next week, Williams goes for a sweep that only three women have ever before achieved. The last woman to win a Grand Slam in tennis – sweeping all four major championships in one year – was Steffi Graf, who did so in 1988, 13 years before FINA even offered the 1500 for women at the World Championships.
Ledecky has been truly dominant in her events this year, and she deserves all the praise she has received and will continue to receive from swimming media and multi-sport media alike. Yes, even the giants like Sports Illustrated and ESPN will laud what Ledecky accomplished in 2015. But Williams is on a whole new level. If she does not win the U.S. Open, it will be her third loss in any match all year. Five world titles was great, but a Grand Slam trumps all.
*On Monday, FINA announced that it would attempt to provide a live stream of the World Junior Championships in Singapore after earlier nixing such an idea. Of course, swim fans around the world had been clamoring for the opportunity to see future stars, including U.S. National Champions Claire Adams and Maxime Rooney, in action at their showcase meet, and FINA thus responded to the pressure.
Oh, how far we've come. Just eight years ago, a live stream of Nationals seemed like a radical idea. Now, in a world where every stop on the Arena Pro Swim Series live streamed in full and even televised, any meet without such video offerings seems primitive and backwards. With the sport's increasing popularity – some guy named Phelps deserves some major credit for this – the standards and expectations have gone through the roof. Swim fans, appreciate it.
*Beginning this Friday, I will stream a weekly Periscope chat to discuss the happenings in swimming and around the sports world in general. I will take any questions fans might have and discuss whatever feels appropriate on a given day. This week, I have a feeling the results from World Junior Championships might be on the agenda. The videos will be streamed live at 3pm Eastern time (12 noon Pacific), and the links will be available on Twitter. Check it out!