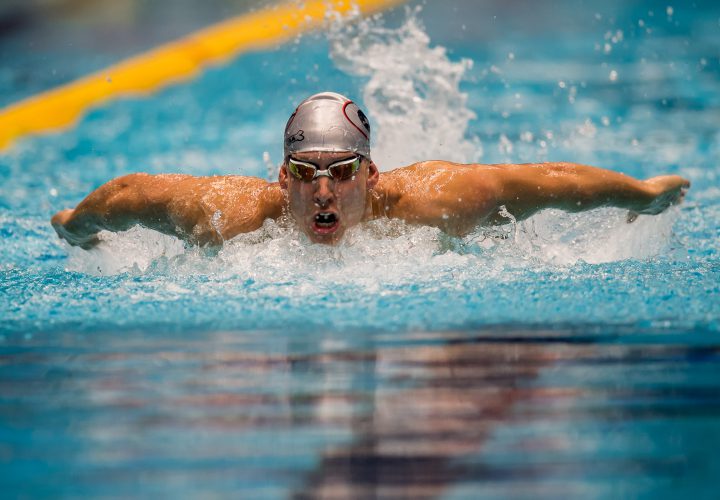 Photo Courtesy: Peter H. Bick
Editorial content for the 2017 USA Swimming Nationals is sponsored by TritonWear. Visit TritonWear.com for more information on our sponsor. For full Swimming World coverage, check event coverage page.
The Olympic silver medalist Chase Kalisz expressed his displeasure in losing the 400 IM gold medal streak last summer in Rio, losing the gold to Japan's Kosuke Hagino by 0.70 seconds. Kalisz showed he his hungry to get that streak back up and going with a 4:06.99 on Thursday night in Indianapolis. The US has not won a gold in the 400 IM at a major meet since Ryan Lochte won in 2012.
Kalisz moves ahead of Hungary's David Verraszto (4:07.47) and Japan's Daiya Seto (4:07.99) in the world rankings. Kalisz officially makes his third straight World Championship team with that swim. Kalisz will be looking to upgrade his silver from 2013 and bronze from 2015. He will be joined by Georgia teammate Jay Litherland, who makes his first Worlds team. Litherland had a very good swim with a best time of 4:09.31. Litherland is now fourth in the world behind the aforementioned three.
Georgia's Gunnar Bentz (4:11.66), Texas' Jonathan Roberts (4:15.50), Nitro's Sean Grieshop (4:17.49), Kieran Smith (4:18.82), Charlie Swanson (4:19.26) and Curtis Ogren (4:21.88) also swam in the A-final.