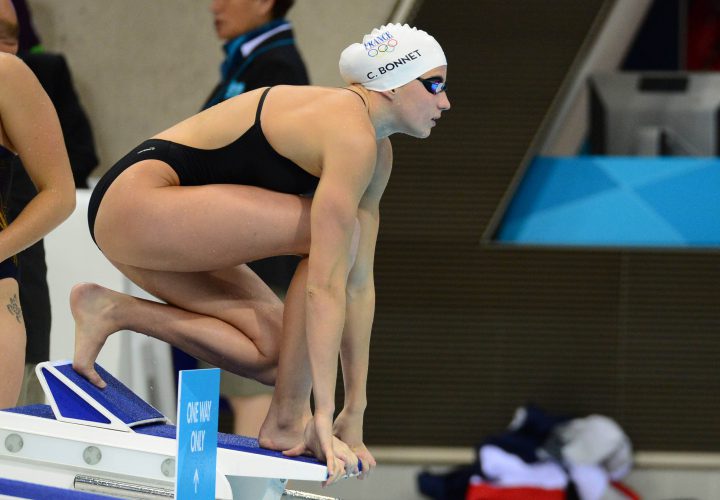 Photo Courtesy: Kyle Terada-USA TODAY Sports
On the third evening of the 2018 French Nationals in Saint Raphael, Charlotte Bonnet as well as David Aubry, Damien Joly, Stanislas Huille, Paul-Gabriel Bedel, Maxence Orange, Marie Wattel and Margaux Fabre picked up the necessary qualifying times for the European Championships at the end of the summer.
Here is a list of who is qualified already for European Championships for the French team:
David Aubry, 400 free, 1500
Paul-Gabriel Bedel, 100 back
Theo Bussiere, 100 breast
Roman Fuchs, 400 free
Stanislas Huille, 100 back
Damien Joly, 1500
Mehdy Metella, 100 free
Maxence Orange, 100 back
Nans Roch, 200 fly
Jeremy Stravius, 50 back, 100 free
Charlotte Bonnet, 50 free, 200 free
Mathilde Cini, 50 back
Fanny Deberghes, 100 breast
Cyrielle Duhamel, 400 IM
Margaux Fabre, 200 free
Beryl Gastaldello, 50 back
Lara Grangeon, 400 IM
Anouchka Martin, 50 free
Marie Wattel, 100 fly, 200 free
Men's 1500 Free
Qualifying standard: 15:07.71
David Aubry, 15:01.85
Damien Joly, 15:03.61
Logan Fontaine, 15:13.41
Paul Beaugrand, 15:26.21
Aubry and Joly were both under the European Championships qualification in the heats (15:07.71) as both guys went 15:03 in the heats. Aubry went just a little bit faster and dipped down to a 15:01 as Joly stayed at a 15:03. Joly was a little off his French record of 14:48.90 from the heats of the 2016 Olympics, but he will have another chance at the European Championships in Glasgow.
Women's 200 Fly
Qualifying standard: 2:11.85
Lara Grangeon, 2:12.53
Sharon Van Rouwendaal, NED, 2:12.77
Juliette Marchand, 2:16.36
Camille Wishaupt, 2:18.36
Grangeon was a 2:12 in the heats and in the finals and missed the qualifying standard of 2:11. Grangeon is already on the European Championships team in the 400 IM so her 200 fly miss is not the end of the world. Grangeon had a good race with Dutch national teamer Sharon Van Rouwendaal who is swimming at the French Championships because she trains in Montpellier.
Men's 100 Back
Qualifying standard: 54.86
Stanislas Huille, 54.39
Paul-Gabriel Bedel, 54.45
Maxence Orange, 54.48
Geoffroy Mathieu, 55.93
All top three finishers in the men's 100 back were under the 54.86 standard in the heats and again in the finals, allowing Stanislas Huille, Paul-Gabriel Bedel and Maxence Orange to punch their tickets to the European Championships. The coaches will have a lot of fun trying to pick their lead off for the 4×100 medley relay in Glasgow as France is still looking for their backstroker after the retirement of World Champion Camille Lacourt.
Women's 200 Free
Qualifying standard: 2:00.06
Charlotte Bonnet, 1:55.53
Marie Wattel, 1:58.18
Margaux Fabre, 1:58.47
Alizee Morel, 2:00.45
Charlotte Bonnet swam a very impressive 1:55.53 in the 200 free final as she was well under the qualifying standard. She was a little off of the 1:54.66 French Record held by the late Camille Muffat from 2012. Bonnet will be joined in Glasgow by Marie Wattel and Margaux Fabre as those two were under 2:00.06 in the heats and in the finals. France is one person shy of completing a 4×200 free relay but will probably find someone by the end of the summer for Europeans.
Men's 200 Breast
Qualifying standard: 2:12.75
Jeremy Desplanches, SUI, 2:12.30
Thomas Boursac, 2:13.78
Antoine Marc, 2:13.93
Antoine Viquerat, 2:14.03
Swiss swimmer Jeremy Desplanches who is based in Nice, swam a 2:12.30 to win the 200 breast final. The highest placing French swimmer Thomas Boursac who was a 2:13.78, a little off the 2:12.75 required standard. Boursac was a 2:13.52 in the heats so he would not have qualified for Europeans.