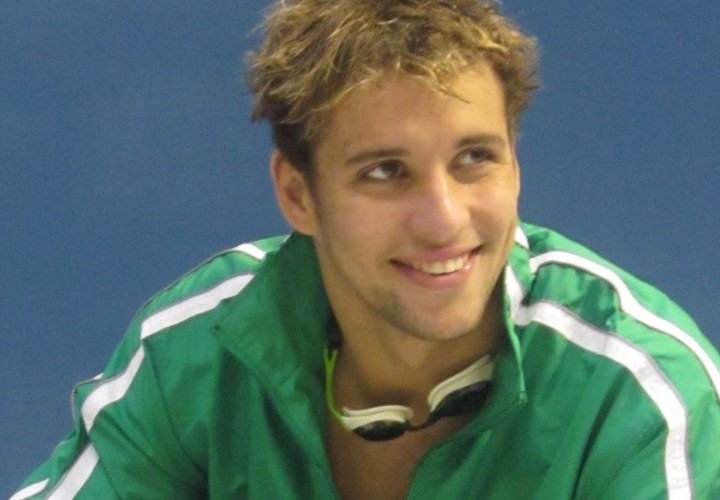 Photo by Pamela Roberts
DURBAN, South Africa, October 15. CHAD Le Clos is nominated in two categories for this year's South Africa Sports Awards, while his coach Graham Hill is up for Coach of the Year honors.
Le Clos is one of four nominees for the Sportsman of the Year, and is a nominee for the gender-free Sports Star of the Year. For Sportsman of the Year, he faces competition from mountain biker Greg Minnaar, jumper Khotso Mokoena and runner Cornel Fredericks. Le Clos, Mokoena and Fredericks all won gold at the Commonwealth Games, but Le Clos is the only one to reap multiple medals in Glasgow last June. In addition to his two golds in the 100 and 200 butterfly, Le Clos earned one silver and four bronze medals.
Mokoena and Le Clos face off in the Sports Star of the Year category with Ernst Van Dyk, who won the wheelchair division of the Boston Marathon; footballer Portia Modise, who increased her record for the most goals to 97 this year; cricket player AB De Villiers, who is ranked as one of the top players in the world; and rugby player Duane Vermeulen, who was a part of South Africa's gold medal at the Commonwealth Games.
Le Clos took both categories in 2012, the year he stunned the world by beating Michael Phelps in the 200 butterfly at the London Olympics. If he wins this year, he'll join Paralympic swimming star Natalie Du Toit as the only two-time swimming winners. Du Toit won the honor in 2004 and 2008. Ryk Neethling won a version of the Sports Star of the Year Award in 2006.
Graham Hill, Le Clos' longtime coach, is nominated for Coach of the Year Award. Hill is the national head coach for Swimming South Africa, so his accomplishments in 2014 go beyond his star swimmer as South Africa claimed 12 medals.
Swimming South Africa is nominated for Federation of the Year alongside triathlon and rowing, and will be vying for its third such honor and second in two years. The success of the Springboks at the Commonwealth Games came with the headlines that athletes who were not based in South Africa had to pay for travel to Scotland, though South Africa later reversed that decision.
The public votes on the Sports Star of the Year via text messaging. Click here to learn how to vote for Sports Star of the Year.
Other swimming-related honors:
2004: Sportsman of the Year to Roland Schoeman
Sports Team of the Year to the Olympic 4×100 Free Relay
Disabled Sportswoman of the Year to Natalie Du Toit
Newcomer of the Year to Natalie Du Toit
Bonitas Sports Star of the Year to Natalie Du Toit
2005: Sportswoman of the Year to Natalie Du Toit
Disabled Sportswoman of the Year to Natalie Du Toit
2006: Personality of the Year to Ryk Neethling
2008: Sports Star of the Year to Natalie Du Toit
Sportswoman of the Year to Natalie Du Toit
Disabled Sportswoman of the Year to Natalie Du Toit
2011: Sportsman of the Year to Cameron Van Der Burgh
Newcomer of the Year to Chad Le Clos
Federation of the Year to Swimming South Africa
2012: Sports Star of the Year to Chad Le Clos
Disabled Sportswoman of the Year to Natalie Du Toit
2013: Sportsman of the Year to Cameron Van Der Burgh
Federation of the Year to Swimming South Africa