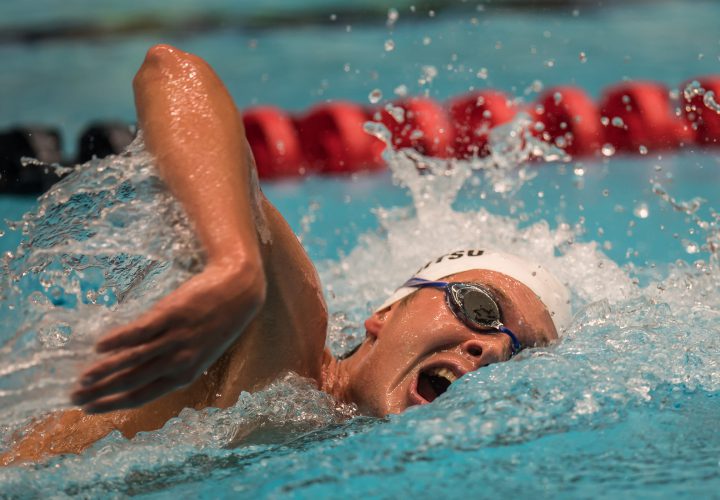 Photo Courtesy: Peter H. Bick
Speedo Sectional Series is proudly sponsored by Speedo. Visit SpeedoUsa.com for more information on our sponsor.
The 2017 Speedo Sectionals series continued with a stop in Carlsbad. The first night saw RMDA and FAST posting top times in the distance events.
Women's 1000 Free
Cathryn Salladin of FAST delivered the top time in the women's 1000 free, stopping the clock at a 9:50.54.
RMDA's Lavone Harper grabbed second overall with a 9:57.99, while BREA's Mikki Thompson finished third with a 9:59.68.
Julissa Arzave of SBA finished fourth with a time of 10:02.79, followed by RMDA's Kathleen Sulkevich's 10:03.76.
NCA's Anne Brooker (10:04.96), RMDA's Noelle Fimbres (10:07.65), and FAST's Courtney Tseng (10:10.68) were sixth through eighth.
Men's 1650 Free
Brad Gonzales of RMDA claimed the gold in the men's 1650 free with the only sub-15 minute swim. Gonzales stopped the clock at a 14:56.27, scratching 5.75 seconds off his entry time of 15:02.
FAST's Simon Lamar took second with a time of 15:15.58, while RMDA's David Wang posted a 15:38.52 for third.
Matt Hales, swimming unattached, turned in a 15:40.40 for fourth, followed by DART's Connor Daniels' 15:44.67.
DART's Hayden Johnson (15:51.24), PAC's Jordan Blitz (16:00.16), and RMDA's William Schodorf (16:01.74) completed the top eight.
All results can be found on Meet Mobile – SI 2017 Speedo Sectional Carlsbad