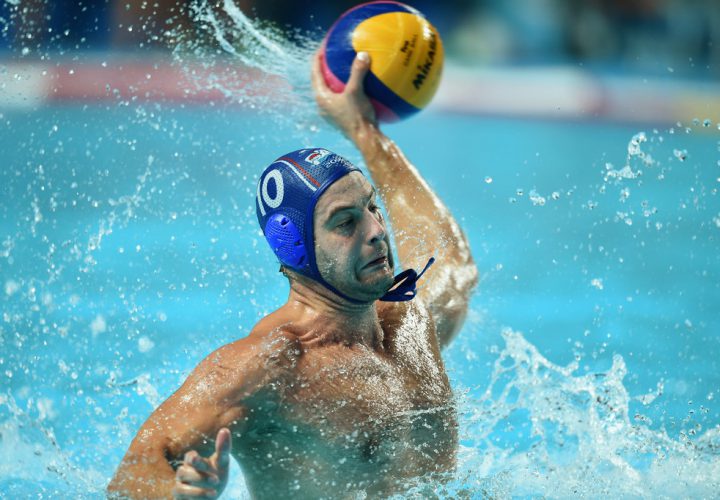 Filip Filipovic, 2016 Swimming World Men's Water Polo Player of the Year.
Editorial Coverage provided by

By Michael Randazzo, Swimming World Contributor
BUDAPEST, Hungary. It was a tough World Cup in Budapest for the world's greatest water polo player. Filip Filipovic, Swimming World's 2016 men's water polo player of the year, was very frustrated by the officiating at the 2017 FINA World Championships. And—no surprise—he's most upset in how Serbia's 12-11 loss to Croatia was called.

He's certainly not alone in this; Serbian head coach Dejan Savic declined to speak with the media following Serbia's 11-8 win over Greece in the tournament's bronze medal game. Filipovic, the team's captain, stayed for 30 minutes after the match speaking with reporters about his views on what some have—disputably—called one of the greatest matches in history.
In fairness to the referees, there were nine exclusions called on Serbia in the game to 11 for Croatia. The biggest issue is that three Serbians—Viktor Rasovic, Sava Randelovic and Milos Cuk—were rolled from the match to none for Croatia.
Given his accomplishments, Filipovic has earned the right to speak his mind. A member of the Serbian national team beginning when he was 15, the lanky lefthander has led his team to victories in every major championship, including Olympic gold with an 11-7 win over Croatia in the 2016 Rio Games, as well as the European and World Championships. In Budapest Serbia was looking to become the first Olympic winner to also capture FINA gold in consecutive years.
You and your teammates came out strong in the bronze medal match against Greece.
After the quite difficult semifinal, we just missed victory in the semifinal game because we didn't have enough strength and concentration in defense. But today we showed from the beginning that we wanted the bronze medal more than Greece.
I would like to congratulate my teammates and our staff because we showed that we are a proud team. And we have time to improve—this tournament made us understand that we are alone and we struggle not only with our opponent but also with the referees.
But these are essentially the same referees that were there when Serbia was piling up wins at major championships. Did something change?
As you saw we didn't change the team. Not even the attitude. I think something changed in their mind, that Serbia is really boring because we have been winning and we will win in the future. And we will continue to be boring like this because we have the motivation to prove that we are the best team. And we have enough quality to do that.
In certain moments, let us say that certain things don't make any sense. I don't want to say any other words for the referees but whoever is following this sport can realize that in the last two games you can see everything. In [decisive] moments… how many times we are supposed to play a man down?
Olympic champions don't deserve this criterion. I am pretty sure that these guys [Filipovic's teammates] are not feeling like Olympic [champions] now. We have plenty of motivation but somebody really wants to ruin this game.
Your match with Croatia is mentioned on FINA's website as one of the best games in history. Everybody is talking about how memorable it was.
Actually, I don't agree with you, especially because we had some inputs before the game about what we're not supposed to do and the funny thing is that the referees allowed properly this one—these things that they [said were] forbidden.
It doesn't matter what they say for the next time; they just asked for seven players for the first time or one of my first times that [only] seven players can enter in the water at the start [part of the Serbian's pregame ritual].
They are ruining this game. They are supposed to leave two players to play water polo and they are supposed to be on the side. This is at least what I thought.
There are some things I am supposed to tell to my teammates and I give them all inputs and from the beginning they were calling a lot of exclusions.
It was a pretty game for somebody who don't understand water polo.
What happens next for you and your teammates?
We are aware of our poor quality; we need to improve a lot of things because everything depends on us. We can be much more successful and we will not be dependent on the referees, new rules, nothing that will happen.
This is our goal for the future, for the next European Championship, and of course for the next Olympics that we want to qualify for.
Will you be playing for Serbia in the 2020 Tokyo Games?
I think so. I will accept the call to lead this team to Tokyo.