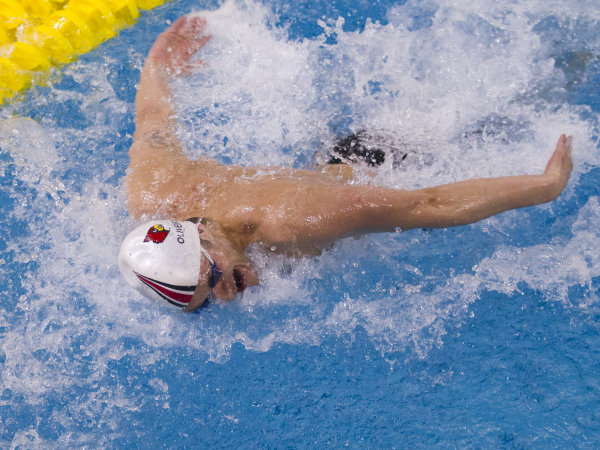 By Pamela Roberts
Even though he has been competing in the USA for the past six years with a pair of Olympic Games under his belt, Portugese swimmer Pedro Oliveira is still relatively unknown in the swimming community.
Oliveira, however, continues to be a regular on the international stage since debuting at the 2007 World Championships. We recently caught up with Oliveira to see what he's been up to.
After he graduated with an Exercise Science Degree from Louisville in 2012, he described his ultimate goal as "Do for someone else what my coaches have done for me. Give back to the sport."
Even though there is, as he says, no strong sports culture in his home country of Portugal (aside from a passion for soccer).
"All I can do is give advice to the youngsters and share my experiences and all the opportunities the sport gave me," Oliveira told Swimming World. "I would encourage any person to join a team and start swimming, from any age group! Swimming is just really good for you, also being part of a team brings all sorts of social benefits."
Outside of the pool, Oliveira has also taken on a part-time job at Louisville Metro Parks and Recreation where he helps out with adapted sports, a job that also includes swim clinics with soldiers wounded in battle or patients with down syndrome.
But even with having so much going on in his life, a long-time goal for Oliveira is also competing at the Olympic Games in Rio de Janeiro, Brazil in 2016.
"Make it and go there to compete. Try to make top 16… then top 8."
What is he going to do to get there?
"I need to compete more, it's complicated with work and all the expenses that come with traveling."
At World Championships last summer, where he missed out on semis, Oliveira finished the meet "devastated," he said.
"Not only with my performance but mainly with my uncertain future. I had no plan of what to do with real life situation."
However, he did find ways to pull himself out of that devastation.
"Since then I got a new sponsor, Infinit Nutrition, kept FINIS, got a new club at home and a part time job that I love," Oliveira said. "It was a great relief to find options and answers to my 'real life' problems! It's great to be a swimmer, when you are young and your parents or your scholarship covers everything. When you become an adult, it gets really complicated if you don't have the financial support."
Oliveira also kept up his training in Louisville, Kentucky, focuing on getting quicker in the water. He has since set new personal bests in three events, 50 and 100m backstroke and 50m freestyle.
"Small victories keep you going." Oliveira said.
In the near future, Olivera plans to race at the Arena Grand Prix competitions in Mesa and Charlotte, and he is set to compete at the Spanish Long Course National Championships in April and the European Long Course Championships in Berlin in August.