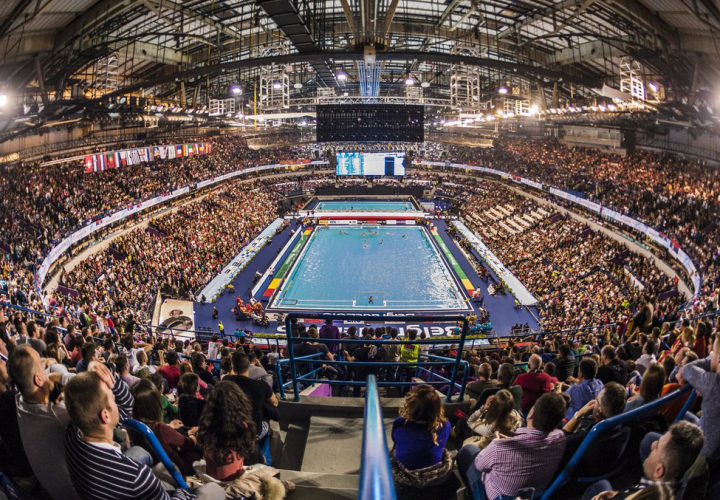 2016 European Water Polo Championship Final at Kombank Arena. Photo Courtesy: Giorgio Scala / deepbluemedia
Editorial Coverage provided by

By Michael Randazzo, Swimming World Contributor
For his oversight of the 2016 European Men's Water Polo Championship, Darko Udovicic garnered international recognition. But the Serbian native has been in the limelight much of his adult life. Starting from his early days as a player on the VK Partizan cadet, youth and senior teams, Udovicic represented both his club and his country in international matches from 1986 until 1997. From 2004 to 2006 he was assistant director for Partizan before ascending to the club directorship in 2006, a position he held until 2011—the same year that Partizan captured its seventh European Champions League title, second only to Pro Recco.

Throughout much of his lifelong journey in water polo, Darko has been accompanied by his twin brother Dejan, who also achieved great success with Partizan, first as a player, then as a coach. In 2000 Dejan became head coach of the club's senior team, and coached the Serbian men's national team in the 2008 and 2012 Olympics. In 2013 Dejan left Serbia for the head coaching position with the U.S. men's national team. Under his leadership, Team USA competed at the 2016 Olympic Games in Rio.
As his brother traveled abroad, Darko remained in Belgrade, working for the Serbian Water Polo Federation (2011-14) as well as his work with the Organizing Committee EC Water Polo Belgrade (2014-16). Currently he is responsible for the upcoming FINA World Men's Junior Water Polo Championships as well as the Women's European Junior Water Polo Championships 2017 in Novi Sad.
Udovicic spoke about growing up in the golden age of Serbian water polo, his country's current dominance of the sport, changes necessary to improve polo's stature in the international community, and his brother's efforts to make America more competitive against European powerhouses Croatia, Montenegro and Serbia.
As members of VK Partizan, one of the most successful clubs in the history of professional water polo, you and your brother were part of the transformation of the sport in Serbia.
In the younger category, we played together for six or seven years. In the first tournament, we played [representing] Yugoslavia we were not so good; the Hungarians beat us 10 goals difference. It was the 15 years old age group; by the age of 17 we start to beat them for the first time. When we finished the young categories career we beat Hungarian and Russian teams by a 10-15 goal difference.
Before when they made the age group selections from Partizan maybe one or maybe no one could pass from cadets at that time to juniors and then to the senior team. For the first time six or seven players from that age group succeeded in reaching the senior team of Partizan. We start to play for the senior team of Partizan when we were 15 years old.
We went up to the senior team of Partizan, which is remarkable, but also we made the national team. Before that they choose one or maybe no one to move them to another category. But the quality of the [Partizan] players was so high—you must be the best you can be to find your place in the first team.
You've spent your entire life involved with water polo.
I started to train when I was eight years old—and I started to play for the first team of Partizan in 1985. I played until 1997 then I went abroad and then I get back in 2001 when I became assistant coach with my brother. I finished university and went in another direction as a coach; I also was an assistant coach of the national team of Serbia in 2006 [for] age group 1987. I was there for the European Championship when we took gold and after that I was offered the job as general manager of [VK Partizan]. I stayed there until 2011.
I then moved to the Serbian Water Polo Federation as director. After that I was the general manager of the organizing company for the tremendous 2016 European Championship in Belgrade's Kombank Arena.
For us—I don't put my name in front of the team—during the championship I was taking care of 2,000 people. It was huge for me and it was something that we made it in a stadium that wasn't built for water polo. We made two temporary pools in seven days and the important success for us [was] we dismantled the pools in 72 hours after the championship finished.
Serbia took the gold 10-8 over Montenegro in the title game on January 23 but what was important to me was we beat the world record of spectators watching a water polo game—18,473 spectators at the game. That day if we could offer [tickets] to anyone we could have sold 15,000 more.
Do you think that win over Montenegro in the European Championship was the start of even greater success at the Rio Olympics?
That competition helped them and their coach [Dejan Savić] to believe that they can make first place in Rio.
If you remember in Rio from the beginning, we were up and down from the level you would expect [Serbia] to be. We found our rhythm during the second week after we moved from the first to the second pool; if we had stayed in the first pool [the Maria Lenk Aquatics Center has two pools] who knows what will be.
The national team of Serbia these days is making history—not just for water polo teams—they're making history for all sports. We are very proud of the team and the coach; one thing is that you have harmony within the team that builds up every competition that you are going through.
If you are looking very carefully you might think they are unbeatable.
After Rio, two golden players— Zivko Gocic and Slobodan Nikic—retired, but we continued with the golden era when we won the [FINA World Super League] in Moscow [last month]. We know that it will end, and we know there will be competition for 2020 [Tokyo Games] but we're trying to build a team for 2024; I hope it will be in Los Angeles.
That would be forty years after the 1984 Olympics in LA. Will the U.S. team be as good as Serbia by then?
The U.S. team is another thing. This is the story of Serbia and the Serbian team. In Serbia we don't have fear. There are so many countries participating in water polo; Hungary, without fear and Serbia without fear are on the top level.
For Hungary [water polo] is first national sport. In Serbia we would like it to [become] first national sport. We are trying to find support of the government on other levels for new pools and new infrastructure.
This week's FINA World Championship kicks off a new Olympic cycle for men's and women's. How will Serbia maintain its dominance in the lead-up to the 2020 Tokyo Games?
Sometimes when you have so good results you are feeling you're untouchable. When players believe in themselves and—most important—they believe in the coach and the system that they built together, they're on the right path.
We lost two or three players from Rio de Janeiro but we believe that the past few years and the next couple of years are still "our moment." There are opponents who can play against us at the highest level and cause us a lot of problems but when we get to the fourth quarter we play on another level. During the game when there's much up and down, it's important for players to concentrate as a team in the last quarter. We've been very good at this the last couple of years.
We know that it will not be easy but the Hungarians as a host country—they are a very good team but with a new coach they start to build another system. We will see how they perform from the start of competition because the expectations for that team from all of Hungary will be huge.
Serbia has a tricky group [includes Greece, Spain, South Africa] and I can mention other teams including Croatia—in the past it was Montenegro—Greece, Hungary, maybe Italy and maybe a team that surprises everybody. That might be Spain in some games but I don't think they will find their way to the championship match.
Talk about your brother's challenge as well as his opportunity. How does the U.S. men's team deal with outsized expectations due to the excellence of America's swimmers and the continued success of the U.S. women's team?
The water polo community needs a strong Australia and America. We need big countries to present on the highest level of our sport. That is something that all water polo people can speak of in the same direction.
But there's expectations and there's reality. Fatovic and the Australian team and America with my brother, those two teams can make something huge but they need time. One thing for a coach there is to recognize another culture, another way of thinking for the people who are in that sport, how the players behave between themselves, how they are training. That's very important.
European water polo is not helping American and Australian water polo, that's for sure. After the economic crisis a couple of years ago a lot of players from America, after they graduated from college, they went to Europe to play [professionally]. That's not happening anymore.
Given your experience and perspective, how healthy is water polo and what is the future for the sport?
When we speak honestly among ourselves, we try to see how our game will be in the future. Europe sees water polo in one way; from Australia, Japan, America it's through another pair of eyes.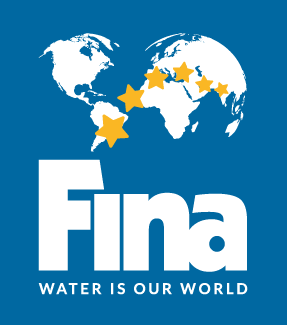 It's a pity in the ranking of aquatic sports in FINA, water polo—my sport—is on the bottom level. Why is a long history. I don't want to speak about swimming, which is another world, but high diving, diving and open swimming are making progress, getting more spectators, making more events that someone is paying to sponsor.
The last 30 years we are in the wrong direction. When you speak with coaches a lot of them tell you that the biggest problem for our sport is the rules and that spectators cannot understand what's happening in the water and what the referees are calling.
I had the same way of thinking when I was a player. When I became a general manager I was still thinking that the rules are the biggest problem in our sport. But I've started to realize there's another problem. Especially in Europe, water polo needs a specialized department that's going to exclusively take care of that sport—personnel, marketing, everything.
We need to present our sport in another way. The biggest problem of [water polo] is to decide what the product is we are selling in the market. After that we can discuss about the rules.
You are familiar with the organizing necessary to support Serbian water polo. What does it take to maintain the sport in your country?
In Europe—and I spoke with my brother—the government is supporting the teams. We thank the local authorities because they are making the tournaments. Without that we couldn't make it. For example, the European Championship in Belgrade cost about 4 Million €. In Hungary the Final Six tournament is about the same. I don't know how much it would be in America but for the younger categories you must spend at least 150,000 €. For all these competitions the Federation must raise the funding to cover expenses that the government doesn't pay for.
Another thing is to promote our sport and to bring more girls and boys to the pool to play water polo. Without that we will not exist in a couple of years.
You asked me what the expectations are for Serbia, for Australia and for America especially. You can maybe write all the names from America who participated in the Olympic Games in Rio. Scratch some names that are retired—Azevedo, Moses, Mann—and try to find the rest of the names in Tokyo. Imagine if some of those players who are the age of 20 – 22; imagine they are playing in the Los Angeles Olympic Games in seven years from now.
Put all the names from Serbia from Rio and you'll see who will be there in 2024. You need not just time… what is missing from all the teams out of Europe? You miss the group of older players—not just a couple of players. Older players handle things in the right direction over some years. Then the younger players join them to build a new era.
Serbia made a similar decision. We put all the pressure on a group—Sapic, Vujasinovic, Vasovic, Savic—to be first in 2000. In the 2004 Athens Olympic Games we lost against Hungry in group play; we were leading two-goals difference and we lost in the last quarter giving up three goals. The same things happened in the final.
When you look back at those Olympic Games in Athens—that [Serbian] team should have made the golden age of water polo. Everybody who is in water polo can confirm that.
What are the long-term prospects for America?
First of all they need to find a way to make more international games. The gap between the top countries like Serbia, Croatia and Hungary… the perspective for American water polo should come by 2019 [at the Pan American Games].
Maybe they can make a huge problem for Italy or for Spain of for Greece. But [the top teams] are playing kind way of water polo, and [it's difficult] for Americans or Australians to adapt to that game.
First steps [for Americans] they should try to close the gaps with all other countries as much as they can and not worry about Serbia, Montenegro, Croatia.
In Serbia there's a saying: "It's very important to find yourself where you are." Everybody knows that America is strong in sports. And when you come from America you seek success. But from my point of view—not because my brother is there—but it is important when you measure your team with someone else you should measure your league. And if you measure with someone who's in another league, the disappointment is huge.
Serbia in the next couple of years will beat America for sure. But the gap is closing.
To read the interview with Darko Udovicic in its entirety visit Water Polo Planet,