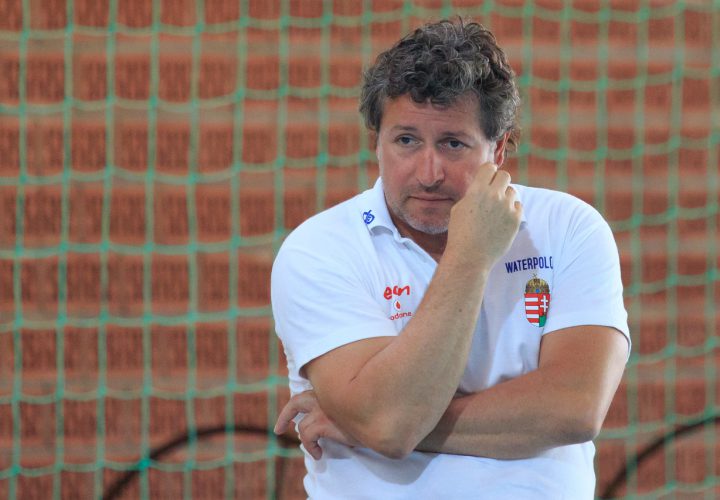 Attila Biro. Photo Courtesy: Hungarian Waterpolo Federation
By Michael Randazzo, Swimming World Contributor
Attila Biro, head coach for the Hungarian women's team, could not be better suited to leading one of the world's top women's water polo programs. With a depth of playing experience—he began playing for Ferencvárosi, one of the top Hungarian clubs while he was a still a university student—Biro enjoyed a sixteen-year professional career that took him to clubs in Greece, Italy and Turkey.
Upon retiring from competition, Biro moved into coaching at his former club in Budapest, and he slowly climbed the ranks, with stops at the Orvosegyetem Sport Club (OSC) in Budapest and the New Zealand women's team before coming back home to coach the Hungarian women's team prior to the 2016 European Water Polo Championships. In Belgrade Biro's team made an impressive run to its first title in 15 years, defeating the Dutch 9-7 in the final and cementing their position as Europe's prime challenger to a U.S. women's team that over the last four years has captured almost every major tournament, including back-to-back Olympic golds in 2012 and 2016.
At the recent FINA World Water Polo Championships in Budapest, host Hungary looked to be on a collision course with the U.S. But a surprising 6-4 loss to Canada in the quarterfinals derailed dreams of a Hungary vs. America final.
Coach Biro spoke with Swimming World about the stinging disappointment of that loss, Team USA's mental toughness, the great environment for polo at the Alfréd Hajós Swimming Complex, and recent changes to the sport that will impact play at the 2020 Tokyo Olympics.
Talk about your experience in the sport.
I played water polo in Eger where I grew up. Afterwards, when I went to university in Budapest I played for Ferencvárosi for ten years. It was the best team [in Hungary] those years. We won championship titles, Hungarian Cup titles, International Cup titles, Then I went [abroad]: in Italy I played for Anzio, Galatasaray in Turkey and Panioniosz in Athens. That was eight years altogether for playing experience. It was fantastic.
In 2003 my former club called me to be head coach of the senior men's team. I was three years there and then I went to OSC. I was there six years. After that I wanted some experience in  women's polo, so I accepted an invitation from the New Zealand Water Polo Federation to become the head coach of the women's program. This was a good experience for me with a women's team and to gain some wine experience because I have a small family winery and New Zealand has a very good wine region.
I did this for three years. After the former Hungarian head women's water polo coach [Andras Meresz] quit, the Hungarian Waterpolo Federation called me to be the head coach. I was really happy for that; my main goal was to lead the Hungarian women's water polo team to the Olympic Games, European and World Championships.
Named head coach six months before the European Water Polo Championship that was [also] the qualification for the Rio Olympics, we won against the Netherlands in the final. That was a  big success, [it] hadn't been done in the last 20 years.
At the Rio Olympics we finished fourth; we lost the bronze medal games in a penalty shootout with Russia.
The 2016 European Championship finals sent the two participants in different directions.

In that European Championship we lost in group play against the Netherlands by five goals. That's why in women's water polo anything can happen. In the final we had a fantastic game and we beat them by two. The Dutch players didn't like this because after this we beat them all the times, even as world champs even in World League Final two months ago in Shanghai and after the World League qualification group.
We became—how can I say it—bad luck for them. But it's really difficult because two years ago [Holland] was a World Championship finalist and European Championship finalist against us. It's a very good team now finished ninth in the World Championship.
The idea of "mental toughness" is something you've discussed. How do you see this being a factor with women's water polo in general and your team in particular?
In my opinion everything is starting in the young age group. If you have a good mentality as a girl, a victory mentality—like for example the U.S. women—Pan Pacific Games or Junior World Champs, or like in Denes Kemeny's teams there was a youth team under 20, under 18, under 16—[Tamas] Kásás or [Tibor] Benedek's teams always won—players who at a young age won a European Championship or World Championship.
This is the basis of a winning mentality. But it was missing for my girls because they never won under 16, 18 or 20 European [titles]. What we saw last year the Russians won the U-18 World Championship in New Zealand. They could play immediately four, five, six junior players in the senior team because they have a good mentality and they've already learned how to win.
That's why it's a very good situation with Adam Krikorian. It's easy [for him] to choose the players from the FINA World Championship, or the FINA World League team. He has a much better situation than us.
Even if we couldn't win youth or junior world championships, I hope I can pick up some good players. But, coming into the Canadian game it's difficult to take the mental pressure of the situation.
If you [don't have prior experience] you cannot get used to it in the moment.
As you look back at the Canada match, what's the reason your team lost?
Nothing seemed before the game to be any problem. The players had very good self-confidence. No pressure from the crowd, from the fans because two days, three days before we beat the Netherlands in a group game. They were pretty much the same level, same strong team like Canada. We didn't have any pressure from the side of the fans because in front of 7,000 people it's fantastic to play.
We have two very high quality players; the center forward, some good shooters, but the leaders of the team didn't find a way to score a goal. Unfortunately the rest of the players of the team who are not rookies—only two players who were rookies and the first time in this situation—they couldn't find the goal. That was the problem. Nobody took responsibility to score, to shoot or to pass away.
That's the reason we scored four goals in 35 [shots] or something.
Does your team's performance in FINA Worlds seem like something you can build on?
I can say that was really unlucky because to lose in the quarterfinals… we won five games but we just lost by two in the most important game. All the teams that finished before us except the U.S. team lost two or three times in the tournament. It's really difficult to take even the fifth position. After losing against Canada it was most difficult to wake the team up and put them on the path to winning.
The U.S. won and they absolutely deserved to. Hungary wasn't the best fifth team; I think that we were a bit better but we were unlucky and had two very bad quarters against Canada so we'll think very hard about that.
In the future we have to build up a younger team. We have some old players—not too much—two, three players. Hopefully we can find in the junior or the youth team the right players to replace them and prepare the team for the Tokyo Olympics.
What will it take for Hungary and other teams to close the gap with Team USA prior to the Tokyo Olympics?
Unfortunately we couldn't see how big is this gap between Hungary and the U.S. I'm 100% sure we wouldn't lose by 13-6 in the final [score of U.S. win over Spain].
The U.S. is the best team at the moment. We have to develop a lot physically and mentally… the winner mentality is important and the U.S. girls have it. We have to teach [our players] this and we are working with a sports psychologist and also this is the work of my staff. We are closer to the U.S. team than last year [Hungary lost to Team USA 14-10 in the semifinals of the 2016 Rio Olympics] and we wanted to play against them.
Canada Coach Haris Pavlidis spoke about having both access to both the American NCAA league as well as the European professional leagues. You have two players—Anna Illes and Dora Antal—who play in America as well as a number of players who are playing professionally in Europe. How has this benefited your team?
When [Antal and Illes] got back to Hungary, they were very well physically and mentally conditioned, so I was very satisfied with that. I was really happy they played at [University of California at] Berkeley. I know coach Coralie Simmons, very well, and I was in contact with her all year.
I can say the best about your NCAA championship. Pavlidis, who was coach of Olympiacos [Women's Water Polo Club], the Greek league is not the best in Europe. The Champion's League, and the LEN Trophy and European International tournaments are strong but these are just seven, eight, nine games per year so the reality between the two leagues are not so strong than the men. In the NCAAs three or four teams are very strong and the rest of them not so strong.
This is the same situation like in Europe. We have five or six very good teams: two in Greece, two in Spain, two in Italy, two or three in Hungary, two in Russia. That's why it's important to play in the European Club Championships
The outpouring of Hungarian feeling for water polo was on full display at the recent FINA World Championships. How was it for you and your players to be on the receiving end of that affection?
It's never happened even in my life[time] to play a women's water polo game in front of 7,000 people. It was fantastic.
If we could play in the Duna Arena [where the swimming competition was held], definitely there would be 12,000 or 13,000 people.
Three years ago was the European Championships (2014) in Hungary when the women's team finished third. That time was almost the same but this situation never happened in any countries. Spain or Italy or Greece or Russia [might draw] 3,000 fans maybe.
The really interesting thing [was] on the first day of the first game in the FINA tournament, 9 a.m., Italy vs. Canada played in front of 4,000 supporters. That's incredible. Even South Africa vs. New Zealand [was] played in front of 3,000 people. That shows a huge interest in water polo. People love water polo here.
In Hungary in the last 100 years [we play] water polo, for the last 40 years [we play] women's water polo and that's why people love it. They love the girls to play. They love the men to play. It doesn't matter: they support Hungarian water polo. But they also enjoy Serbian, Croatian and Greek water polo as well.
FINA has imposed significant changes in advance of the 2020 Tokyo Olympics. How will these changes impact your preparation in the years to come?
Pretty much the same countries as now—the top eight or nine teams at FINA Worlds—will challenge for the qualification for Tokyo. I'm disappointed about the decision of FINA, which is that 10 women's teams can participate in the next Olympic Games. I thought we would get 12 teams like the men's competition.
If you look at women's water polo situation worldwide, I think it can save men's water polo. Women's water polo is more popular than the men everywhere in the world, including China, Australia, Canada, Japan. The women can give a big hand to the men for the next Olympic Games to continue a very popular sport.
That's why I'm really disappointed about only 10 [women's] teams allowed to participate at the next Olympic Games.
Do you feel there that worldwide there are 12 women's teams good enough to compete for an Olympic berth?
Not 12 but because Africa or Asia or South America are not so strong. But all of the European teams who qualify definitely have a chance to take medals. But the point of FINA for equality—every continent must contribute one or two teams, that's the way.