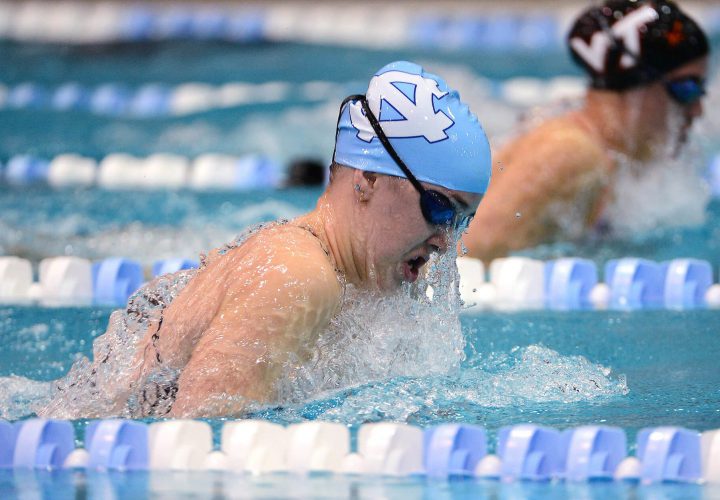 Photo Courtesy: Jeffrey A. Camarti-UNC Athletics Communications
North Carolina's Caroline Hauder has been selected as the ACC Women's Swimmer of the Week, and Ashlynn Peters of Virginia Tech has been named ACC Women's Diver of the Week. On the men's side, Hokie teammates Ian Ho and Jack Gigliotti have been named the ACC Men's Swimmer and Diver of the Week, respectively.
Hauder helped North Carolina to wins over Navy and Penn State, and placed first in all four events in which she competed. The freshman from Charlotte, North Carolina, posted NCAA provisional times in the 100 breast (1:01.77) and 200 back (1:58.25). Hauder also contributed on the 200 medley relay and 400 free relay teams that placed first at the meet.
Peters had a pair of top-three finishes for Virginia Tech in a win over No. 11 Virginia. The junior from Cypress, Texas, won the 3-meter competition, and placed third on the 1-meter.
Ho shined in the Hokies' victory over No. 21 Virginia. The senior from Blacksburg, Virginia, placed first in the 50 free and 100 free, and was on the first-place teams for the 200 free relay, 200 medley relay and the 400 medley relay.
Gigliotti had a pair of second-place finishes for Virginia Tech in the win over Virginia. The senior from North Springfield, Virginia, placed second in the 1-meter and 3-meter competitions.
Press release courtesy of the ACC.