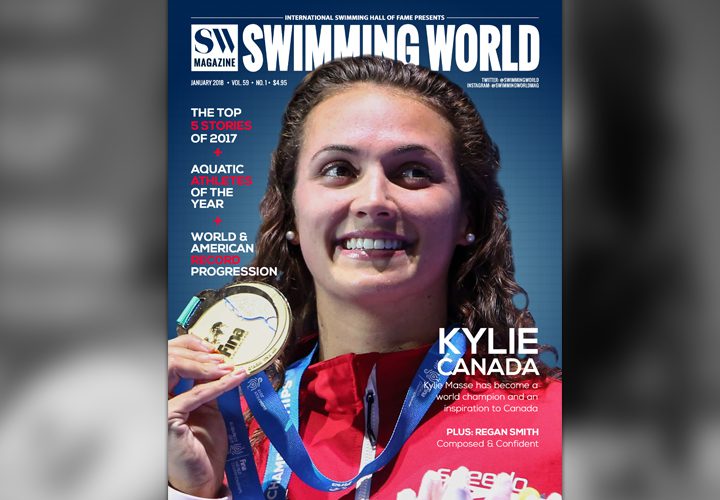 ON THE JANUARY COVER
Canada's Kylie Masse admits that the outstanding performances at the Rio Olympics by their women's team gave them the confidence to do even greater things. After blowing away the Canadian record in the women's 100 meter backstroke in 2016 (58.76 to tie for an Olympic bronze medal), Masse, who will turn 22 later this month (Jan. 18), clocked 58.10 at the World Championships last summer to knock off Gemma Spofforth's 58.12, the last remaining women's WR from 2009, set during the year of the "super suit." (See feature, page 30.)
To learn more about Masse and her stunning world record swim, check out the January 2018 issue of Swimming World Magazine, available now!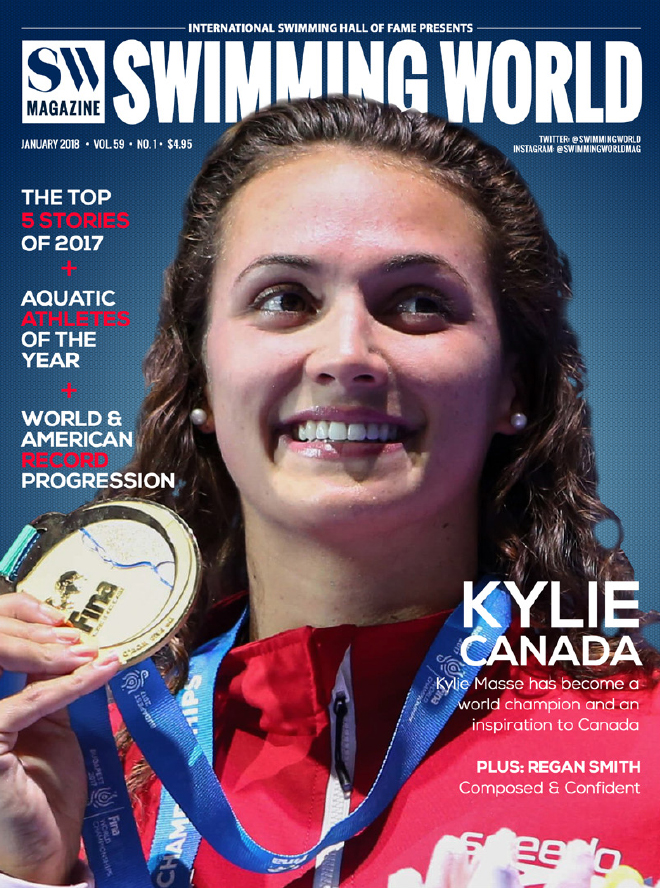 [PHOTO BY SIPA USA]
FEATURES
018 2017 ATHLETES OF THE YEAR
by Taylor Brien, Erin Keaveny and Michael Randazzo
Diving: Shi Tingmao & Ilya Zakharov
Water Polo: Maggie Steffens & Márton Vámos
Synchro: Svetlana Kolesnichenko
Disabled: Sophie Pascoe & Vincenzo Boni
020 TOP 5 STORIES OF 2017
by David Rieder
023 THE GREATEST AMERICAN WOMAN SWIMMER YOU'VE NEVER HEARD OF!
by Bruce Wigo
She's not in the International Swimming Hall of Fame. Until recently, the Hall didn't even have a file on her. Yet for most of the decade of the 1940s, Nancy Merki was the most famous female competitive swimmer in America.
026 A PERFECT FIT
by David Rieder
Before last summer's World Championships in Budapest, 15-year-old Regan Smith had doubted her place on U.S. team trips, ques­tioning if she really deserved to be there. After her quick transition from wide-eyed rookie to composed and confident World Championship finalist, she knows now that she definitely belongs.
030 MAKING AN IMPACT
by Annie Grevers
Canada's Kylie Masse is a world record holder in the 100 meter backstroke and the first Canadian female swimmer ever to win a world title, and she realizes the importance—and privilege—of motivat­ing young Canadian swimmers who now aspire to be like Kylie.
034 2017 WORLD & AMERICAN RECORD PROGRESSION
by Taylor Brien
036 NUTRITION: AROUND THE TABLE WITH NATHAN ADRIAN
by Annie Grevers and Dawn Weatherwax
Raw, stragegic, consistent—words that describe Nathan Adrian…and his diet! To have power, a swimmer needs premium fuel in their tank. Adrian recently shared a few typical post-practice meals with Swimming World.
COACHING
010 LESSONS WITH THE LEGENDS: JACK ROACH
by Michael J. Stott
013 COLLEGE RECRUITING: SOCIAL MEDIA AND EARLY COMMITMENT
by Michael J. Stott
In the third of a multi-part series, Swimming World looks at early commitments and the way social media is altering (for better or for worse) how prospects are navigating the college recruiting process.
016 SWIMMING TECHNIQUE MISCONCEPTIONS: SCIENCE IS RISKY
by Rod Havriluk
According to conventional wisdom, per­formance—not science—is the ultimate criterion measure. Unfortunately, this ap­proach guarantees staying in the past and requires being satisfied with relatively small improvements. Applying science, on the other hand, may seem risky, but offers the potential for much bigger improvements much sooner.
041 Q&A WITH COACH LARS JORGENSEN
by Michael J. Stott
042 HOW THEY TRAIN DANIELLE GALYER
by Michael J. Stott
TRAINING
033 DRYSIDE TRAINING: "FAST START" TO THE NEW YEAR
by J.R. Rosania
JUNIOR SWIMMER
045 UP & COMERS
by Taylor Brien
COLUMNS
008 A VOICE FOR THE SPORT
047 GUTTER TALK
048 PARTING SHOT
ON THE COVER
Canada's Kylie Masse admits that the outstanding performances at the Rio Olympics by their women's team gave them the confidence to do even greater things. After blowing away the Canadian record in the women's 100 meter backstroke in 2016 (58.76 to tie for an Olympic bronze medal), Masse, who will turn 22 later this month (Jan. 18), clocked 58.10 at the World Championships last summer to knock off Gemma Spofforth's 58.12, the last remaining women's WR from 2009, set during the year of the "super suit." (See feature, page 30.)
[PHOTO BY SIPA USA ]