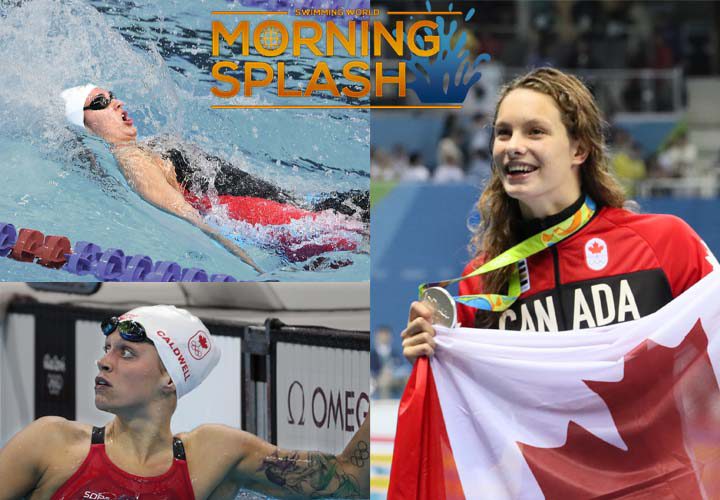 Photos Courtesy: Swimming Canada & USA TODAY Sports
Editorial Coverage provided by

Morning Splash by David Rieder.
At the Rio Olympics, Canada had a streak of futility to break: The country had not won a medal in women's swimming in two decades. Of course, Penny Oleksiak and co. did not just end the streak—they shattered it.
Before the Rio Olympics, an Olympic medal for the Canadian women seemed like a possibility, but by no means a certainty. The team ended up winning six, more than any other women's team aside from the United States. Two of those medals came on relays, and Oleksiak tied for gold in the women's 100 free.
A young, under-the-radar squad turned itself into a swimming powerhouse in Brazil. Now, on the other side of the world in Europe, Team Canada will be charged with backing that up at the FINA World Championships in Budapest, and just about everyone will see them coming.
Any conversation about the Canadian team has to start with Oleksiak. How can it not? What she accomplished in Rio was downright historic.
Her gold medal was the first for a Canadian female swimmer since Anne Ottenbrite won the 200 breast at the 1984 Olympics in Los Angeles. Her efforts at the Olympics won her the Lou Marsh Trophy, awarded to the country's best athlete in any sport, over the likes of hockey star Sidney Crosby.
But she's just a piece of the impressive roster Canada is sending to Budapest, and none on the team have been more impressive this year than Kylie Masse. Masse tied for bronze in the 100 back last year in Rio but took her swimming to a whole new level at Canada's World Championship Trials back in April, when she blasted a 58.21 in the 100 back, just nine hundredths off the world record.
Almost every women's event on the program features a Canadian who should at least challenge for a spot in the World Champs finals, and Swimming Canada High Performance Director John Atkinson calls the team deeper than the one in Rio.
The list of heavy-hitters includes Hilary Caldwell, the bronze medalist in the 200 back in Rio, as well as breaststroker Rachel Nicol, versatile veteran Katerine Savard, sprinter Sandrine Mainville and IMers Sydney Pickrem and Mary-Sophie Harvey.
The Face of the Team
Oleksiak's star was established in Rio, but the now-17-year-old will have to keep producing results to be considered one of the best swimmers in the world. So far this year, she hasn't really done that, as she currently ranks sixth in the world in the 100 fly (57.32) and 13th in the world in the 100 free (53.64).
But Oleksiak wasn't throwing down elite times on a regular basis last year, either, and no one remembers that—only what she did in Rio.
"I'm really excited to see what I can do and what the team can do," Oleksiak said. "At Mare Nostrum, I was a bit faster this year than I was last year, and I have high hopes for Budapest."
Of course, one who has been throwing down massive efforts right and left all year is Sarah Sjostrom, who won gold in the 100 fly in Rio and finished with a bronze behind co-winners Oleksiak and Simone Manuel in the 100 free.
So impressive has Sjostrom been this year—including a near-world record performance in the 100 free last month—that Oleksiak admitted that she has doubts that she can keep up.
"Honestly, I'm not really sure," Oleksiak said, when asked if she could again beat Sjostrom. "Sarah's been racing pretty fast this year, so it's going to be a big race, and racing against her will be tough. Right now, I can't really control what Sarah's going to do, but I can control what I'm going to do, so I'm just going to race as fast as I can."
The expectations that come with being an Olympic gold medalist just don't bother Oleksiak.
"I think people will always have expectations for me, and people will always try and tell me their expectations to, I guess, motivate me," she said. "But I don't pay attention to other people's expectations. Honestly, I don't even care. I'm definitely trying to reach my own expectations, and right now, they're to go around my best times, maybe under them."
Just swimming around her best times again in the 100 free and certainly the 100 fly will have Oleksiak right back in medal territory, and she will front all three medal-contending women's relays.
This Year's Scorcher
For all that the 21-year-old Masse has become as a swimmer—a World title-favorite in the 100 back and a legitimate medal contender in the 200-meter distance as well—it's worth reflecting on where she came from as recently as three years ago.
While Oleksiak was the teenage prodigy, Masse ranked 201st in the world in the 100 back in 2014 with a top time of 1:02.70. Improvement came rapidly.
In her international debut in 2015, she won gold in the 100 back at the World University Games, breaking 1:00 for the first time (59.97) to knock off more-heralded and more-experienced Americans Elizabeth Pelton and Rachel Bootsma. She first broke 59 at the Olympics, when she won the bronze medal.
Now, the spotlight is on her, a legitimate favorite getting international attention alongside the likes of Katinka Hosszu, Emily Seebohm and Kathleen Baker.
So, naturally, Masse is doing all she can to ignore all that.
"I'm honestly trying really not to focus on that and really just focus on what I can control in my own race and what I've been working on this entire year and last year after the Olympics," Masse said. "Just focusing on the skills I need to execute in my race and see what I can do."
So, yes, Masse has been distracting herself from talk of World titles and world record by thinking about her start, a key point of emphasis over the last several months. That's not some new practice she's adopted to deal with the pressure of her current situation—it's just who she is.
"I think the main thing she does well is she doesn't let what other people are doing get to her," Caldwell said of her fellow backstroker. "I remember at Trials after her morning swim that was just this incredible time, almost set the world record in the 100, and I was, 'Oh, are you going to break that world record tonight?' and she was like, 'Oh, I don't know—what is the world record?'"
For Masse, ignorance is bliss, and if that tunnel vision helps her drop another tenth in the 100 back, she will have a world record to her name.
Canadian Swagger
At the age of 26, Caldwell is by no means "old," but she's one of just three Canadian women on this year's World Champs team that swam at the 2012 Olympics in London. She saw first-hand the most recent golden age for Canada's men's team when sprinter Brent Hayden, distance ace Ryan Cochrane and open water swimmer Richard Weinberger all won Olympic medals.
"It's definitely a young team, and it feels like they are getting younger, but maybe it is just me getting older," she said. "I feel like I do know what to expect, know what I'm getting into and kind of have the knowledge and the confidence to really perform well and hopefully not let anything unexpected get to me."
Much of the wisdom Caldwell tries to pass on to her young, talented teammates she gained from watching Cochrane, widely considered the best swimmer in Canadian history. He won a medal in the 1500 free at the 2008 and 2012 Olympic Games and at four straight World Championships from 2009 to 2015.
"Ryan's mental stamina always impressed me. From the start to the end of a swim meet, he was always so professional, so engaged, and he got the job done, no matter what," Caldwell said. "His professionalism and his poise under pressure was something that we all try to emulate."
In Budapest, there will be pressure for the Canadians, particularly on the women's side, to prove that their Olympic efforts were no fluke, and that burden of being favored to win medals is something few Canadians aside from Cochrane have dealt with in a long time.
But no great athletes deal with success by dwelling on the stress they are under to repeat such successes. Instead, these Canadian women are channeling what happened last summer into confidence for this time around. Caldwell called it, "swagger."
"I think any time a team had success like we did last summer, it lends a certain swagger to everybody on the team, and we can walk on deck knowing that people have been looking at what we're doing and people have been watching our results and seeing what we've been doing all year knowing that we're a threat," Caldwell said."

"That definitely adds to the confidence of the team and a little bit the pressure, but I think we can definitely deliver on the expectations around us because we have such momentum, and we'll need that to perform again this year."
All commentaries are the opinion of the author and do not necessarily reflect the views of Swimming World Magazine nor its staff.