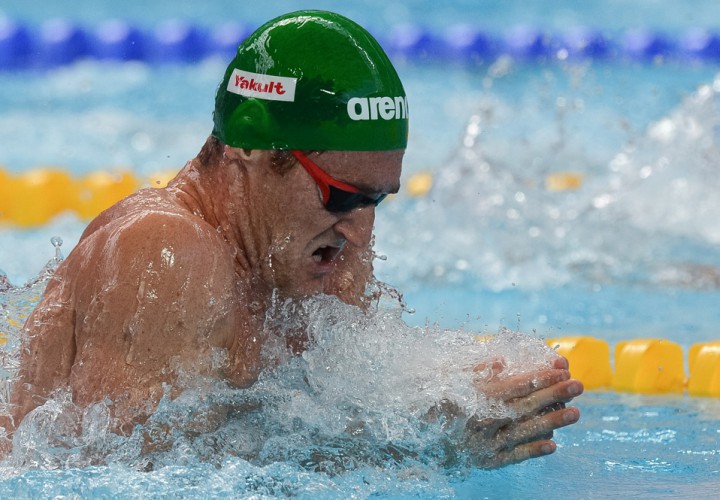 Photo Courtesy: R-Sport / MIA Rossiya Segodnya
Day two prelims of the 2016 CANA African Swimming Championships was highlighted by South African duos claiming the top seeds in almost every event, including a top performance by Cameron van der Burgh.
Alard Basson and Chad le Clos, both of South Africa, posted similar times in prelims of the men's 100 fly to return as the top two seeds for the final. Basson took the number one seed with a 55.42 over le Clos' 55.44.
Egypt's Mohamed Samy returns as the third place seed with a 56.06.
The women's 200 free prelims was also highlighted by a South African duo: Rebecca Meder and Caitlin Kat. Meder touched first in the heats with a 2:09.32, while Kat delivered a 2:10.20 for second. Algeria's Souad Nefissa Cherouati turned in a 2:12.86, good for the third place seed.
Cameron van der Burgh of South Africa made his first appearance of the meet, turning in the fastest time in prelims of the men's 50 breaststroke. Van der Burgh stopped the clock at  28.35 to secure the top seed.
Fellow South African Michael Houlie finished prelims with a 29.02 for the second place seed, while Egypt's Ahmed Shamlool posted a 29.07 for third.
All results can be found on Meet Mobile as 12th African Swimming Champs 2016-Bloemfontei.