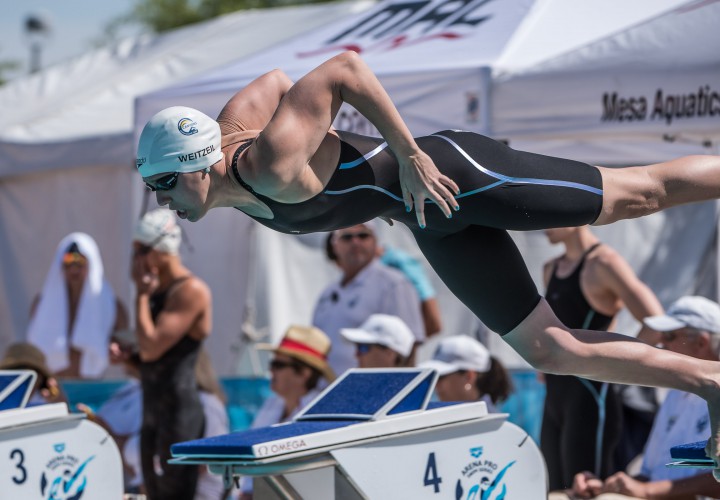 Photo Courtesy: Peter H. Bick
The Friday prelims pysch sheets were released for the 2017 Novaquatics Speedo Grand Challenge this week, which start this Friday, May 26th in Irvine and runs through Sunday, May 28th at the William Woollett Jr. Aquatic Center.
The field will be highlighted with plenty of NCAA stars from Cal Berkeley who haven't had the opportunity to get a lot of long course racing in since NCAA's wrapped up in March. Among those swimmers will be Olympian and rising Cal sophomore Abbey Weitzeil, who is the top seed in the 50 free on Friday. She will be joined by Cal teammate Farida Osman, who is coming off her senior NCAA season, as well as teammates Amy Bilquist and Maddie Murphy.
Other names to watch from Cal will be rising junior Katie McLaughlin, who is back after spending much of last year rebounding from injury, and men's team members Andrew Seliskar and Connor Hoppe. Other notable swimmers to watch will be Dylan Carter, Cristian Quintero, Kendyl Stewart, and Haley Anderson, who is fresh off a win in the 5k at Open Water Nationals that secured her spot on the U.S. Worlds Team for Budapest this summer. 
The full psych sheet can be found here.