In the latest issue of the Swimming World Biweekly, you will find all the top stories you missed over the last two weeks including features on college conference swimming, water polo, and training. You will love our feature on Caeleb Dressel and his amazing accomplishments prior to the NCAA Championships in a few weeks.  And don't miss our annual camp directory full of great summer camps throughout the United States.
Current subscribers can visit the Swimming World Vault to download the issue now! Non-Subscribers can download for .99 cents by Clicking Here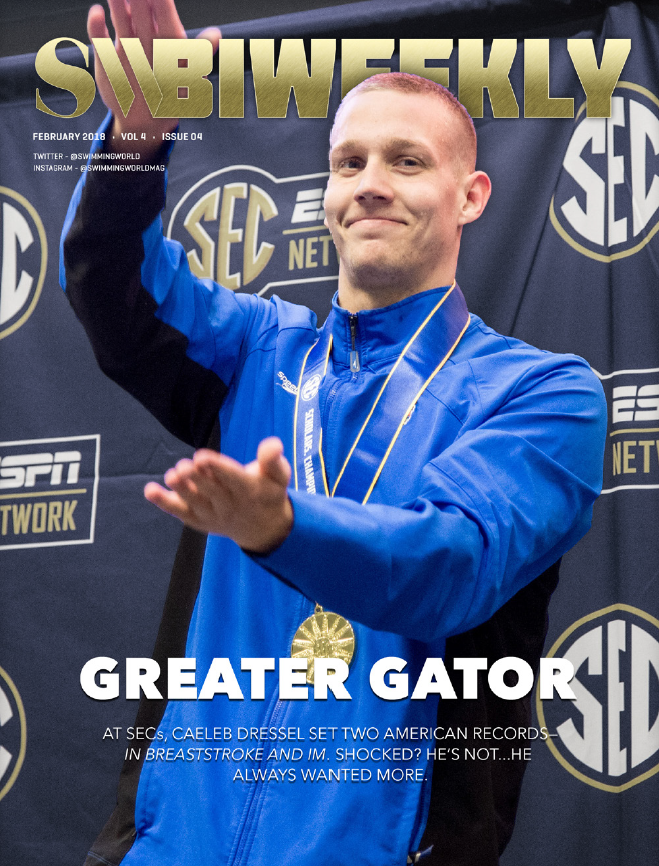 Get Swimming World Magazine and Swimming World Biweekly FREE
When You Become A Member of the International Swimming Hall of Fame
Want More?  Subscribe With This Special 2-Year Offer!
Swimming World Magazine gives you access to all of the back issues of Swimming World Magazine dating back to 1960!  Visit the Swimming World Magazine Vault.
SWIMMING WORLD BIWEEKLY FEATURES
CAELEB DRESSEL ALWAYS WANTED MORE
by David Rieder
Caeleb Dressel could have come to college to be a sprinter—and who could have blamed him? He was one of the most talented high school 50 and 100 freestylers ever. But that wasn't what he wanted…
INSIDE AN EMOTIONAL HOME-POOL SEC CHAMPIONSHIP FOR TEXAS A&M WOMEN
by David Rieder
The scene was a hoard of maroon tracksuits and hugs. Texas A&M women crowded behind lanes one through five on the starting end of their home pool, seeking
to congratulate the five women who had all swum in adjacent lanes in the women's 200 breast final at the SEC championships…
2018 SEC CONFERENCE CHAMPIONSHIPS: FULL FINALS RECAP
by David Rieder
Full coverage of all five nights from College Station, Texas.
THANKS TO CAELEB DRESSEL, JOSEPH SCHOOLING HAS HIS HUSTLE BACK
by David Rieder
Joseph Schooling was disgusted. In his signature
event, the one in which he won Olympic gold one year earlier—the first-ever for Singapore in swimming—he was routed…
PAUL POWERS, MICHIGAN SENIORS AIM FOR RETURN TO NATION'S ELITE
by Dan D'Addona
When Paul Powers and the Michigan senior men stepped onto the pool deck at Canham Natatorium
for the first time, the Wolverines were the reigning national champions…
WOMEN'S WATER POLO GROWS IN OUR NATION'S CAPITAL
by Michael Randazzo
Abrupt coaching changes are never a good indicator of an athletic program's long-term health, but in the case of George Washington University's men's and women's water polo programs, the arrival a scant seven months ago of Barry King has been a godsend.
OUR ANNUAL SWIM CAMP DIRECTORY
MICHAEL PHELPS, NICOLE JOHNSON WELCOME BABY BOY: BECKETT RICHARD
by Diana Pimer
Nearly two years after the birth of swimming's most fa-mous toddler Boomer Phelps, 28-time Olympic medalist Michael Phelps and wife Nicole Johnson welcomed their second child, Beckett Richard, into the world.
IRISH RISING: NOTRE DAME SWIMMING SETTING BEDROCK UNDER MIKE LITZINGER
by David Rieder
Mike Litzinger remembers the first time the Notre Dame women's and men's teams swam a combined practice under his leadership: December 18, 2015.
JANET HU NAMED PAC-12 WOMEN'S SWIMMING SCHOLAR-ATHLETE OF THE YEAR
Stanford's Janet Hu has been named the Women's Swimming and Diving Scholar-Athlete of the Year.
KASSIDY COOK, STANFORD AIM TO KEEP "UNREAL MOMENTUM"
by Dan D'Addona
Kassidy Cook experienced the monumental high that comes with being an Olympian. But when the diver returned to Stanford as a junior, following Rio, everything was a challenge…
BLACK SWIMMING HISTORY MONTH: REMEMBERING CHRIS SILVA
by Bruce Wigo
Who was Chris Silva? For starters, he was was an All-American sprinter for UCLA (1982-1984). He was the first African American to qualify for a U.S. Olympic swimming team (1984), the first to hold a U.S. record…