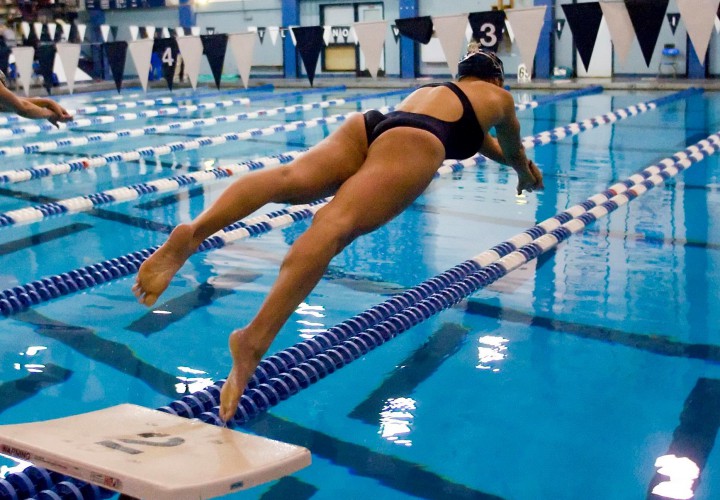 Photo Courtesy: Villanova Athletics
By Cathleen Pruden, Swimming World College Intern
In the final night of Speedo Sectionals in Buffalo, no new Olympic Trials cuts were earned, but plenty of swimmers wrapped up the weekend in quick fashion.
The Berkeley Aquatic Club women began the evening with a win in the 200 freestyle relay. Claire O'Mara, Alexa Buckley, Sophia Kudryashova, and Hannah Womer touched in 1:47.28, well ahead of Victor Swim Club's Bailey Klafehn, Megan Deuel, Kaitlyn Ringhoff, and Alyssa Helak in 1:49.11. Asphalt Green's team of Alessia McGowan, Nicole Aarts, Mary-Mckenzie Grier, and Krystal Lara was third in 1:49.62.
The Town of Tonawanda Titans out touched Chelsea Piers 1:37.67 to 1:37.78 for the men's 200 freestyle relay title. Matthew Marsh, Evan Graesser, Kyle Griffin, and Allan Collins won it for the Titans while John Montesi, Aedan Lewis, Phillip Zyskowski, and Patrick Clisham represented Chelsea Piers. Cougar Aquatic Team touched third in 1:39.41 with the squad of Joseph Scerbo, Zachary Valenzuela, Chris Balbo, and Patrick Collins.
In non-Olympic event distance action, Natalie Ward of Berkeley won the women's 1500 in 17:04.74. Her teammates Erica Wirth and Christina Barrett touched second and third in 17:19.68 and 17:21.02.  Upper Valley's Kristian Hansen claimed the men's 800 in 8:30.77. Asphalt Green's Aaron Glas touched second in 8:35.20, just ahead of Scarlet Aquatic's Jackson Karofsky in 8:36.75.
Scarlet Aquatics' Matea Samardzic continued her string of podium finishes, winning the 200 backstroke well under the Trials standard, though just off her best time, with a 2:12.39. Ridgefield's Marcella Maguire was second in 2:17.23. Asphalt Green's Isabel Gormley finished third with a 2:19.01. Samardzic later won the 200 IM with a time of 2:16.87 while Victor Swim Club's Makayla Sargent was second in 2:17.51. Both swimmers were under the Trials standard which they had previously achieved. Miku Takabayashi of Blue Devil Aquatics was third in 2:20.17.
Ridgefield's Kieran Smith won the men's 200 backstroke in a 2:04.55. Wilton YMCA's John Kealy finished second in 2:07.32 and Patriot Swim Club's Andrew Carbone was third with a 2:08.28. Smith later finished second in the 200 IM in 2:06.85 as Scarlet's Jonathan Gomez won the event in 2:05.51. Scerbo finished third in 2:07.88.
Ky-lee Perry of the Wilton YMCA was first to the wall in the women's 100 freestyle with a 56.64. O'Mara touched second in 57.70 while Lara rounded out the top three in 58.09.
Swimmin's Drew Modrov touched first in the men's 100 freestyle, stopping the clock at 50.84. John Montesi of Chelsea Piers was second in 51.35 and Wilton YMCA's Hugo Sykes finished third in 51.46.
In the 400 medley relay, Lara, Aarts, and Grier combined with Carly Fried to win in 4:23.92 for Asphalt Green. Their B team of Luiza Silveria, Sophia Zhang, Isabel Gormley, and Charlotte Krevitt were third with a 4:24.40. Scarlet Aquatics' Samardzic, Gabriella Baratta, Valentaina Gomez, and Emily Gorham touched second in 4:24.21.
Scarlet won the men's medley with Leighton Mayers, Eric Materniak, Gomez, and Eric Wong in 4:00.53. Berkeley's Kevin Flynn , Peter Shepanzyk, Brennan Hammond, and Brendan Koziol were second with a 4:04.52. Adirondak Bluefins finished third in 4:05.97 with the team of Liam Picozzi, Ryan Board, Timothy Maggs, and Everett McNair.
Scarlet Aquatics dominated the men's scoring with 615 points while Cougar Aquatic Team was second with 321 points. On the women's side, Asphalt Green finished with 561.5 points to Berkeley Aquatic Club's 491 points.
Full results available on Meet Mobile.