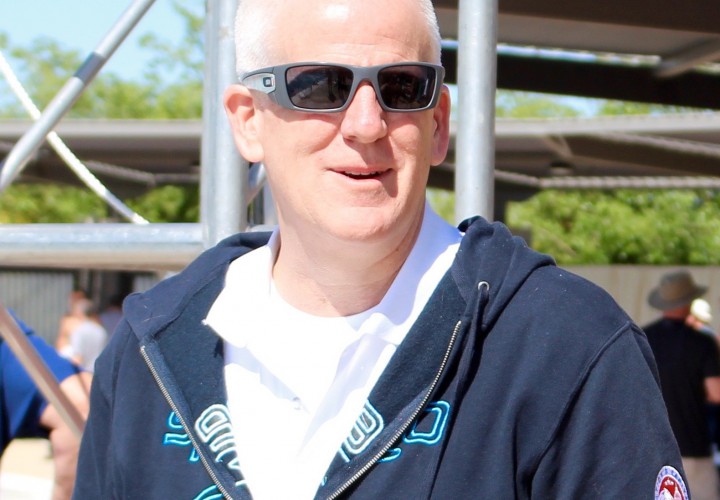 Photo Courtesy: Taylor Brien
Few would argue that the performances by Katie Ledecky at the FINA world championships in Kazan, Russia, are nothing short of spectacular. World records in two events – both of which were sliced by more than two seconds – and five gold medals has made her the unanimous choice for the top swimmer of the meet.
Her accomplishments have not escaped notice from her personal coach, Bruce Gemmell, who has been working with Ledecky for almost two years on the long journey toward her reaching the type of goals few thought were possible in this generation. Perhaps the fact that he has been working with Ledecky toward these goals for more than year lightens Gemmell's view on the fact that his star swimmer has drawn a line in the proverbial sand that no one else will reach for a long time.
"Obviously it (the 800 freestyle world record) is an outstanding swim for her," Gemmell said. And, in his typical fashion of diluting the situation, added that "we'll go back and try to get better, believe it or not."
Listen To Interview On Swimming World Radio

There appears to be many, many years remaining in Ledecky's swimming career. She has one more year with Gemmell at Nation's Capital Swim Club before moving on to the next adventure at Stanford University with coach Greg Meehan. And though he tends to downplay the impact Ledecky has made on distance swimming – well, swimming in general, if we're to be completely honest – Gemmell is fully aware that he's in charge of a rare individual in sports.
"I think there's something a little special in her," she said.
He expanded on that to put into context why it appeared that Ledecky appeared to be a different person before, during and after the 800 freestyle final.
"There's something special for her when she knows it's her last race of the week, the last race of a long week, the last race of a long summer," he said. "So, she doesn't have to think about how to manage her energy going forward."
Ledecky has helped Gemmell become a major figure in American and international coaching circles. As much as coaches study Ledecky's stroke in the water, they also analyze what Gemmell does as he watches Ledecky swim. On the deck of the training pool in the Kazan Arena, coaches tried to learn more about his coaching style, gleaning any kernel of wisdom from Gemmell, either directly or indirectly.
He's been on three consecutive international coaching squads for USA Swimming, with his first coming at the 2013 world championships where Ledecky showed that her 2012 Olympic victory in the 800 free was not a fluke. Since then, Gemmell said he hopes he's been a positive influence on his colleagues.
"Just like the athletes, coaches come onto the national team trips as rookies," he said. "Just like the athletes, we're expected to contribute right away. There's none of this getting used to it. You're thrown into the fire.
"I would hope as the second or third or fourth (meet) comes along that you can contribute in … more varied ways than you could on the first one."
Gemmell was able to do that in Kazan, helping Connor Jaeger set the American record in the 1500 freestyle in Kazan.
Gemmell "gave me kind of a sarcastic kick in the (butt), right before I was getting out of the pool," Jaeger said. "He said, 'It's probably about time that record gets broken. It's probably one of the longest ones standing.' I said, 'Yeah, you know, I think it is,' just kind of joking back with him."