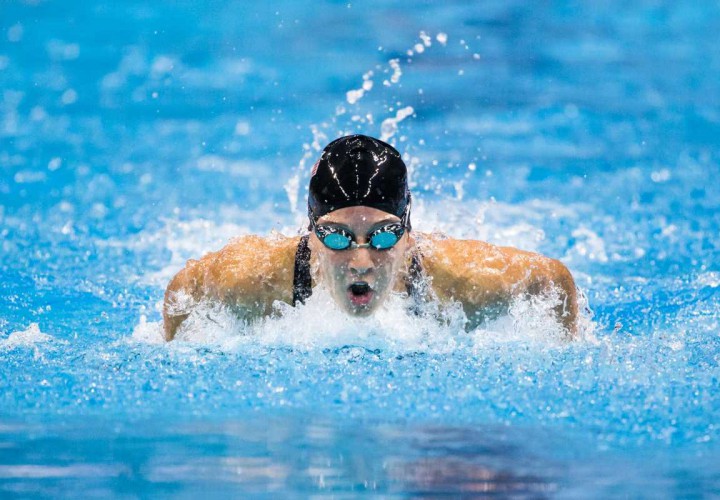 Photo Courtesy: Singapore Swimming Federation
By Alan Karickhoff, Swimming World College Intern
Another fast night of swimming at the Greensboro Speedo Sectionals with races that only the touchpads could determine the winners. Brooke Forde, from Lakeside, twice more placed in the top three in Friday night's finals. After Thursday night's win in the 200 IM by nearly three and a half seconds, in session four, Forde earned Silver in the 200 Freestyle and swam third on the 400 free winning relay, which won by 0.56.
Kendall Casey from Kentucky Aquatics once again soared to first place, this time in the 200 freestyle with a time of 2:01.57 edging out Lakeside's Brooke Forde who placed second with a 2:01.79. Geena Freriks secured the third place position in 2:02.36.
In the boy's 200 freestyle A final, there was a close race among all eight competitors with Matthias Lindenbauer from CARD stealing first from the 800 freestyle winner, Adam Linker, in 1:52.18. Linker from Una Wolf and an unexpected lane seven appearance by Aldan Johnston of Lakeside followed closely behind to secure second and third in 1:52.51 and 1:52.64, respectively.
The girl's 100 backstroke was another tight race, with the top three all within less than a second of each other. Alexia Zevnik from NC State University, who placed second in the 50 on Thursday night, stole the show placing first in 1:01.28. Kentucky Aquatic's Bridgette Alexander snuck into second in 1:01.69 and Hellen Moffitt, a North Carolina Aquatics swimmer, finished third in 1:01.85.
There were no repeat top three finishers in the boys 100 backstroke from Thursday night, but we saw the strength of outside smoke as David Dingess from Kentucky Aquatics won the event from lane two in 57.69. SwimMAC Carolina's Nathaniel Murray, Metro Atlanta Aquatic's Christopher Thames, and DYNA's Cade Anderson fought hard, all placing only four hundredths of a second apart. Murray managed second in 57.80, Thames grabbed third in 57.82, and Anderson found fourth in 57.84.
Kathryn Painter from Kentucky Aquatics was the clear winner in the girls 400 IM, her final 200 went unmatched, winning by nearly six seconds in 4:46.62. Tanja Kylliainen from CARD, who placed second in the 200 IM Thursday night, accomplished second again with a time of 4:52.03. Morgan Belli, another Kentucky Aquatics swimmer, placed third just edging under the five-minute mark in 4:58.51.
SwimMAC's Marko Blazevski achieved another first place finish in the 400 IM after his 200 IM win Thursday night. He finished in 4:24.48, nearly five seconds before Clayton Forde from Lakeside who placed second in 4:29.10. Forde's closing strength earned him a third place ranking in the 200 IM Thursday night, and it once again allowed him to run down his competitors and out touch Jeffrey Durmer from DYNA who finished in 4:29.47.
From being down after the third leg to SwimMAC, Lakeside's Monica McGrath, Cameron Brown, Brooke Forde, and Brooke Bauer pulled off a win in the 400 free relay in 3:50.11. Though SwimMAC was unable to hold their lead, Julia Menkhaus, Caroline Hauder, Katie Corbi, and Jessica Merritt placed a comfortable second place in 3:50.67.
Lakeside's Aldan Johnston, Coley Sullivan, Hunter Tapp, and Clayton Forde dropped .07 from their seed time and secured first with room to spare in 3:30.90. SwimMAC Carolina scored in second and third place with their A and B relays. Graham Weaver, Michael Shelstad, Hernan Gonzalez, and Jeffrey Murray filled the A relay with a time of 3:33.93. Robbie Epler, Jack Edelson, Thomas Svane-From, and Coleman Manchester earned third with a time of 3:36.51.